While a lot of folks talk about JSAUX and other alternative docks for the Steam Deck, I have one unusual candidate to add to the list, the dock by GIISSMO - yet another company based in Shenzhen, China. It seems to be available in certain shops only (here is an Amazon link).
I stumbled upon it by looking at the Steam Deck related categories on Yahoo Auctions, the ebay equivalent in Japan. Apparently someone was selling a used one for cheap, and in good condition, for something like 20 USD - that was much cheaper than the ones with similar specs (and the price for a new model of the same brand in Japan), so I went ahead without much info about the dock itself beyond the marketing material.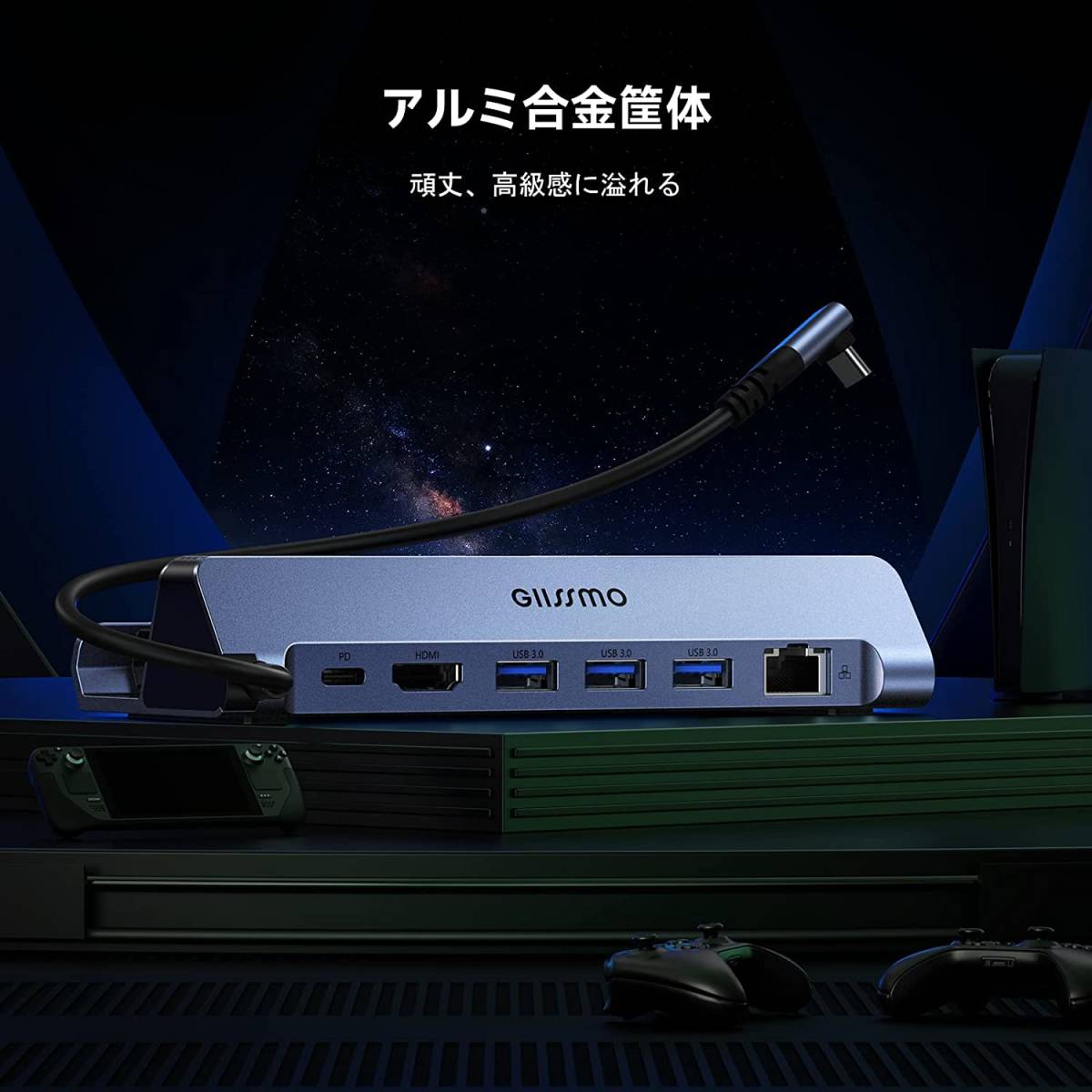 The Gissmo Dock's specs
So, it looks like many of the other docks around, but this one has a metal (aluminium) casing and the following ports:
3x USB A 3.0 ports
One HDMI port (2.0) that is capable of 4k 60Hz
One charging port (USB-C) where you can plug your Steam Deck's charger (only for power, you can't use this with the nReal Air Glasses)
One gigabit LAN port.
Weight: 180g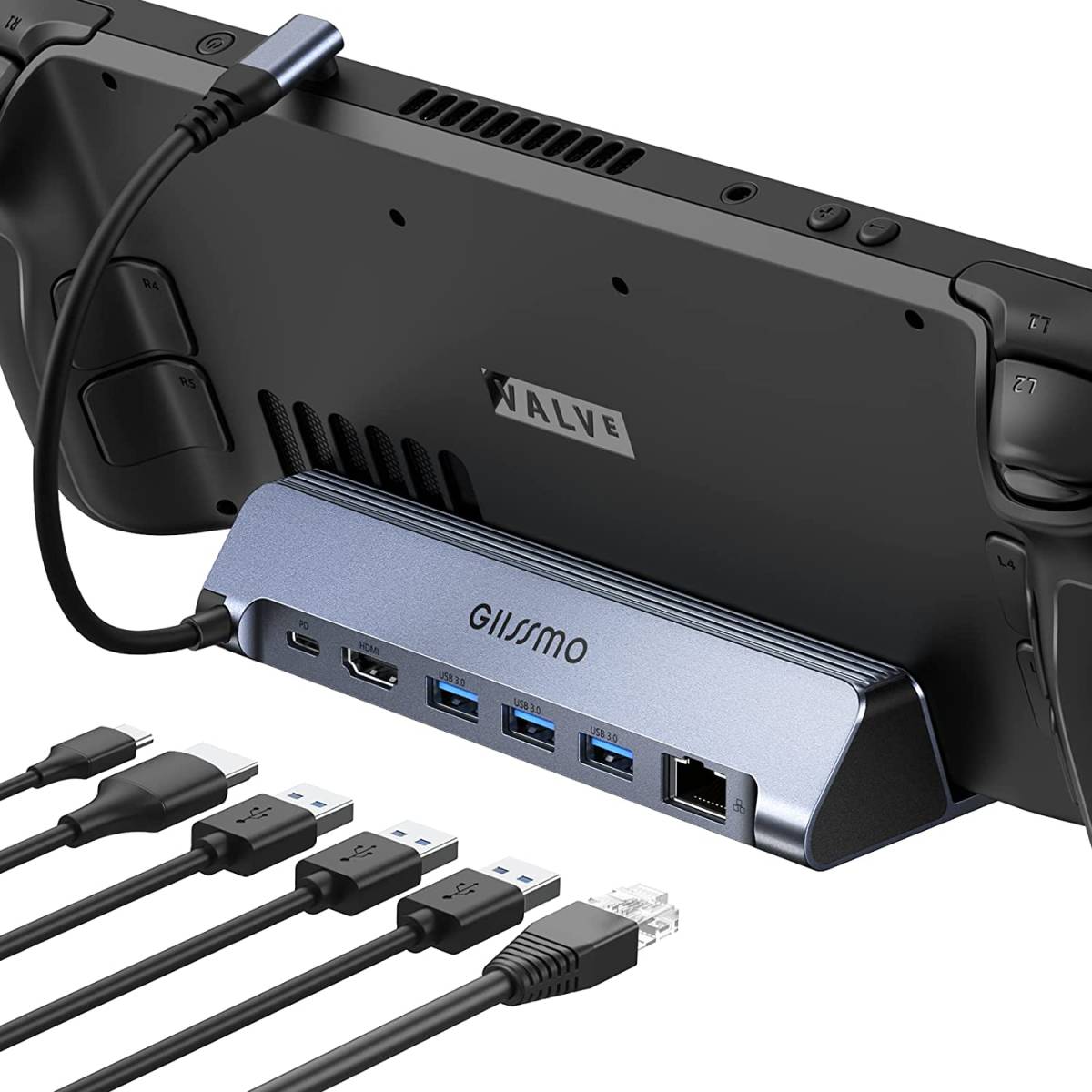 The inside of the dock, where you are supposed to place your Steam Deck, has some plastic padding to avoid damaging the surface of your Deck. Nice detail.
One of the advantage of this dock compared to many of the other (cheap) ones I have seen is that back side does not cover much surface of the fan grid located behind the Steam Deck. There should be no obstruction of the air flow in this one.
Giissmo Dock vs the Official Dock from Valve
Valve's dock is more expensive, but has some advantages:
The USB A ports (3 of them) are of the 3.1 standard
There's a DisplayPort interface on top of HDMI
it's lighter and smaller (120g)
But that's mostly about it, you get gigabit ethernet and USC-C for charging too. If you don't really need anything else but HDMI, an alternative dock will work just as well. The Giissmo dock being larger may also keep the Steam Deck in a little more stable position.
There could be a difference with display compatibility, but one would need access to many different kind of displays and docks to test and confirm that.
Overall: Works well
The Gissmo dock does the job as expected. I tried it with the Steam Deck in desktop mode, and plugged a keyboard and a mouse in the USB ports while using an external HDMI monitor. The whole combo worked without issues. The rest of the experience depends a lot on the Steam Deck itself. In Gaming Mode it tries to scale to the monitor using some kind of weird settings on my UWD, but you can fix that by setting the correct resolution on the Steam client settings.
I also tried connecting it to my router directly with a LAN cable, and I could manage to get speeds between 50 and 60 MB/s when downloading a game from Steam. I have a gigabit fiber connection, that could theoretically reach 125 MB/s but I have never seen such speeds anyway in reality, so I'd say this is a fairly convicing speed for the LAN port (on Wifi I usually get 30 to 40 Mb/s from another room). I would recommend to stay away from the docks that only offer 100 Mbit Ethernet ports (the cheapest ones usually do) as it renders the Ethernet port almost useless at the end of the day.
Gaming on a Much Bigger Screen?
I was very surprised to see that the Steam Deck can somewhat handle games running on much larger resolutions without too much impact on performance. For example, I ran the upcoming indie game Dredge in a native 3440*1440 pixels resolution on my UWD and the Steam Deck had no issue keeping up with the 60 fps frame rate. Of course, Dredge is not a very demanding game, but that was still unexpected.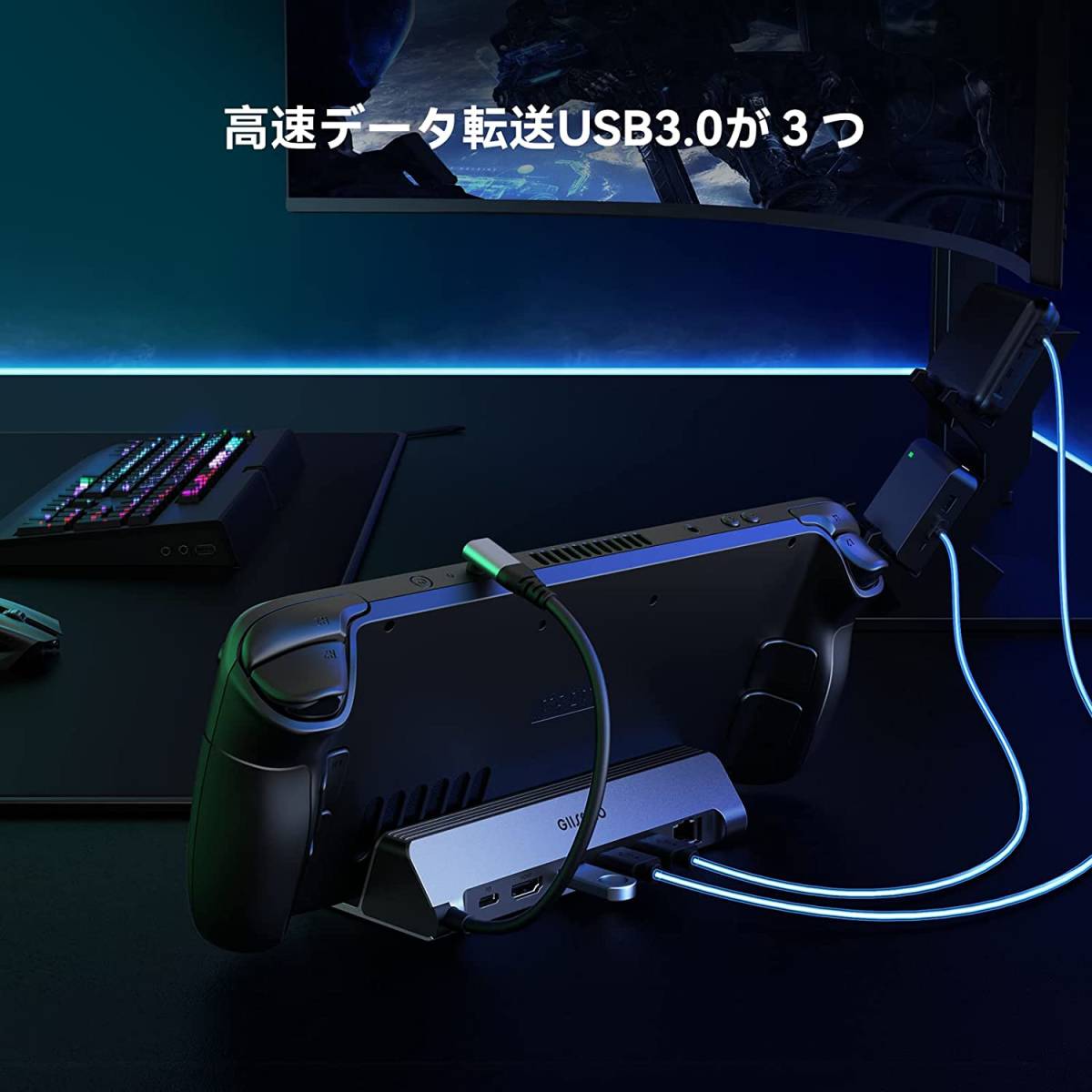 For more demanding games, using FSR is the way to go to let your deck scale from a lower resolution to a larger one without too much loss of performance. I have tried Death Stranding at default graphics settings, and at high resolution (2560x1440 resolution, 15W, max power), the Deck was struggling to keep more than 20 FPS in game. I then moved to a lower rending resolution (1280x800 pixels) using FSR as an upscaler and this gave a much more stable framerate while keeping an acceptable quality.
The problem right now is that there's too many steps needed to get to the right settings when playing on a bigger screen. You can see that SteamOS supports such options, but it's kind of a pain in the ass to go through several menus to make it work well. In that sense, the experience is very far from the original Switch from Nintendo where the docked mode worked almost like magic.
In any case, if you are willing to do it, you can definitely turn the Steam Deck into a home console when the needs arise, if you have a dock.