The verification dance continues for the Steam Deck. We are now very close to 500 titles (485) after another burst of new titles since yesterday. We now have 485 titles in total that should work on the Steam Deck, split in two categories:
Steam Deck Verified: 293 titles
Steam Deck Playable: 192 titles
Total: 485 titles
You can see the major progression on this chart: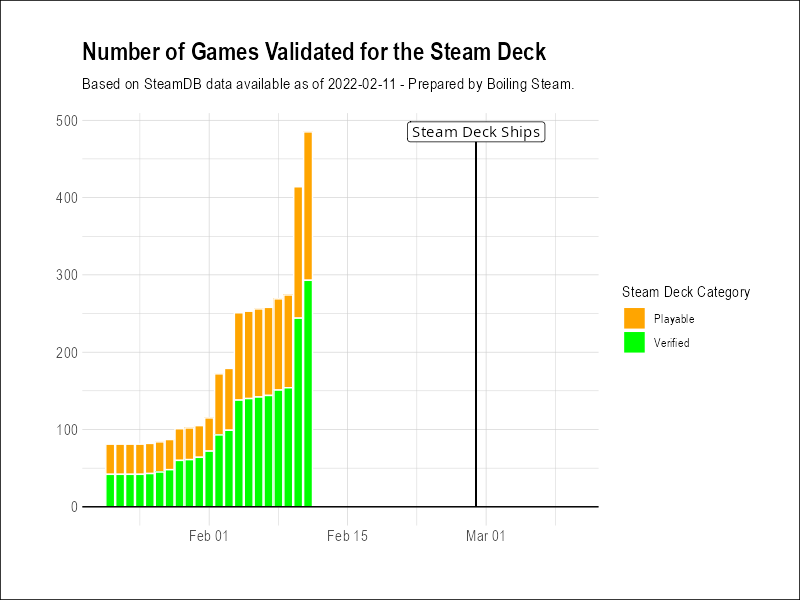 We can also plot the daily increase of new titles over time: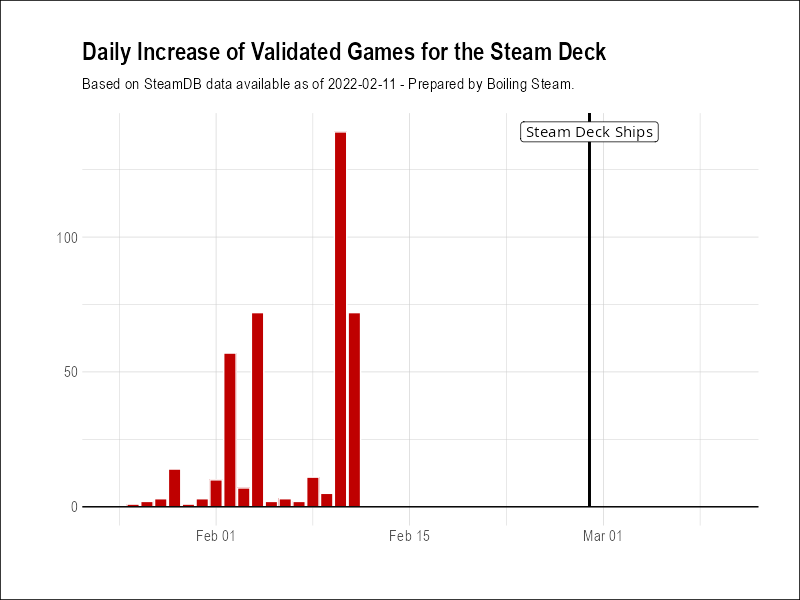 It's clearly a combination of almost no additions on certains days and big bursts of new titles. Right now we have on average 22.4 new validated titles added on a daily basis to that list. If things don't accelerate we can expect almost another 500 titles to be validated (Playable or Verified) by the end of February, bringing us close to 1000.
What major titles have been added among the 72 new ones?
As Verified:
The Wonderful 101: Remastered
Life is Strange Remastered
DRAGON QUEST® XI S: Echoes of an Elusive Age™ - Definitive Edition
Prince of Persia®: The Sands of Time
Call of Juarez: Gunslinger
South Park™: The Stick of Truth™
DmC: Devil May Cry
The Banner Saga
ACE COMBAT™ 7: SKIES UNKNOWN
THE KING OF FIGHTERS XIV STEAM EDITION
As Playable:
WARNO (just released in early access!)
System Shock 2
Cities: Skylines
XCOM® 2
STEINS;GATE
Among Us
You can also find the exhaustive list, until now, below:
[table id=15 /]