Ever wondered how far we have come in terms of Steam Deck support for the Top 100 Most played games on Steam? Well, look no further, we have the answer. It's going to be split in two parts.
Top 100 Titles are Playable/Verified on the Steam Deck
We get 73 out of 100, so 73% (wait a little for the 75% figure). That's a nice number, and let me give you the breakdown in the number of titles:
Steam Deck Verified: 26
Steam Deck Playable: 47
Steam Deck Unsupported: 24
No Data: 3
First, the most important aspect that will be probably missed from this piece of news is that Valve has successfully ensured that the Top 100 games are adequately tested on the Steam Deck. We know that they use internal metrics at Steam to decide which games go first in terms of testing, as they have limited resources to test all games on Steam, and having 97% testing coverage of the Top 100 is an indication that this is working.
This number will go up very soon as Resident Evil 4 is not rated at the time of writing (while we know from Pierre-Loup Griffais on Twitter they are working on making its support better). You should expect it to be either Playable or Verified very soon, bringing the coverage to 98% as long as Resident Evil 4 Remake is in the Top 100.
CS:GO is the most popular game played on Steam right now, and it has also recently received an beta update with awesome volumetric smoke effects, and while Linux is not supported natively yet, it seems to work just fine in Proton:
Of course, there's a lot more, like DOTA2, Apex Legends, Team Fortress 2…
Actually, More than 73%
In the list that you will find below, there are several applications that are actually not games, and are therefore irrelevant for the Steam Deck, such as:
Wallpaper Engine
Soundpad
Source SDK Base 2007
So if we remove these 3 from the list, out of 97 actual games left we have:
Steam Deck Verified: 26 / 97 = 26.8 %
Steam Deck Playable: 47 / 97 = 48.4 %
Steam Deck Unsupported: 22 / 97 = 22.6 %
No Data: 2 / 97 = 2.06 %
The total of games that are Playable or Verified on the Steam Deck go up to 26.8 + 48.4 = 75.2 %
Is this fair to remove those? Yes, because the Steam Deck is aimed at playing games, and it should be evaluated using that standard, not in running random desktop tools or utilities.
Getting to 100% ?
It's going to be a uphill battle to get to much higher percentages, as the remaining bastion of unsupported titles is mostly the matter of anti-cheat support:
PUBG
Destiny 2
Rust
Rainbow Six Siege
Dead by Daylight
Black Desert
Most of them are held back by the EAC technology, while we already know it's supported on Linux and can be made to work with it… Devs and publishers just have to care about it.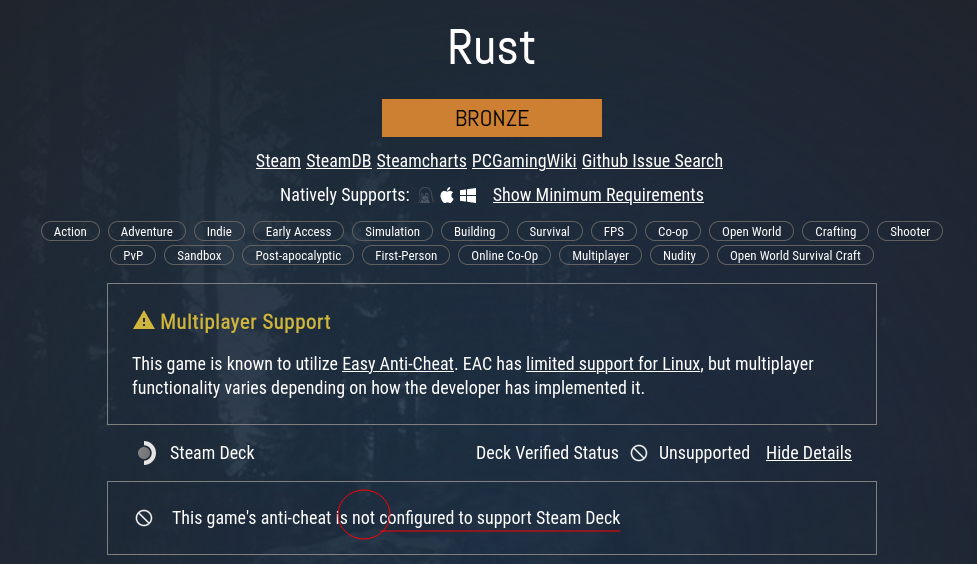 The best thing we can do at this stage is make the Steam Deck market grow in size. The bigger it is, the less the publishers will be able to ignore it. The Steam Deck is still far from there, but give it 2, 3 years, the story might look quite different then.
It's unlikely that retroactive support will ever come for older titles, but for upcoming titles… we might just get more lucky.
The Full List
You can find the full list below.
[table id=54 /]