So here we continue with our coverage of the Tokyo Games Show 2023 (see our previous articles on Konami and Sega-Atlus if you missed them). You probably all know Bandai Namco Entertainment by now - it was formed on 31 March 2006 from the merger of Namco and Bandai. It was initially called Namco Bandai but they ultimately reversed the nane. They also absored BanPresto in 2009 which was a partially owned arm of Bandai to develop video games. Bandai is known for a long time for their toys and amusement business, and Namco for their video games (in the arcades with Galaxian, Pac-Man and afterwards on consoles).
Context
Bandai Namco has currently 3 business units: Amusement, Entertainment, and IP production. Since it's not completely clear from the name what this actually means, they actually have a fairly clear chart in their annual report:
The real meat of their business is the Entertainment part, divided in two areas:
Digital
Toys and Hobby (Bandai was a major actor in the toys business)
They are both about the same size, sales wise, but the Digital business has higher profit margin, as you can imagine.
Bandai Namco has been doing especially well during the COVID19 pandemic. They came out stronger than they were before, not just in revenues but also in profit figures.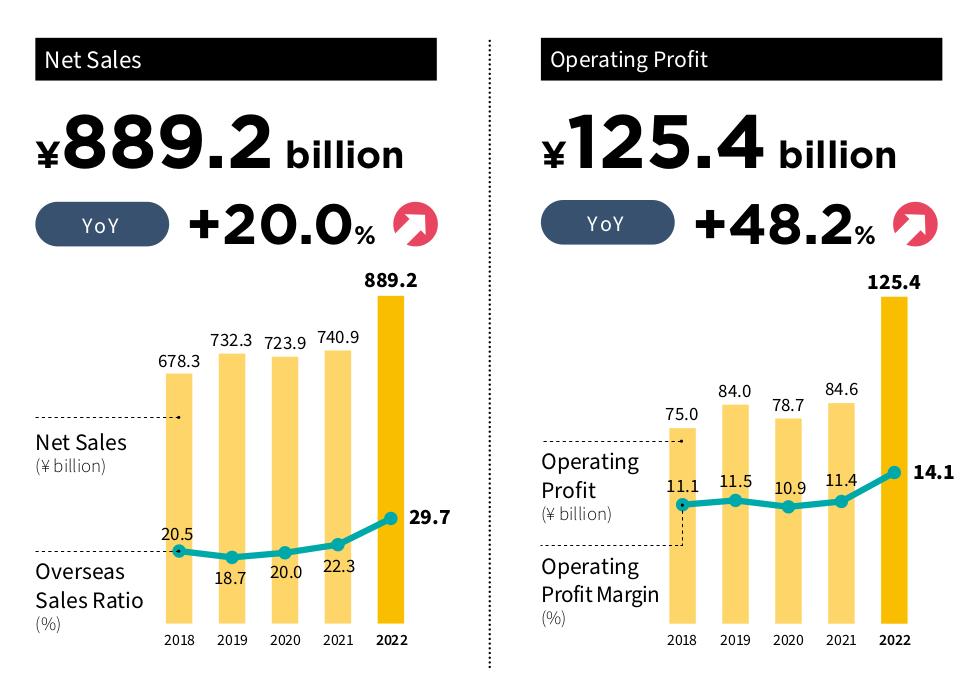 Bandai Namco makes most of its business in Japan as you can see from the below chart on the left. In a gaming market that's so heavily skewed to growing markets in the US, Europe and Asia, seeing that 70% of their business is coming from Japan is kind of amazing. Because it means they could grow a lot, lot more, if they actually focused on penetrating the foreign markets.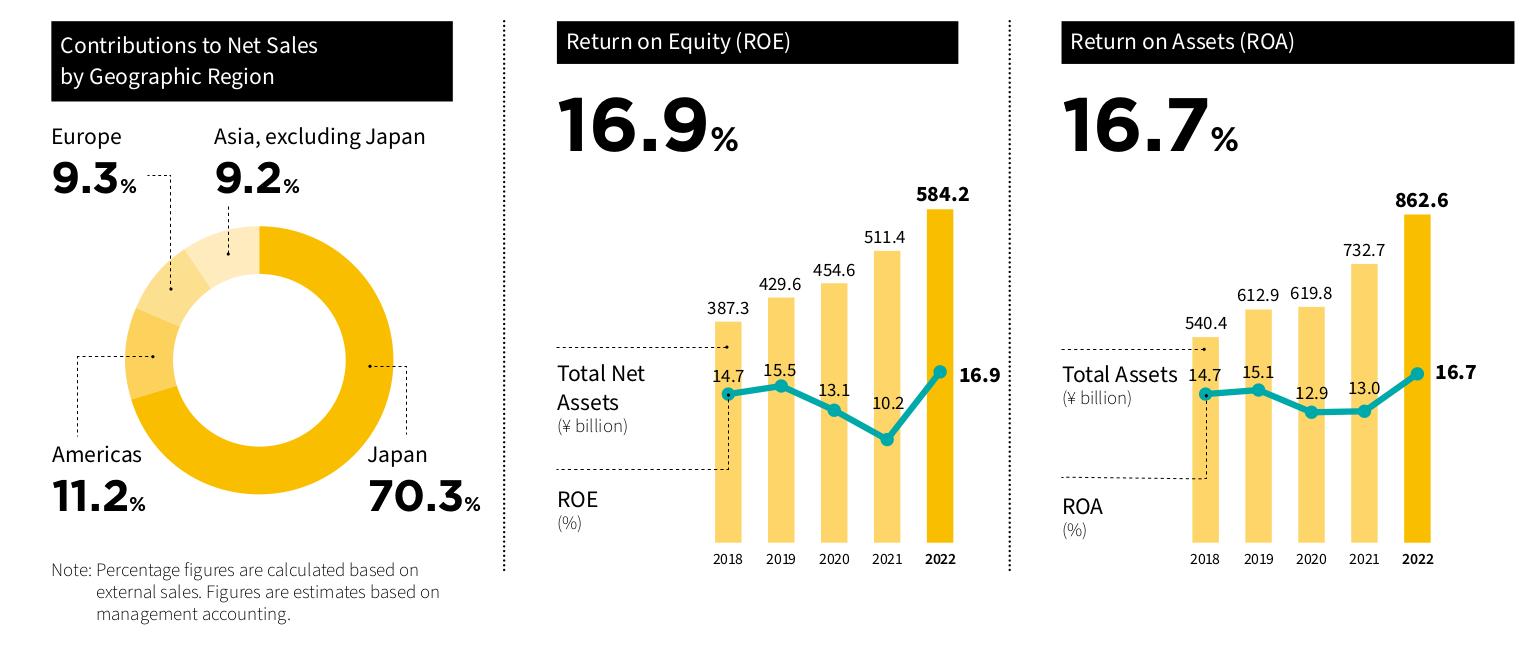 They are apparently well aware of that since their strategy up to 2025 highlights expansion overseas with games made with external studios:
Our basic policy is to exceed the expectations of fans around the world with high-quality content and diverse entertainment that fans can enjoy over long periods of time. In accordance with this policy, we will work to advance quality-focused development by both expanding titles originating in Japan and creating titles originating overseas. In addition, we will strengthen the marketing function in each region.
This is not yet the time to such developments, as the whole line-up in this year was made with Japanese studios.
At the Show
As highlighted in our article published before the show, they had the following titles on display:
Tekken 8
Sand land (based on a manga from Toriyama, the creator of Dragon Ball)
My Hero Academy Ultra Rumble
Blue Protocol
Some random Gundam title
Tales of Arise beyond the Dawn, a DLC
Tekken 8
Yet another Tekken! It's the eternal rival to Capcom's Street Fighter series nowadays, while they play very differently. I have not played a Tekken game much after the release of the 7th (while I spent many hours on Tekken 2 and 3 back in my younger years), but the familiarity is still there. This version seems to introduce a new way to do counters, as well as some kind of in-fight cutscenes that interrupt the action for several seconds once in a while.
It looked good enough for a fighting game, while nothing more than above the average for the current generation of PC and consoles. At the show, you could play 10 or 15 minutes against one of your friends or a random person if you were alone at the booth, and I ended up fighting against someone I did not know. We had good fun and tried many characters in the time that we had,
The roster was decent with something like 20 characters to choose from or so. The main problem is the bad taste left by Bandai Namco with Tekken 7 on Steam: a base game with very little substance with the main content locked in dozens of DLCs. I stay away from this kind of business practice as much as possible, so if Tekken 8 is more of that, I won't be playing it anytime soon. It's supposed to release in January 2024.
There was a large number of PS5 lined-up to try out Tekken 8, so the wait was not very long.
Sand Land
This was one of the new IPs at the show. It's an Open-world adaptation of a 2000 Toriyama Akira (Dragon Ball) manga. You will recognize Toriyama's style a mile away if you have ever seen Dr Slump or Dragon Ball, and Sand Land is no exception.
The demo introduces a small group of travellers who get their vehicule rendered useless following an attack by a kind of giant desert snake, and you are then on your own to find a new way to move around, which leads you to the open-world part of the game. Visuals and music were great, and the game ran fine with good character design and fun characters, as expected from a Toriyama adaptation. The Mad Max-like Desert open-world is also quite original for a Japanese game. It was clearly an alpha version in this demo.
The gameplay was very simple, and you could see that everything lacked polish: the voice-over did not have any lip-sync, some of the character animations were incomplete, and the cutscenes did not take in account the fact that you could have changed vehicle a few minutes before. In a short demo, it's also hard to see yet how the game will make full use of its open world structure and bring originality compared to other open world games. Still, we are looking forward to further info related to more content within the game. Based on the state of the current demo, I'd say the game won't be ready until 2024 at least. No release date has been announced so far.
Stuff We Did Not Try
There was a little more to see at the booth, but we did not have a chance to play the following:
There was also Blue Protocol, an online-action RPG that's going to be free-to-play and was already released in Japan in June 2023. For the rest of the world, it's planned sometimes in 2024. It will be available on consoles and PC.
Bandai Namco is also betting on another Battle-Royale free-to-play title, My Hero Academy Ultra Rumble, based on the anime series - and it's apparently already out. It's available on consoles and PC.
And a DLC for Tales of Arise:
Impressions
Bandai Namco is not just relying on old and proven IPs and is trying to develop new games, so they seem relatively less risk averse than most of the other Japanese publishers out there. While I am not too excited about their F2P focus, Sand Land is a nice new venture to keep an eye on. So far it looks their strategy is working for them, business wise - and they have a huge space to grow overseas compared to their current situation. All of their releases are also planned for PC and Steam releases - no more exclusives which is excellent news for us Linux Gamers.