So the Steam Spring Sale has begun and as usual you will find many games discounted between the 16th of March to the 23rd, 2023.
What to Grab?
There a few good picks I would recommend, such as:
Jedi Fallen Order, now at 4 USD
F1 22, now at under 10 USD
Sekiro, 50% off at 30 USD
Half Life Alyx at 24 USD
Hades at 50% off under 13 USD
INSIDE for 2 USD
Pyre at 5 USD
Untitled Goose Game at 10 USD
Hollow Knight 50% Off, less than 8 USD
Noita 50% off at 10 USD
Steins Gate at 12 USD
Monster Boy and the Cursed Kingdom at 10 USD
Invisible, Inc at 5 USD
Valheim at 14 USD
Crysis 3 under 8 USD
Oh, and Tiny Tina's Assault on Dragon Keep: A Wonderlands One-shot Adventure, is Free to grab on Steam so there's always that.
But of course there's a lot, lot more, so please do not limit yourself to the above list.
Steam Deck Celebrations
More importantly, the Steam Deck is getting a 10% sale at the same time, which means it's now the best time to buy one if you are still on the edge. The value is insane for the 64GB model.
[videojs_video url="https://boilingsteam.com/wp-content/uploads/deck-birthday-2023-03-17_23.16.53.mp4" webm="https://boilingsteam.com/wp-content/uploads/deck-birthday-2023-03-17_23.16.53.webm"]
The good thing is that this sale is apparently not limited to some territories, as it's also applied in Asia where the Steam Deck is distributed by Komodo:
https://steamdeck.komodo.jp/product/steam-deck-jp/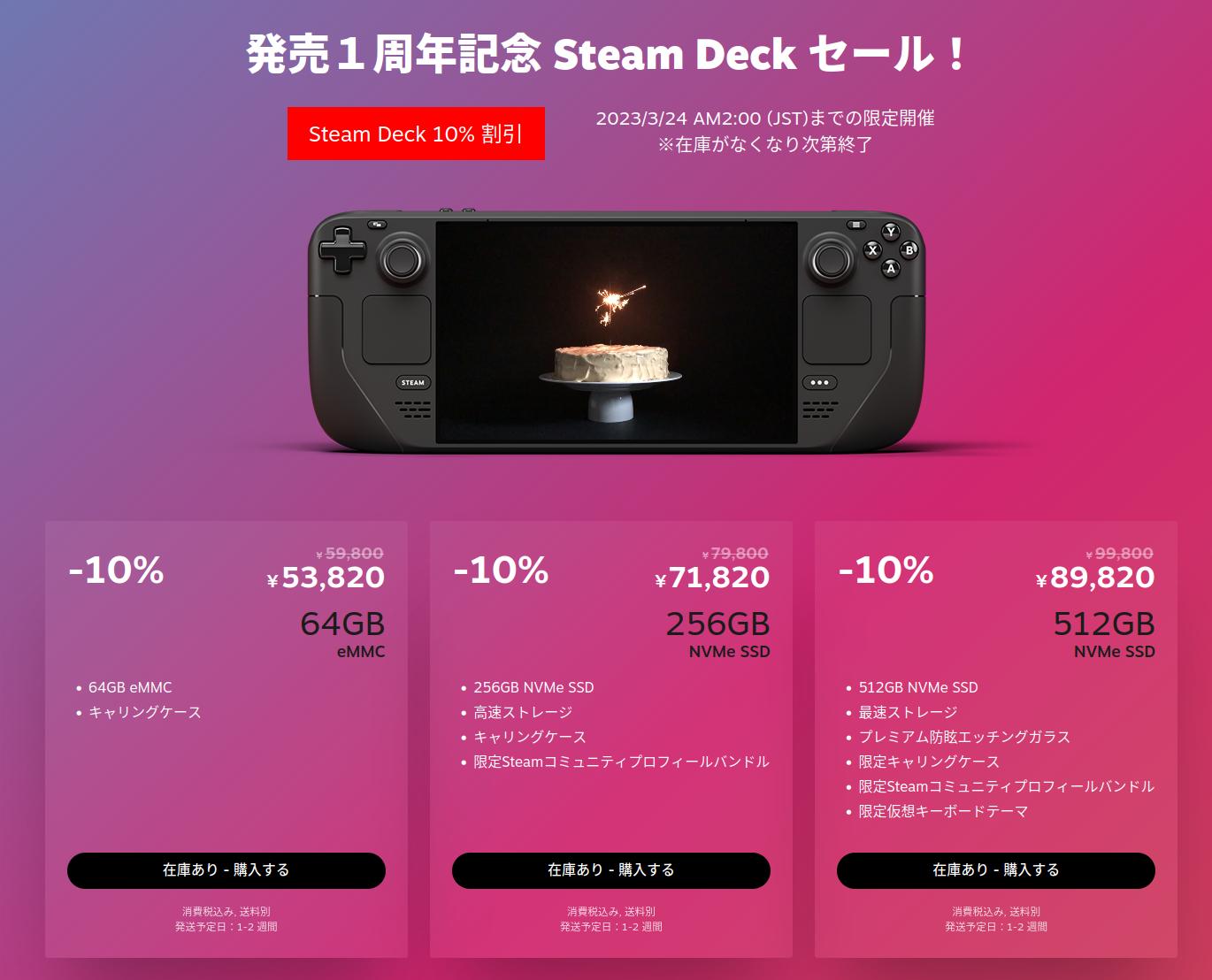 To celebrate the 1st year of the Steam Deck (late), Vave has also prepared a commemorative video:
… and prepared quite a few new intro movies to customize the booting intro of your Steam Deck:
That's it. Very glad to see that Valve is keeping a clear focus on the Steam Deck - good results mean continued investment, and lead to a stronger platform in the end.
Let us know if you end up picking up something cool in the comments!