So this is the big day! Valve has finally opened up the reservations for the Steam Deck in Japan (and a few other countries in Asia). At least that's what my friends told me on Matrix. But that's strange. I had wishlisted the Steam Deck on my Japanese Steam account and… no notification? I go into the store, look for the Steam Deck - no, this was not a dream.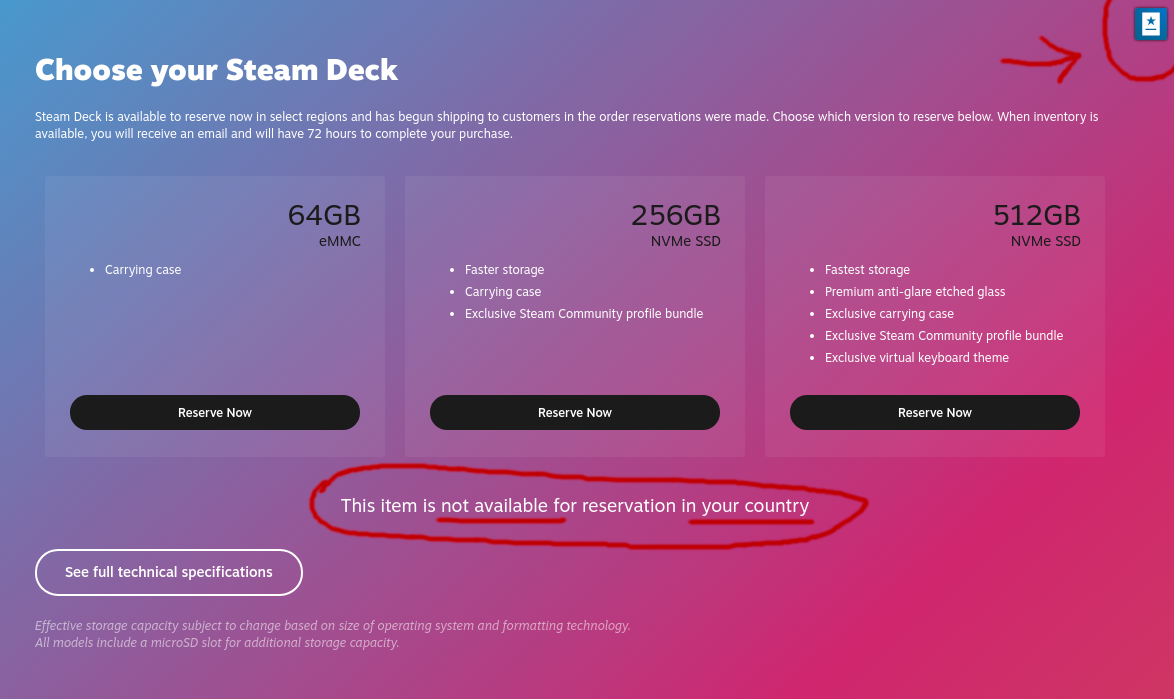 "Reservations are not available in your country".
All right. So it's not ready yet? Did I try too fast?
After actually reading the announcement on Twitter of all places, you can reserve your Steam Deck NOT on Steam, but on a third party platform, Komodo. I already had a bad feeling about this.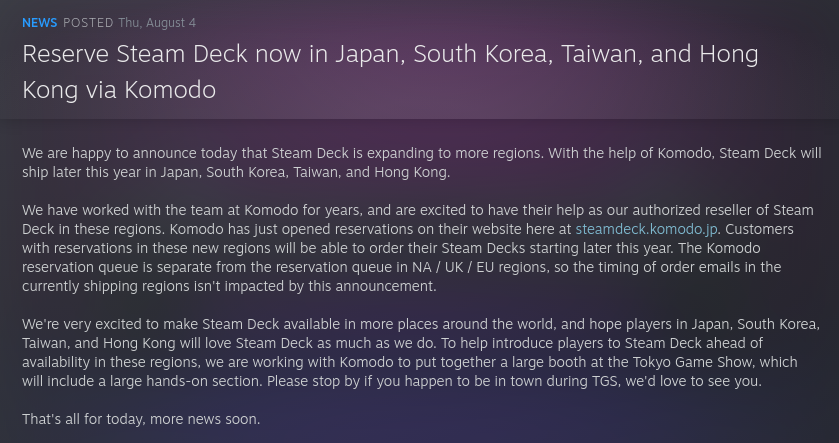 Note that the interesting part of the announcement is that Komodo will have a large booth to showcase the Steam Deck at the Tokyo Games Show (late September 2022). Not sure if I will go this year based on the COVID19 situation in Japan.
So, I go on the Komodo page. Click on "Reserve your Deck". You choose your model. It's going to be 1000 JPY pre-payment for reservation (about twice more than you guys in other countries). And whats the price for the different units?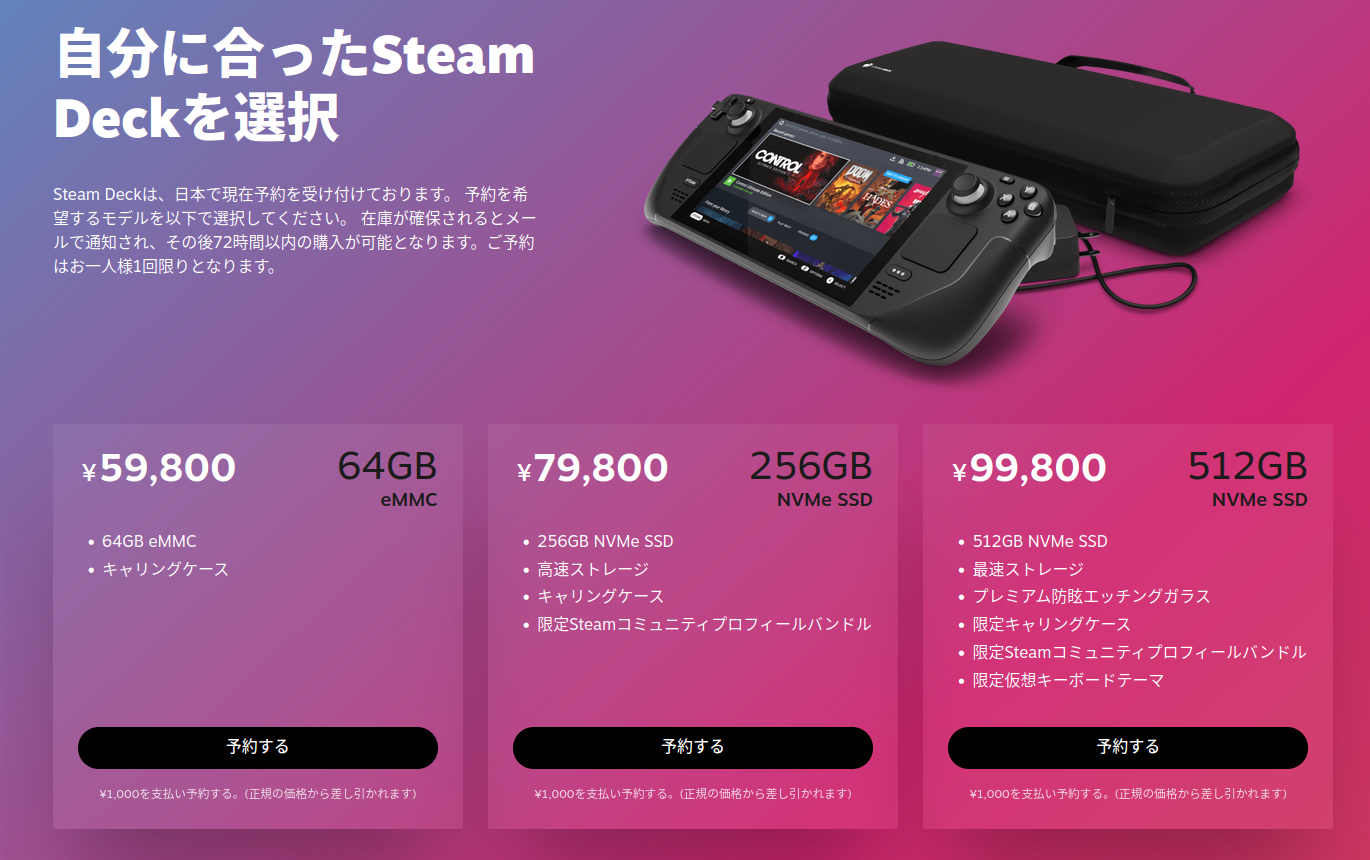 Ouch. Is it just me or did the prices just started to go for a hike?
$399 for the 64GB version in the US: 451.79 USD in Japan, + 52 dollars. (+13% increase)
$529 for the 256GB version: 602.89 USD in Japan, + 73 dollars (+13% increase)
$649 for the 512GB version: 753.99 USD in Japan, + 105 dollars (+16% increase)
Gotta love how it gets more and more expensive than in the US as you go for higher models in Japan.
We probably have to thank Komodo and Valve for the extra cost here, because we all know that everything in Japan is supposed to cost way more (even though the median salary is less than in the US). I guess, gotta pay for this large booth (and booth babes) at the TGS, they don't come cheap after all. That's not going to make it easier to compete vs the big names locally in the portable gaming world. Not that it really matters since Steam is virtually unknown in Japan outside of (the small flock of) PC Gamers.
So when can I expect to get my Deck? It's apparently going to be a different queue than the ones for the other pre-ordered for the US and Europe, and:
いつ注文できますか?
在庫が確保でき次第、2022年より予約順に注文のご案内をご登録のメールアドレスへ送信します。 購入は72時間以内に完了する必要があります。時間内に購入が完了されなかった場合や、予約をキャンセルされた場合は、購入待ちの次の予約者に購入の機会が移ります。
It looks like that sometimes in 2022 I will be able to finalize the order. I will take a wild guess and assume that it's going to be late in Q4 and not before. Note that they mention "based on inventories" so there's always the potential excuse they can serve us later: "inventories are low, so you guys wait ok?". Anyway, since I processed my reservation soon after the announcement, I will let you know as soon as things starts moving over here.
Wrapping Things up
I'm not super happy with this whole ordeal. First, Valve did not alert the Steam users in Japan despite the fact that they had wishlisted the Deck. How fucked up is that? Then, they go through a partner and prices go up vs the other territories for a hardware that's progressively getting depreciated by the day as newer SoCs reach the market. And finally, there's no clear commitment about when the units will be actually available.
They managed to turn what was supposed to be good news in a bittersweet feeling. Remind me, how many months did they have to prepare this launch in Japan again?