I am just back from a full day out in Osaka to cover the first launch of the Steam Deck in physical stores, worldwide. The place chosen by Komodo was the Edion store in Namba, Osaka, which is in a very central location, where numerous train lines and metro lines intersect. This is a very lively quarter with numerous shops, restaurants, bars, hotels, and more things to keep you busy when you want to kill time. Including big electronic stores like Edion.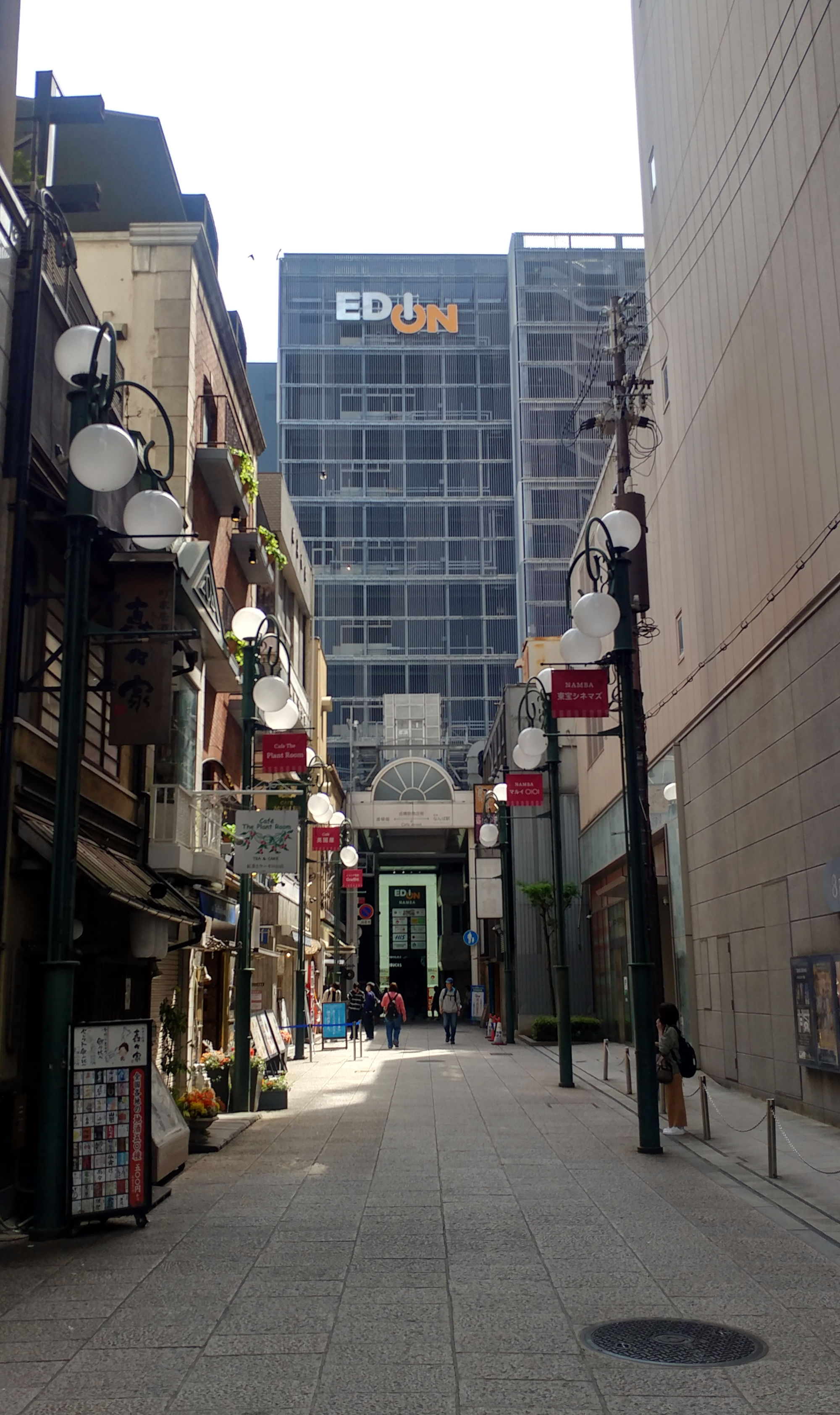 The store was set to open at 10 am in the morning and I arrived on location at 9h30, and there were already about 50 people queuing and waiting to enter the store right at the opening. This is not unusual in Japan. Stores in Japan often have campaigns where they release some new products, and they like to build anticipation by advertising the imminent availability (sometimes limited) of said products.
The Edion facade had a huge Zelda decoration spanning several meters.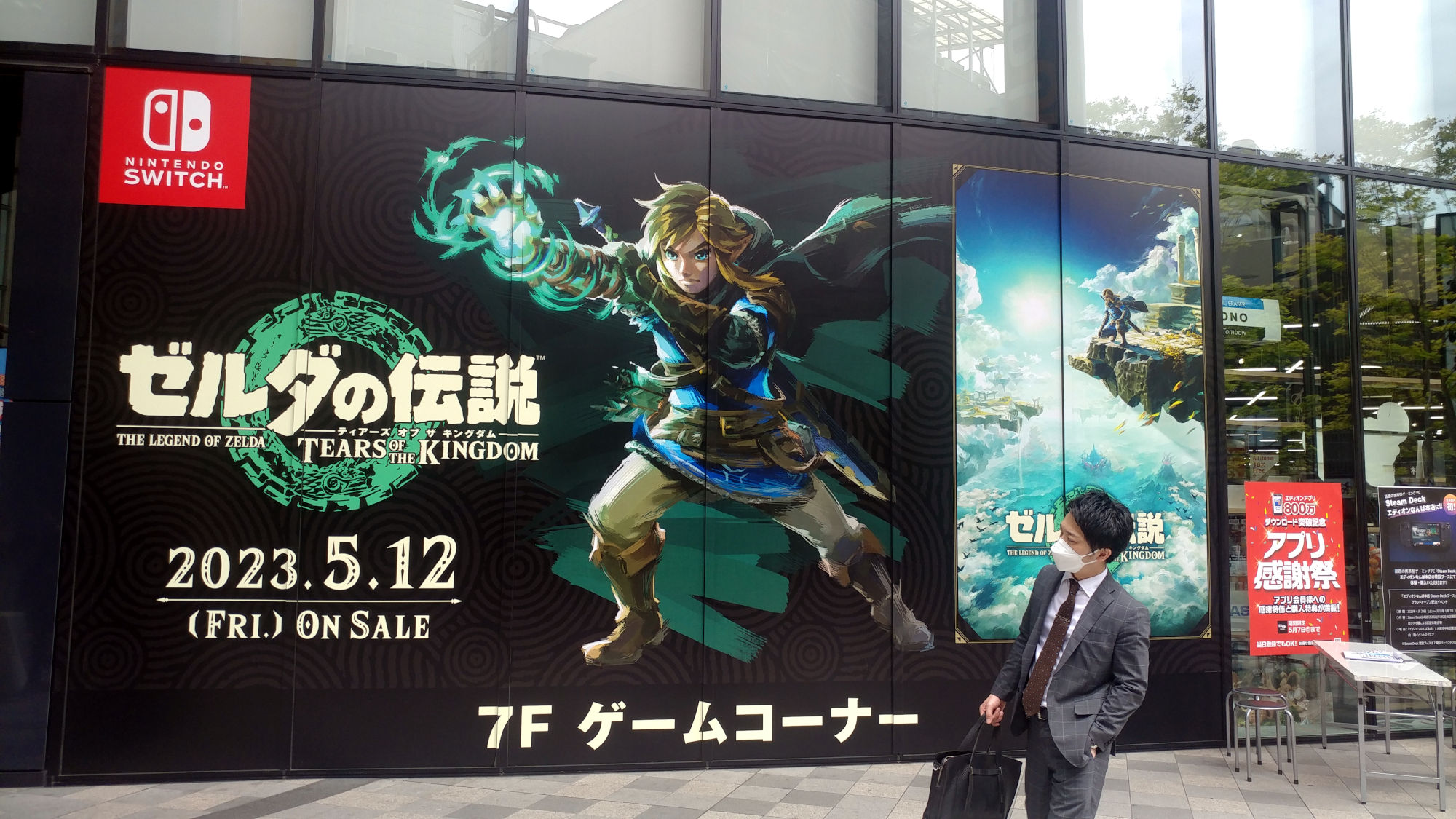 Every few meters on the facade you also had the Steam Deck poster advertising the fact that it is going to be available first in Japan in this store today.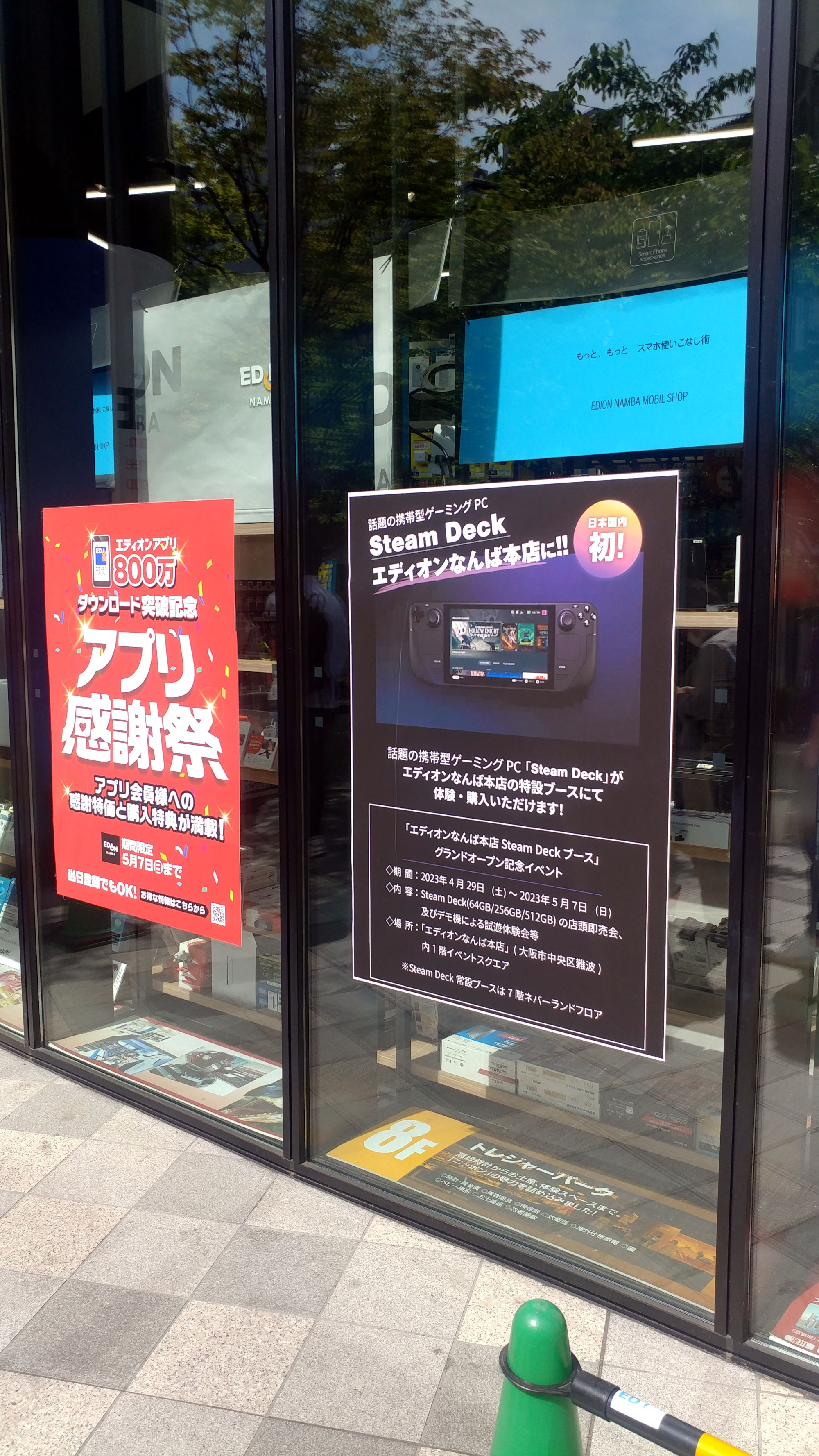 On the side of the entrance, there was a huge LED screen projecting the events of the day, including the presence of the Steam Deck. If you passed in front of the store, it would hard to miss.
Most of the people in line were men, between 30 and 45 years old if I were to judge. There were also a couple of foreigners who were probably aware of the event through channels like Reddit (or others), and a family with one kid in line.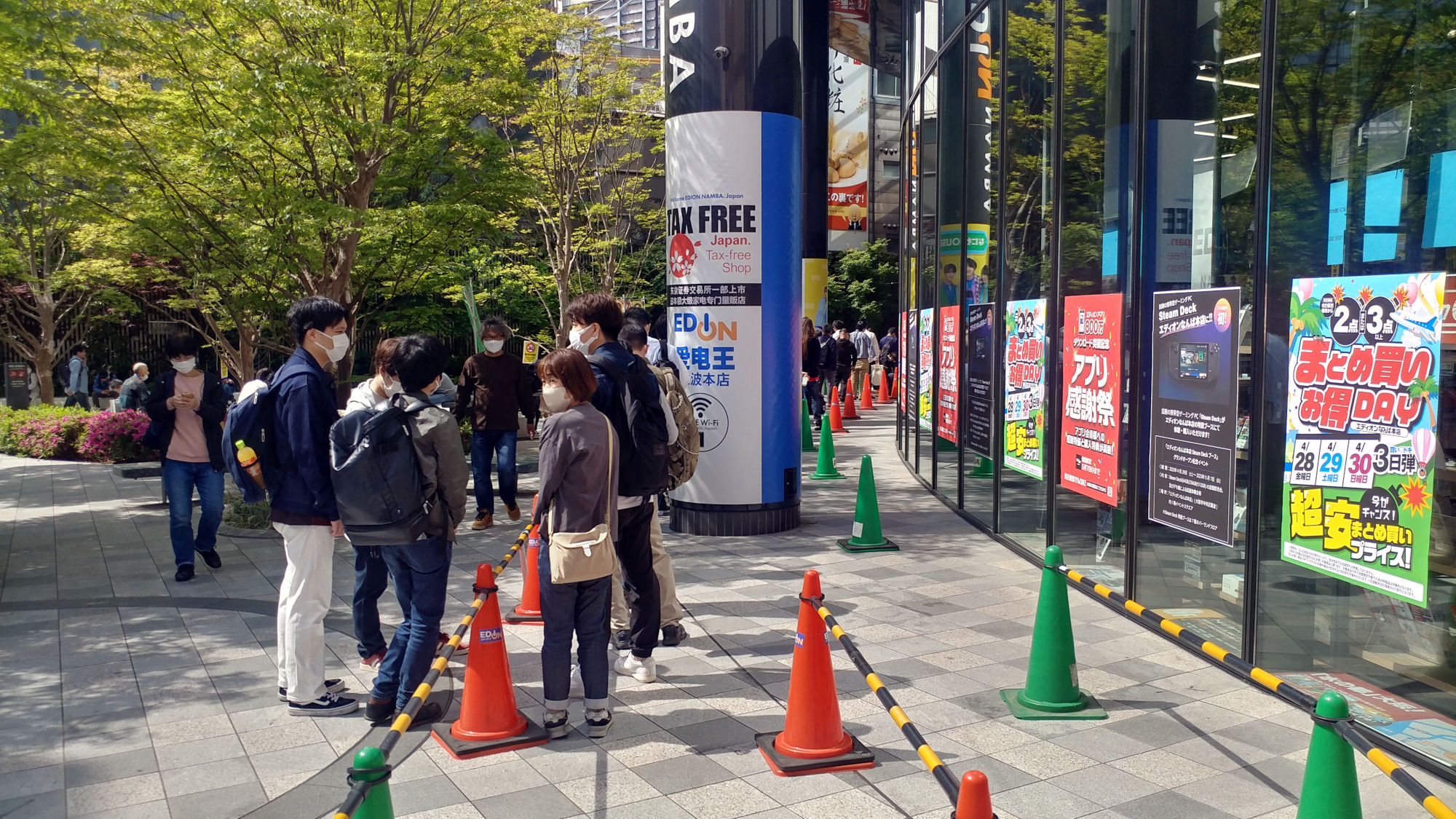 At 10 am, the doors opened, and while I went towards the trial area of the first floor, most people went directly to the elevators towards the 7th floor to go and purchase the Steam Deck directly. They probably knew what to expect and were just there to get their unit. Why they grabbed it in store vs online, I am not sure, but Edion has some very good deal to make you sign a WiMax contract together with a Steam Deck making the Steam Deck almost 50% off in the process (multi-year contract). More on that later.
Hands-on with the Steam Deck in store
The event stage on the first floor was quite spacious, with 4 big tables where 5-6 people could sit on each, and numerous Steam Decks to try hands-on. At the beginning it was just me a maybe 2 other people trying it - almost empty.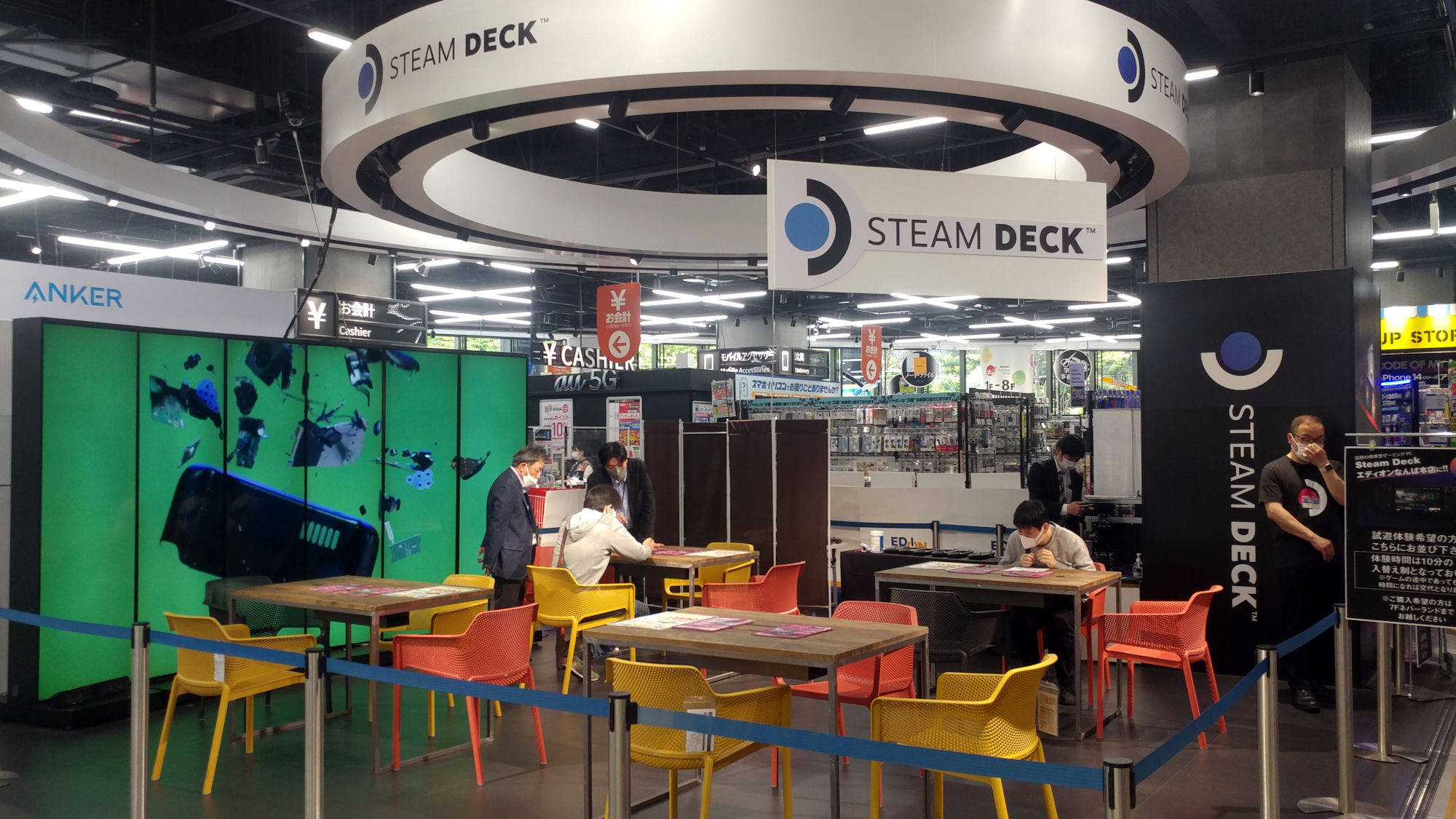 All of the Steam Decks were the 512 Gb version with the special anti-glare glass, and I am not entirely sure this was such a good choice - it made the display look more dull than it should - while the anti-glare may work better in stores since there's so many lights around.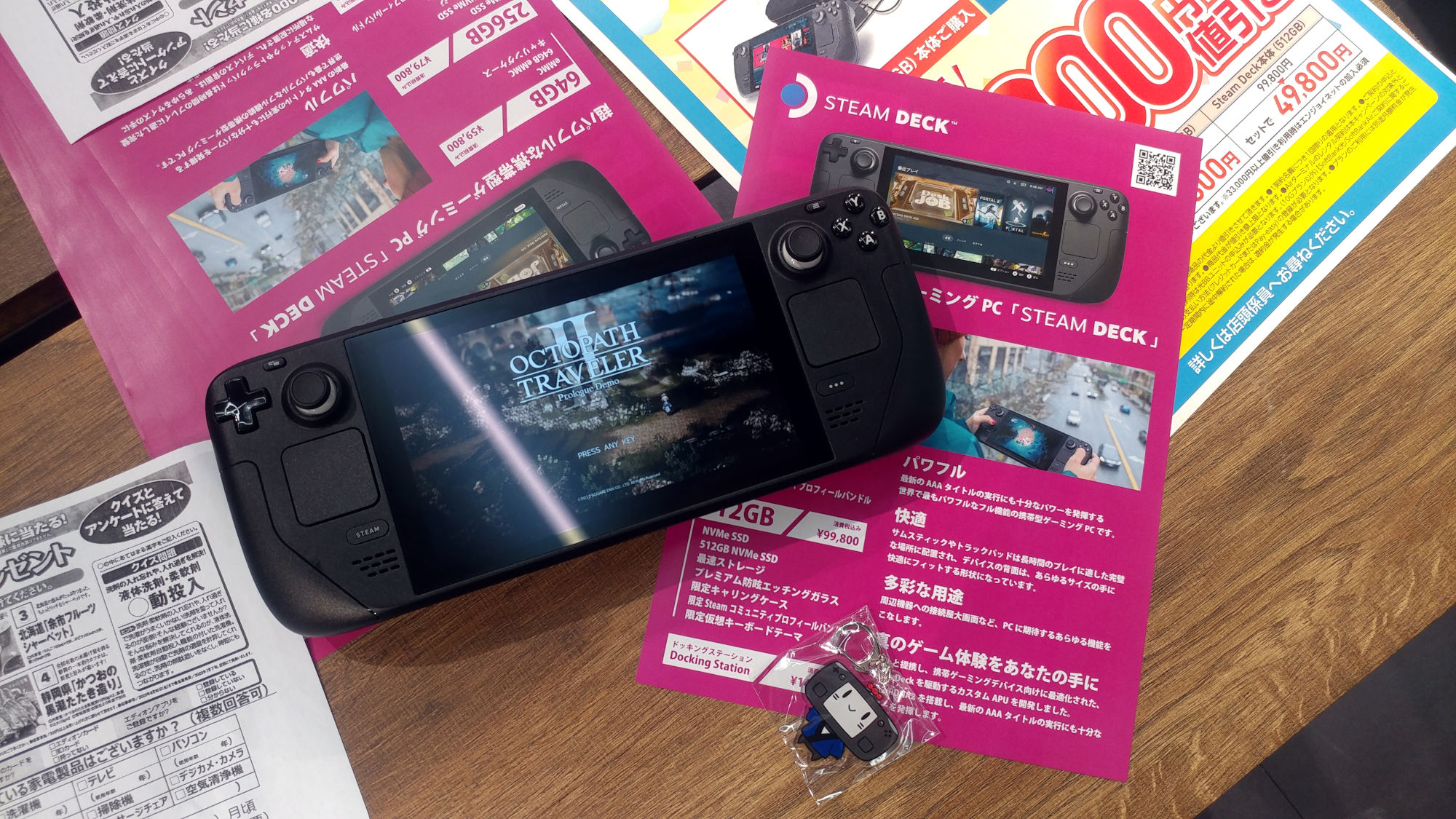 The library had something like 15 or 20 titles, most of them from Japanese developers (one notable exception, Hades). Some of them were demo versions, too, like Tales of Arise, or Octopath Traveller II.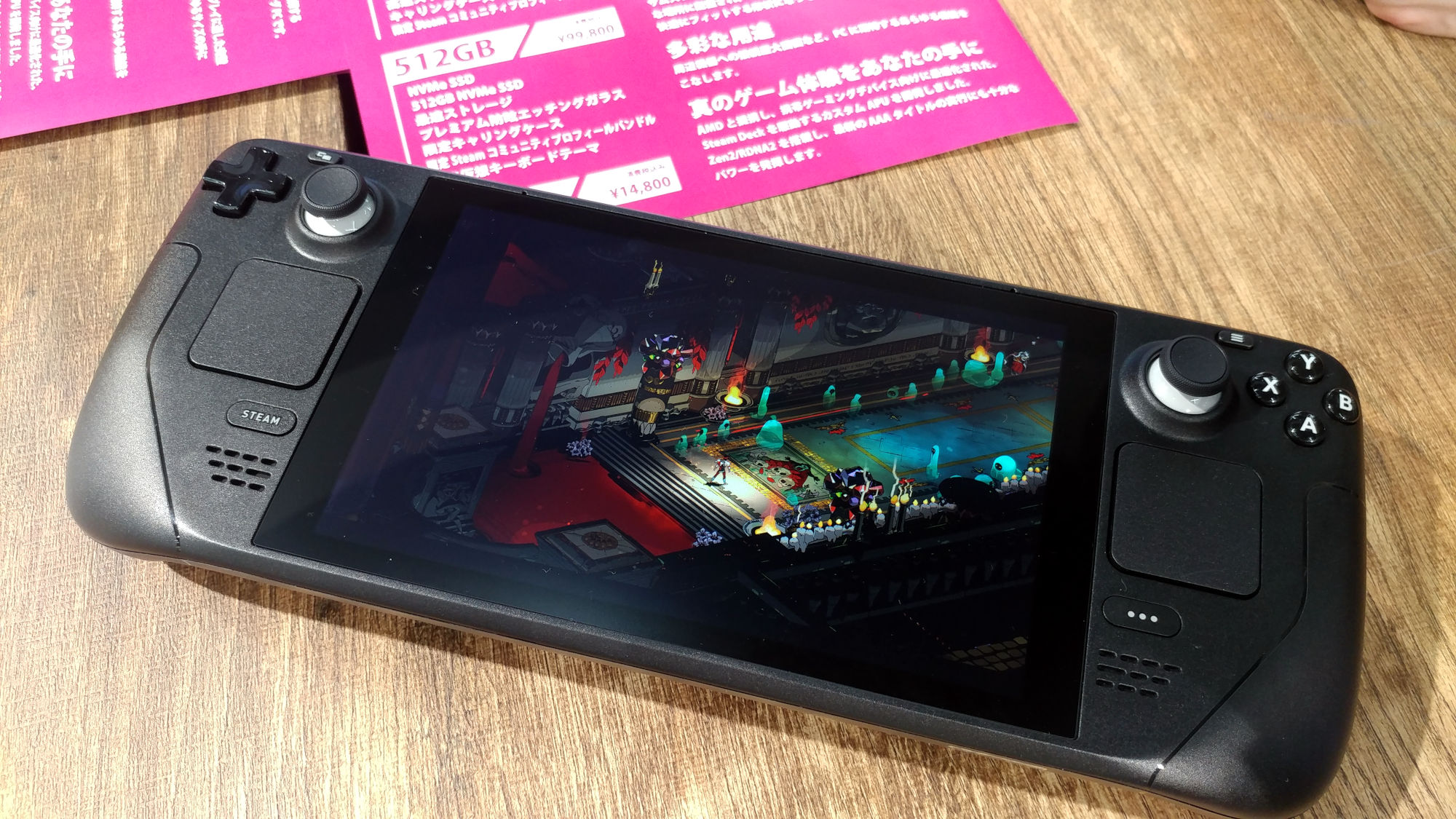 Some good choices, but I had trouble starting two games: Like a Dragon, Kenshin, seemed to be stuck in an infinite loading loop. And Persona 5, crashed every time I tried to launch it (complaining about the fact that the device was offline, I think). I had a second go at Persona 5 in the afternoon on another unit and it worked that time, but that's not a good sign when the games you showcase are not working as expected… A slightly better preparation would have been welcome.
I ended up playing most of the time with Melty Blood Type Lumina, and while I know the series, it's a great game on the Deck and I am thinking of buying it soon after checking it out!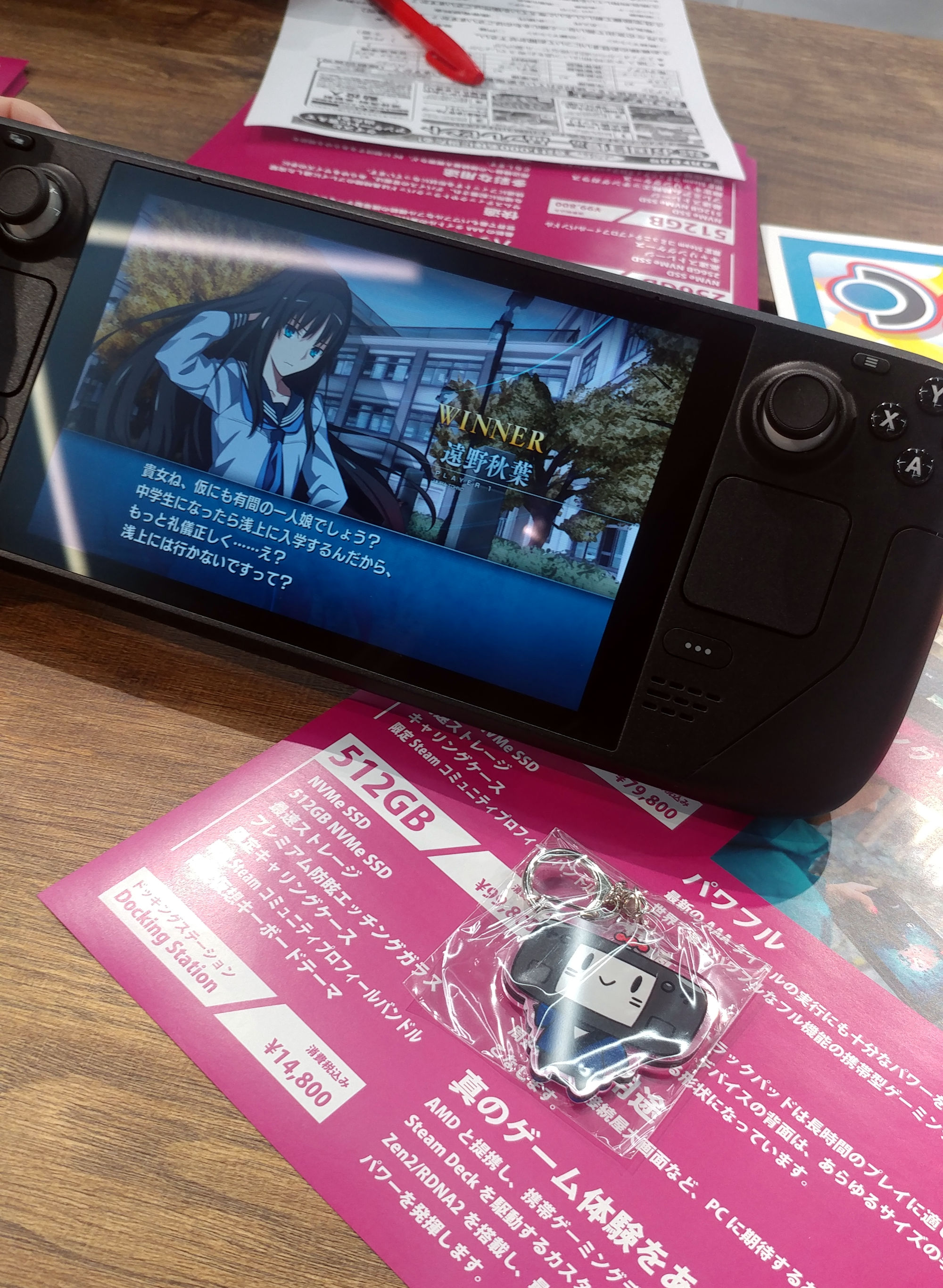 After trying the Steam Deck you got the Steam Pal Mascot that was designed by Mr. Yang from Valve back for the Tokyo Games Show 2022. A nice little touch, but it's all just probably some extra stock they had for the Tokyo Games Show last year that ends up being recycled this way.
The pamphlet in pink describes the different types of models and they were quite accurate in the description, even mentioning clearly that the cheapest model had a eMMC drive and not a NVMe one. The back of the leaflet advertised the official dock from Valve, and the game library, with Apex Legends, Ishin Kiwami, Portal 2 featured prominently.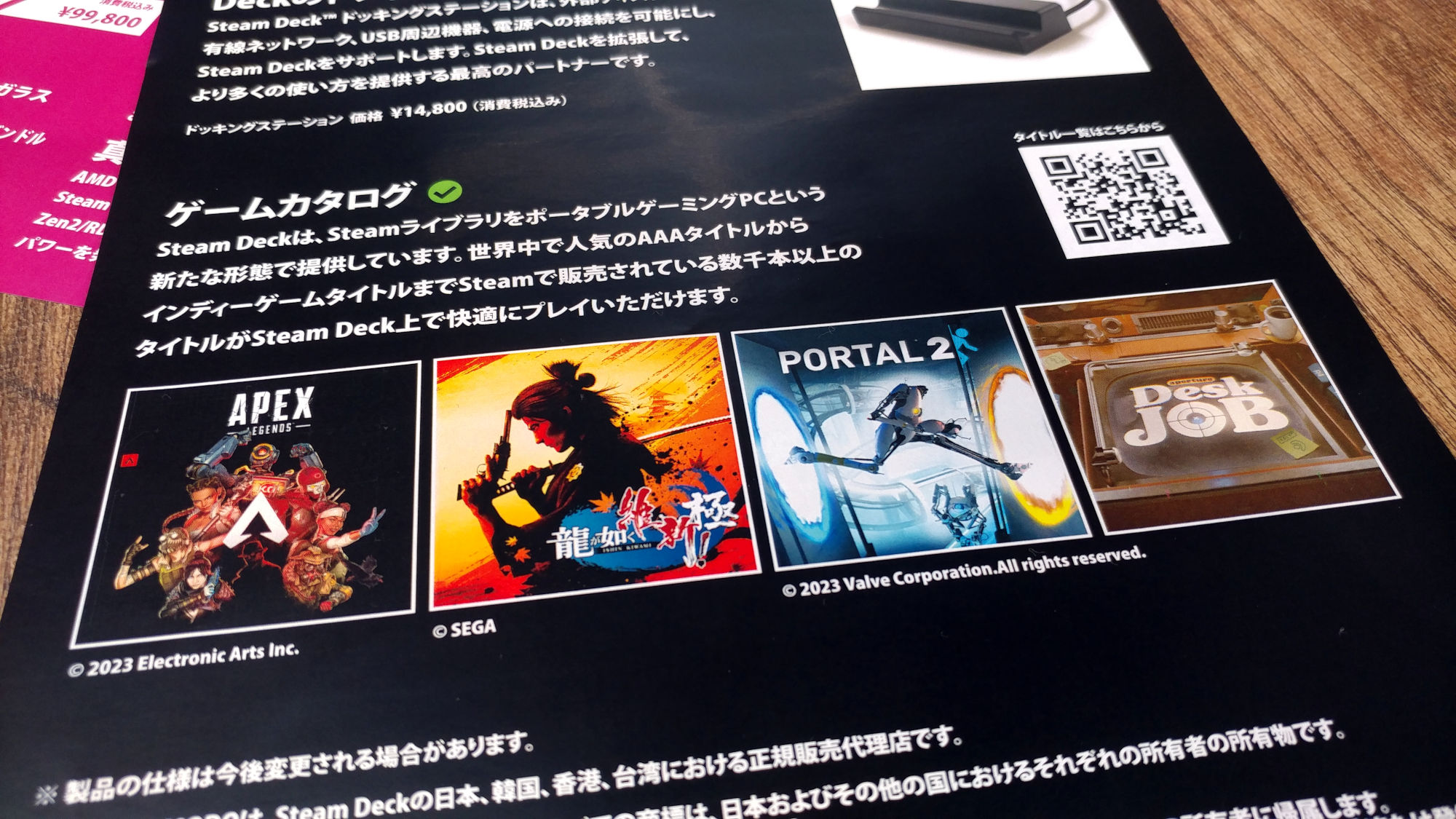 A couple of Japanese guys who were sitting next to me during one trial session commented that the Steam Deck was "huge!" once they had it in their hands, but quickly continued by saying that it feels good in hands and is easy to hold. However, they remarked that the screen felt comparatively small, probably because of the current bezels.
Later in the day, by 3 PM, the trial space got a lot more visitors and you had to wait a little to get in there,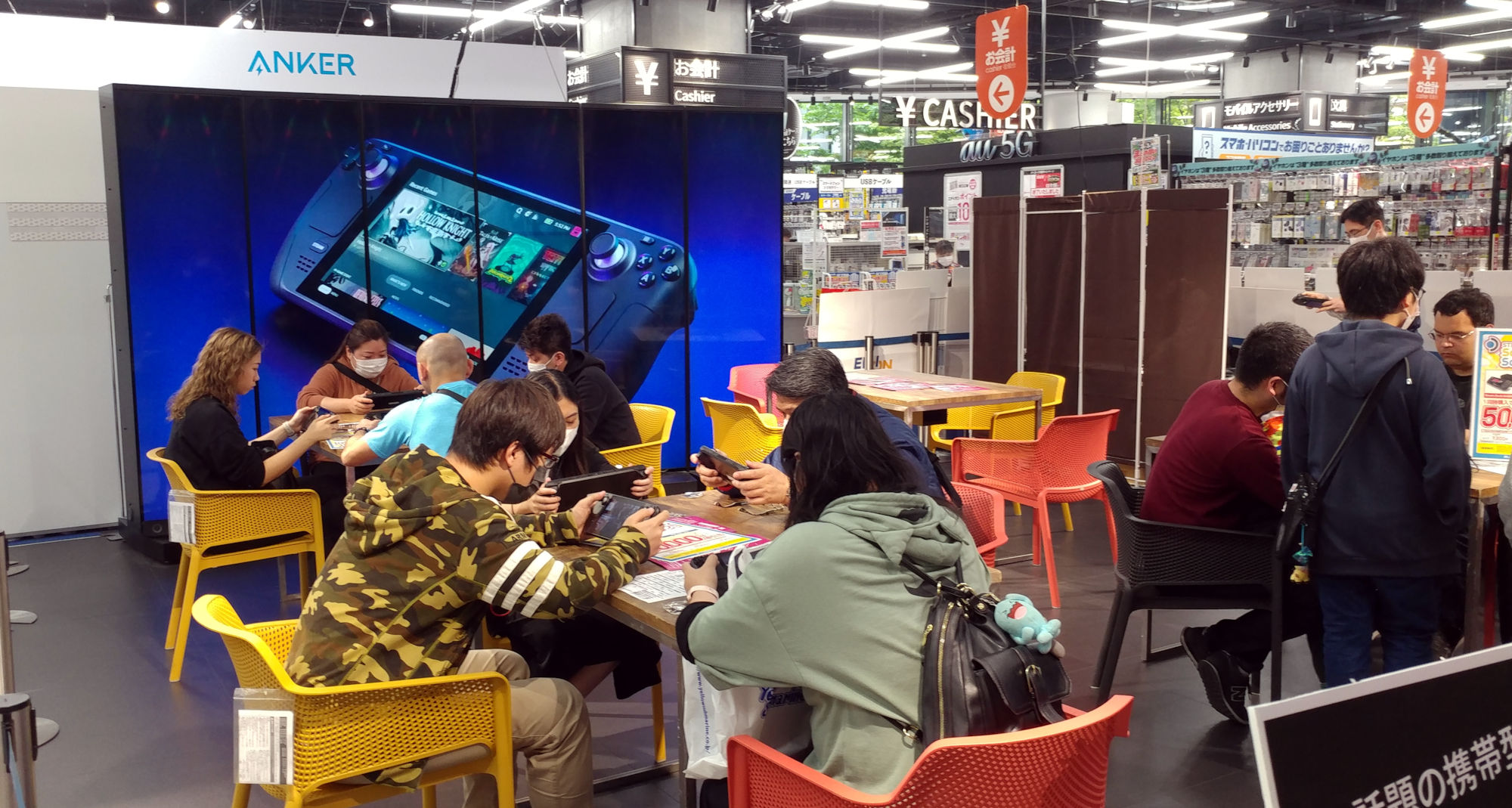 Good sign, I guess?
Purchasing a Steam Deck
After you are done with the hands-on trial on the first floor, you can go to the 7th floor in the same building to get to purchase a unit. Exiting the elevators you find yourself in the floor that has everything from games for little kids to the latest video games consoles. Don't come here with you kids unless you want to stay there forever!
There's a huge space typically reserved for the two main companies in Japan, Sony and Nintendo, with the Switch and the PS5 well positioned to garner visibility. No Xbox here, guys, sorry, this is Japan. Now, the Steam Deck space was just in front of the Playstation one, and it was far from being small, with large signs and multiple screens trying to get your attention. For some reason, one of Capcom's beasts from Monster Hunter was also displayed together with the Steam Deck - not sure if there was some kind of partnership with Capcom there, because there was nothing really obvious in that regard.
The Deck space had an additional three Decks that you could use to play some games that were already running, with Elden Ring and Sonic Frontier when I was around.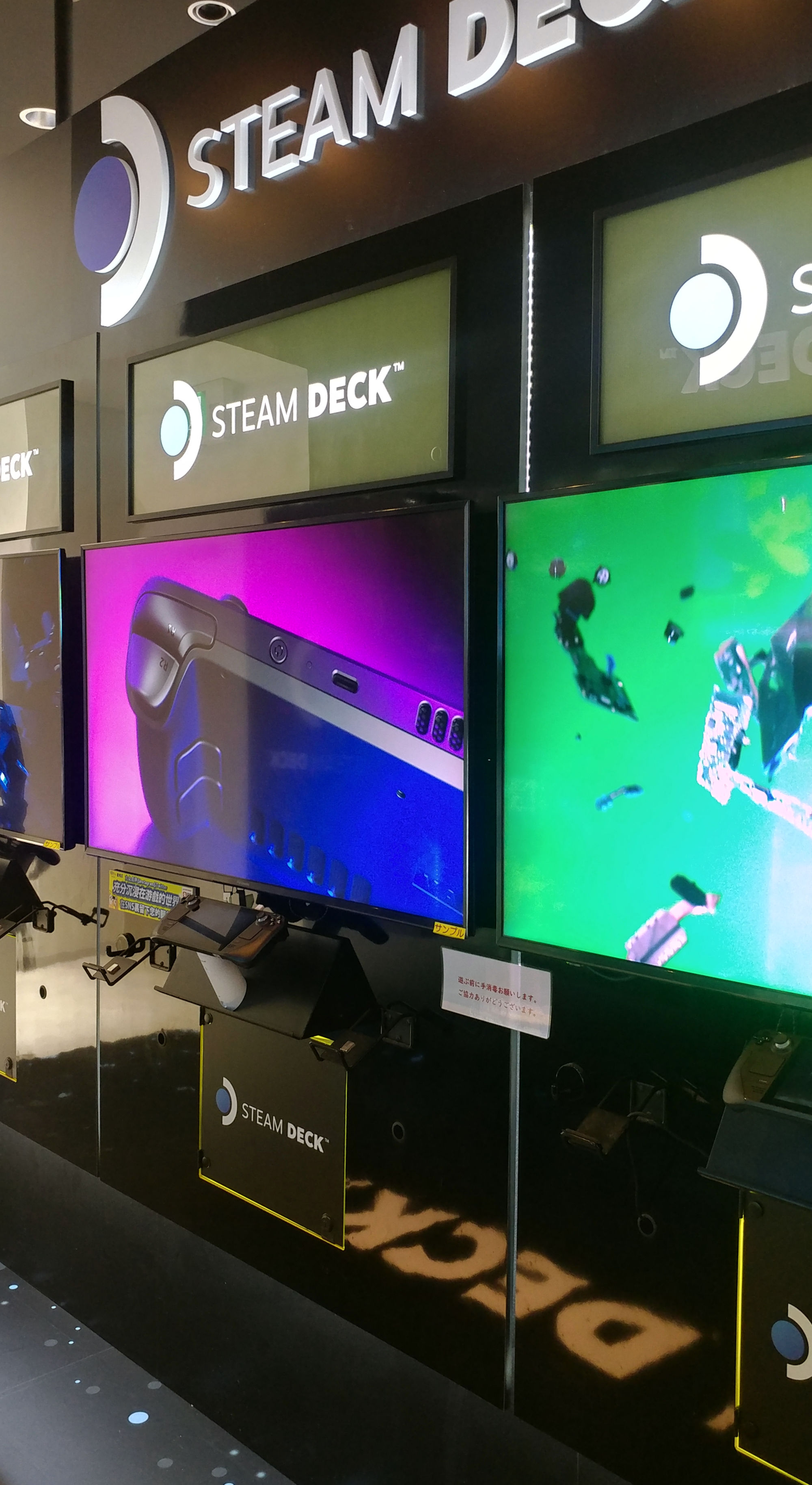 The choice of Sonic Frontier is kind of questionable - it may be working fine, the frame rate is not great, and the Deck deserved a better performing game for a public showcase.
To buy the Deck you had to go on the side and pick up a card that corresponds to the model that you want to purchase. I have been told that this is also how some hardware is sold in the US, so this might not be too uncommon even outside of Japan.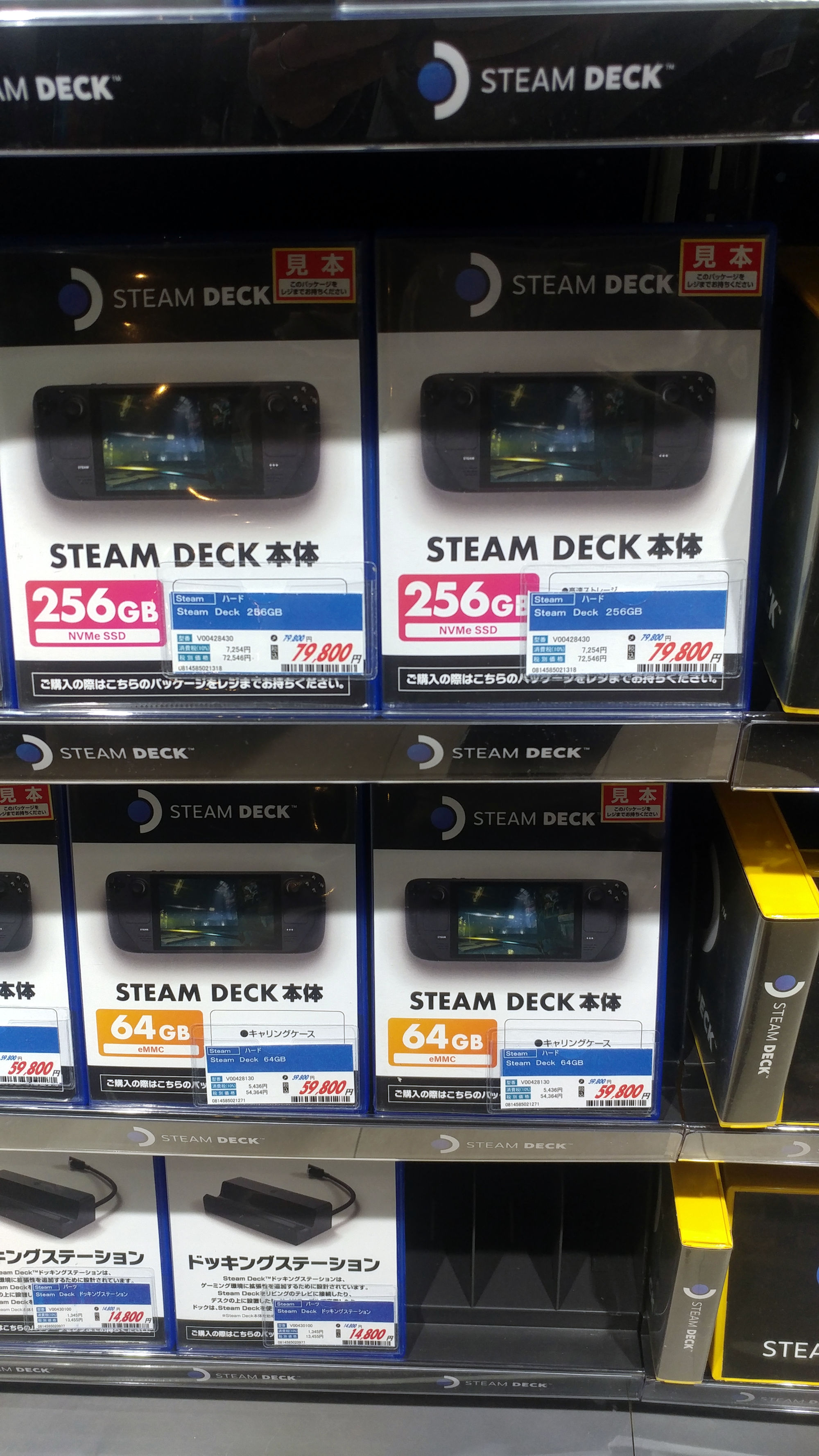 There were also a bunch of accessories that you could along with the Deck, mostly from Elecom, as well as completely overpriced SD cards, but that is to be expected (and that worked - I saw 3 Japanese guys coming up and buying one Deck each, and then grabbing several of these pricey accessories without thinking).
FOr people not too familiar with Steam, a small card in the corner explained what Steam is all about. Probably not relevant for most gamers today who are familiar with Steam, but as you reach a more mainstream audience, a LOT more work needs to be done there.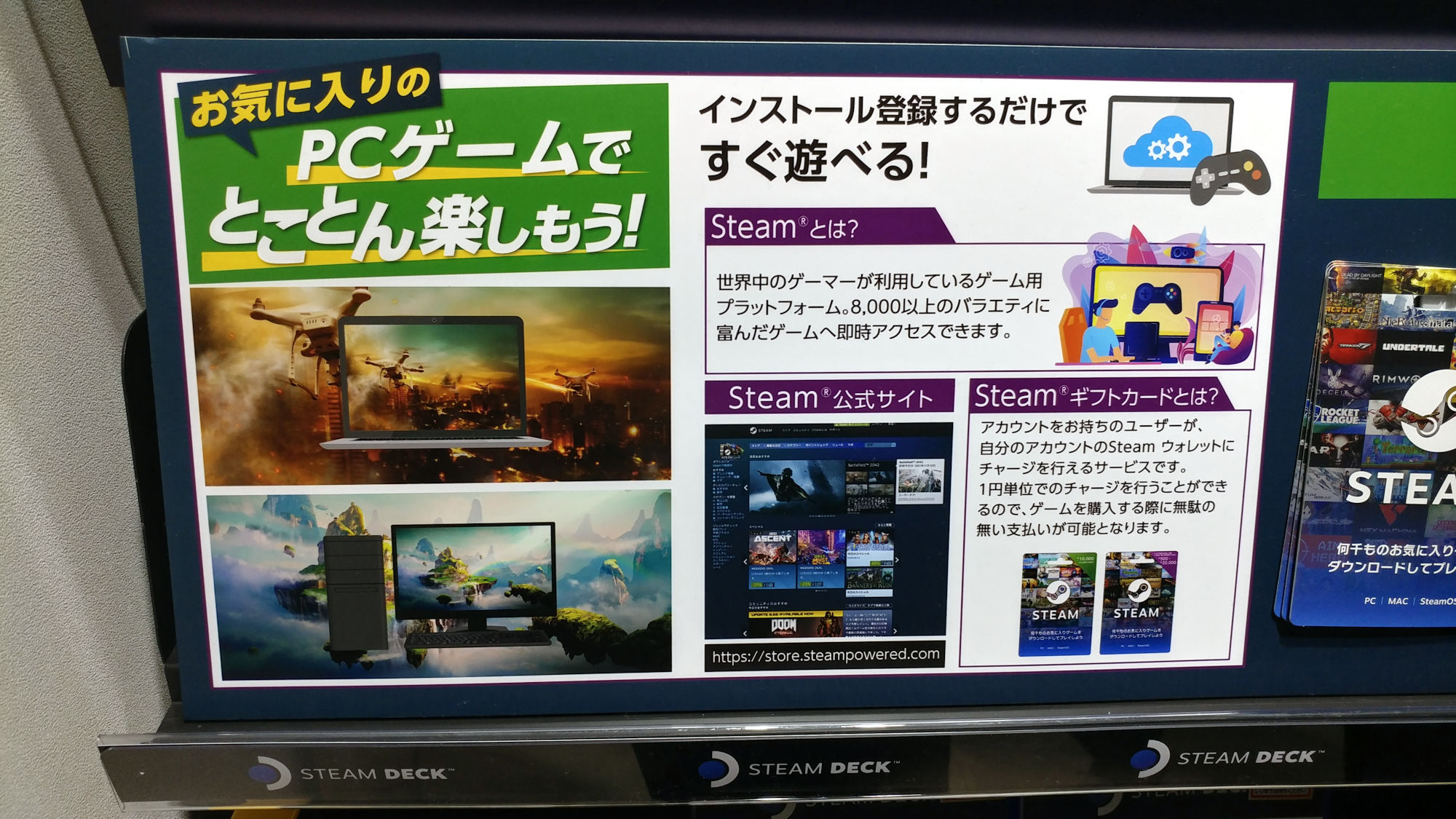 At least, they mention the number of 8000 games working on the Steam Deck in this small sign.
Insights
This is probably more intesting that the rest. I was sticking around for a while and I could confirm a few things by talking with different counterparts.
First, one of the store clerks from Edion told me that this is a test market. They are not sure yet if the Steam Deck will be sold nationally in Edion, and for now they want to see how the sales are picking up before making a decision. Hence Osaka as well, which is a nice place to test things outside of Tokyo.
I have also heard from a Komodo employee who was on the 1F that there is another store in Akihabara (in Tokyo) that will start selling the Steam Deck from May 1st. So there's that. I asked her as well how were the sales in Japan since they started distributing it locally, and her answer was that it was "amazing". Of course, this could be just marketing speak or a display of confidence coming from a Komodo employee, so take this with a grain of salt. I also asked what kind of people are buying the Deck currently, and she said that it's mostly PC gamers but they are starting to see also more and more people who were not PC gamers in the first place picking it up. I have no numbers to give you, so this is a purely qualitative comment.
When I was on the 7F, a TV crew was going around to cover the event, and asked either the Store owner or the division manager from Edion a number of questions, including one regarding how many units they were holding. First the Edion person said "a lot", and the interviewer (good on him!) asked the question again with "how many exactly?" and then he finally answered "several hundreds". So there you have, this is clearly a test market, not some huge operation at this stage.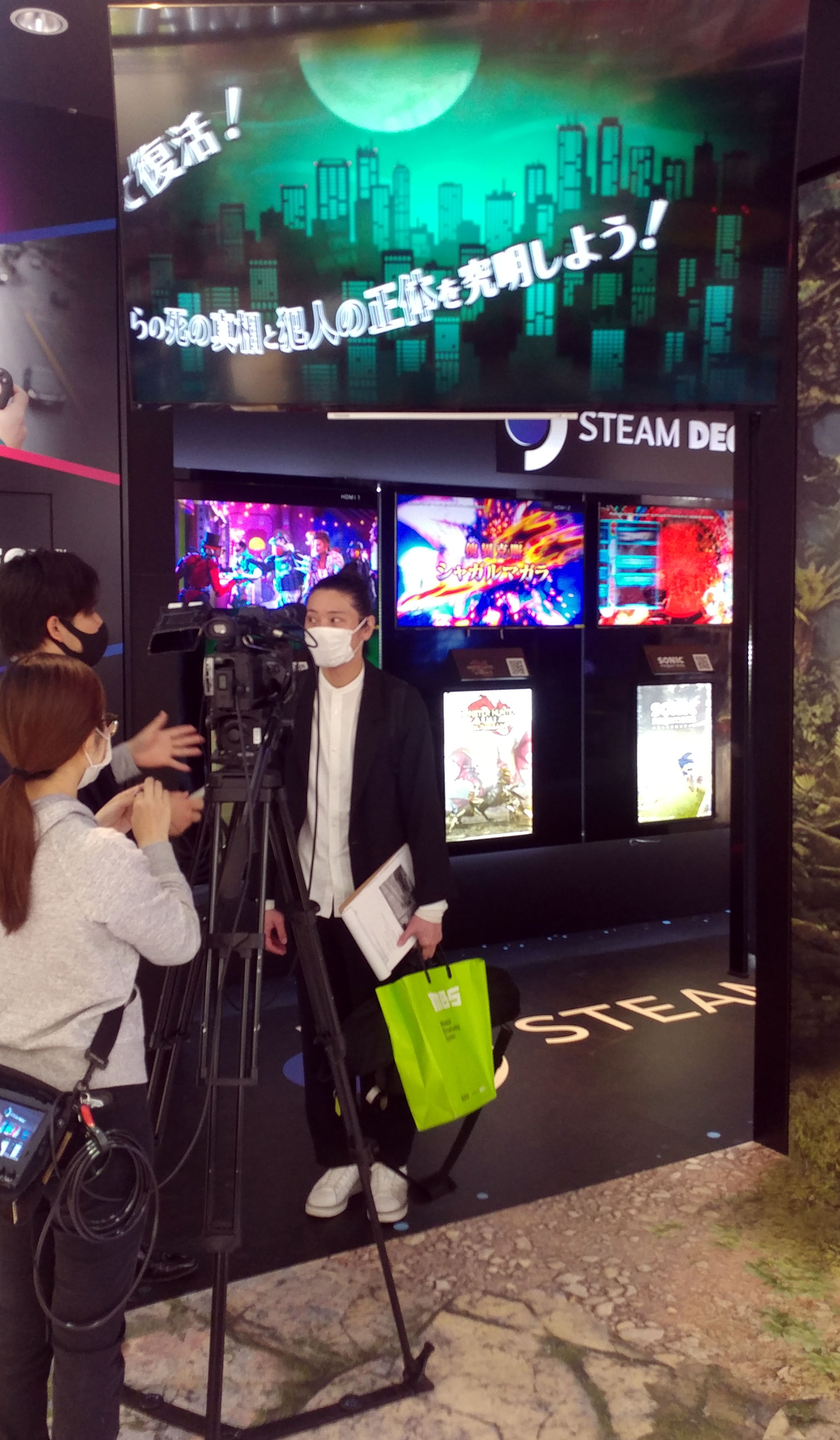 The units are sold exactly at the same price in Edion as on the Komodo site in Japan. This means that there's someone getting his margin screwed in the process, and I guess it's Valve and/or Komodo in this case. A physical distributor will usually pick up 15 to 30% of margin to carry your product, so this may be an operation that is designed purely to boost volume rather than short term profits.
As I stayed around both in the morning and in the afternoon, I could compare the number of "cards" that were picked up by people who purchased a Steam Deck during the day. A lot of them were in the 512 Gb model. I confirmed with the Store clerk and they said the same thing: the more expensive models are going first, while other models were also being picked up at a lower rate. When I left the store at about 3 pm there were not so many cards left on the shelf, so I guess this means the sales on the first day were probably fairly decent.
I also helped one of my Japanese friend pick up a Deck for himself - he was on the edge between buying a 256Gb model and the 512Gb one - but he did not really like the look of the anti-glare screen of the 512Gb one, so he ended up picking up the 256Gb model. There was a problem in the store though: all units used for demonstration were the 512 Gb kind with the exact same screen, and even if you asked to see the other models, they did not have any at hand to showcase the difference. In the end a girl from Komodo showcased a youtube video to him to explain how they would look… Come on, Komodo, at least prepare ONE unit for each model.
What I think
First, in the morning it did not look like there was going to be a lot of traction, but things were definitely heating up during the day, and maybe the word of mouth will help fuel it from there. Having units in store is absolutely essential to drive adoption. Almost nobody is going to buy your Steam Deck out of faith, especially in Japan where you usually can try things out everywhere before buying. So Komodo is definitely on the right track by pushing for this.
Preparation-wise, it could have been better. People who came to try the Steam Deck were left without any explanation, on their own. If you had never used Steam, you would be a little confused by how things are expected to work - and for such people either some explanation before hand, or someone looking over your shoulder would be necessary. They had none of that.
Add to that that a few games crashed or did not launch properly, and that does not look too good. You'd expect that they checked that anything that they showcase in this place, at this time, in such conditions (no network) would work perfectly, but it looks like they were not very thorough in their work there. Blame Komodo or Edion? Not sure who is ultimately responsible, but that's not great when you go out like that on Day 1.
Still, I have a positive impression. Let's see how things evolve in Japan in the next few weeks and if the distribution expands or not. This is going to get really interesting if it does take off.
Tomorrow I will be sharing a video of the event as well, so stay tuned. Expect some edits/additions on this article as well as I may add a few more notes.