A few days ago I went back to Akihabara, the otaku quarter of Tokyo, well known for its stores dedicated to electronics, anime and games (anime should probably be first in the list these days). This is the only place in the world, I guess, where you will see anime ads covering entire tall buildings from top to bottom. In Akiba, you are in the epicenter of that subculture.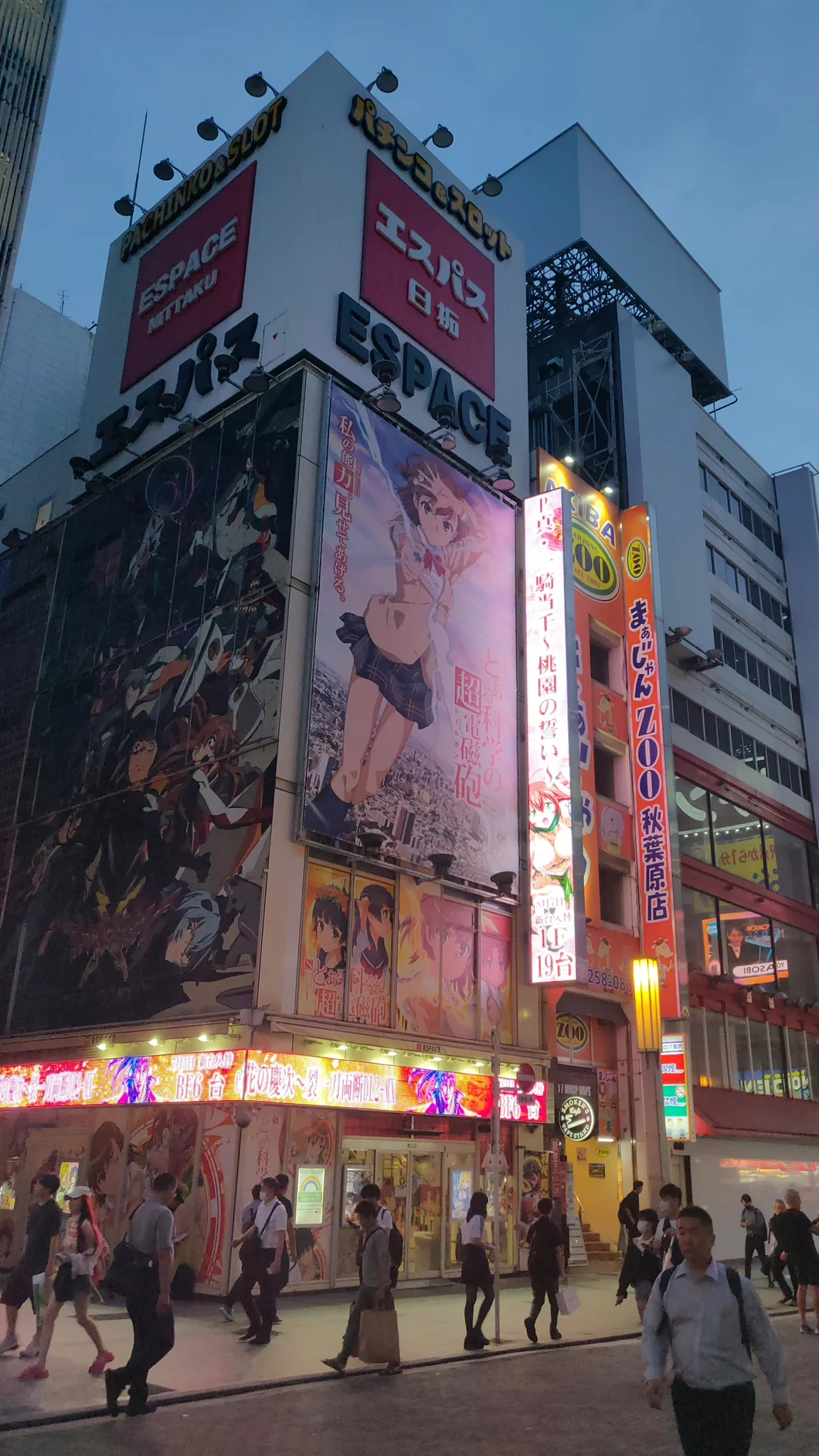 Akiba has changed a lot throughout the years. It used to be THE place to buy electric appliances, then it turned into the place for computer and computer parts and video games consoles before online shopping became a thing, and since the turn of the century the anime scene took more and more importance as well as girls bands like the famous AKB48. And Akiba is still changing a lot to this day. I had not been there since COVID hit, and quite a few buildings had been torn down in the meantime, some others renovated, new shops replacing older ones… and it felt somewhat different from the last time I was there. But its core focus on electronics and games remains very strong. As I strolled along the main street, i suddenly noticed one of the Softmap stores advertising the Steam Deck and the ROG right at its entrance!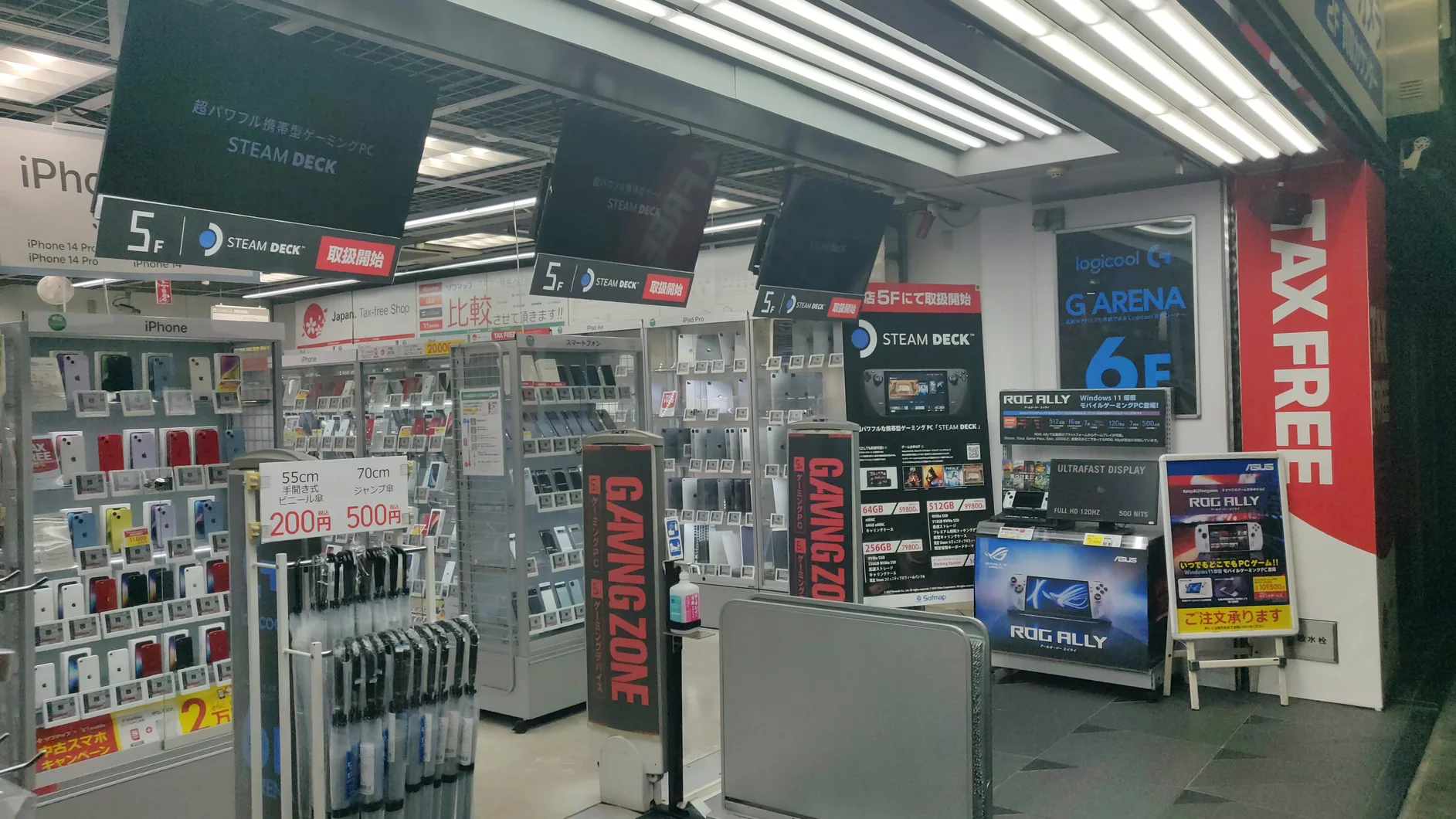 Yeah, no mistake, this store is clearly promoting PC handheld devices, and has actual units to try out on its fifth floor. It was enough to convince me to have a look.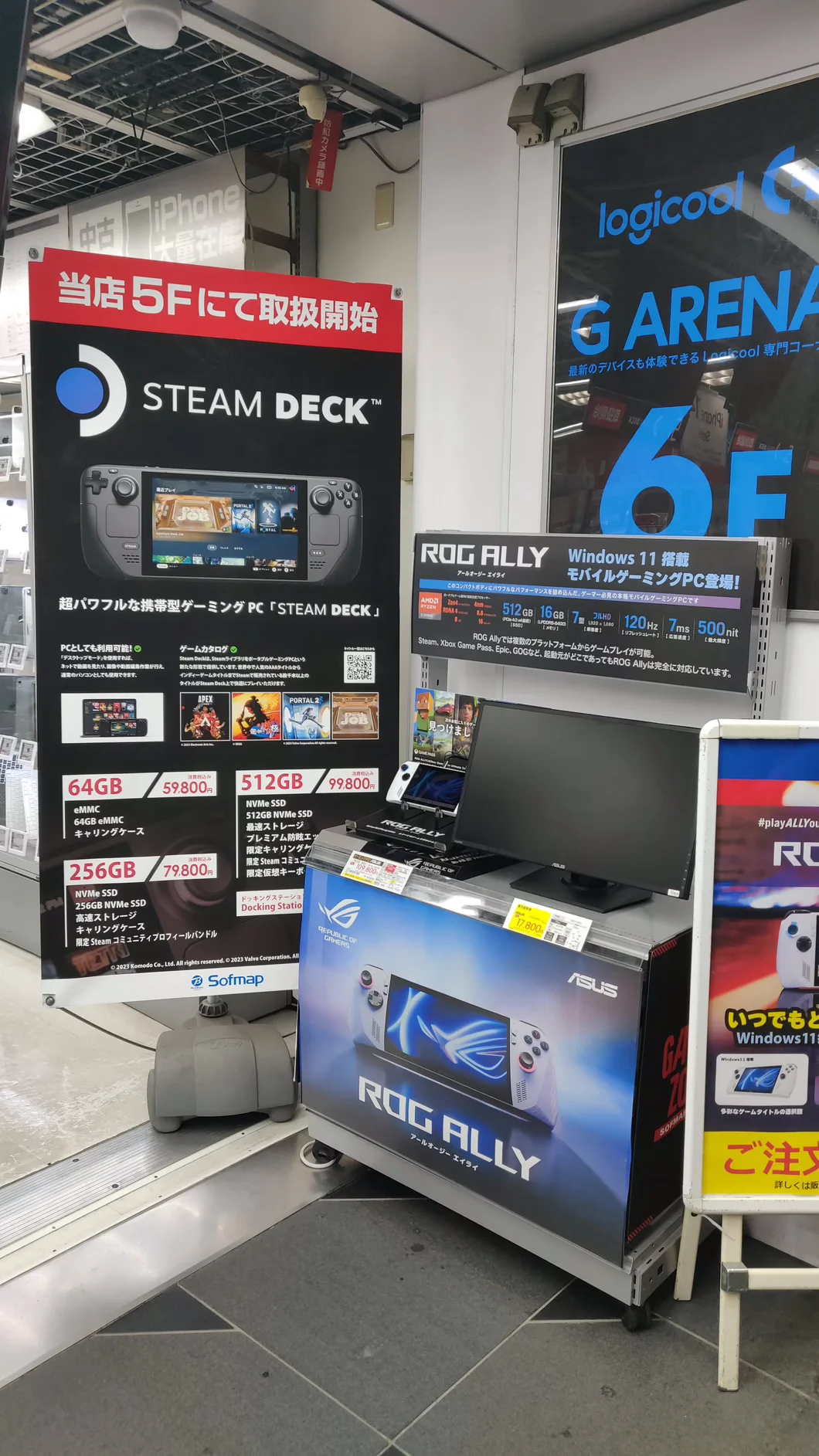 After a few escalators up, I reached the 5th floor. Right as you exit the escalators, you face the Steam Deck booth - almost impossible to miss. This time it's nothing like the booth that was showcased in Edion Osaka back in May 2023, but this is also a much smaller store - a small corner is what you should expect anyway for any product under the spotlight.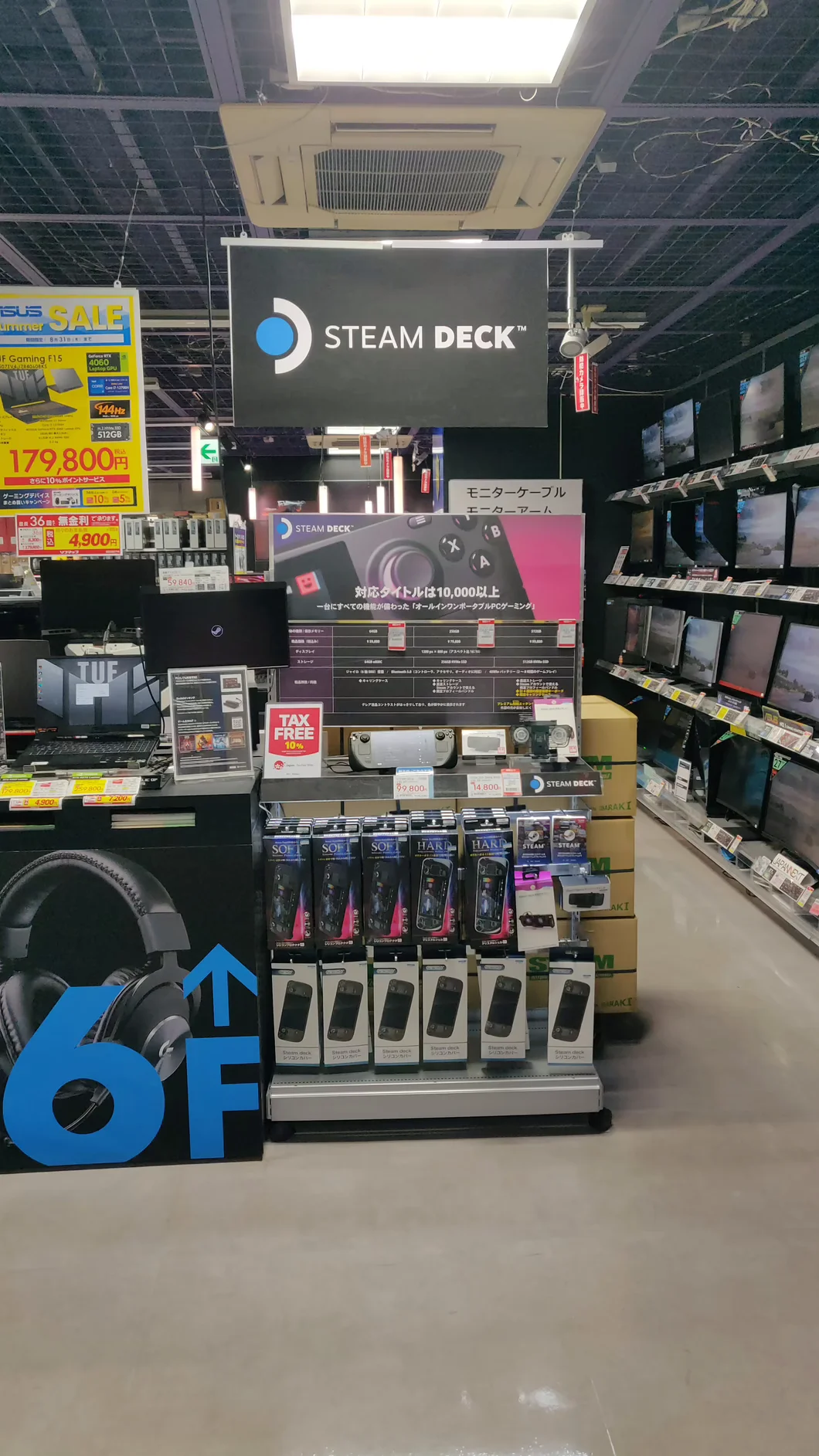 There's more space on the floor dedicated to gaming PCs, most of them laptops, from Legion, ROG and Omen.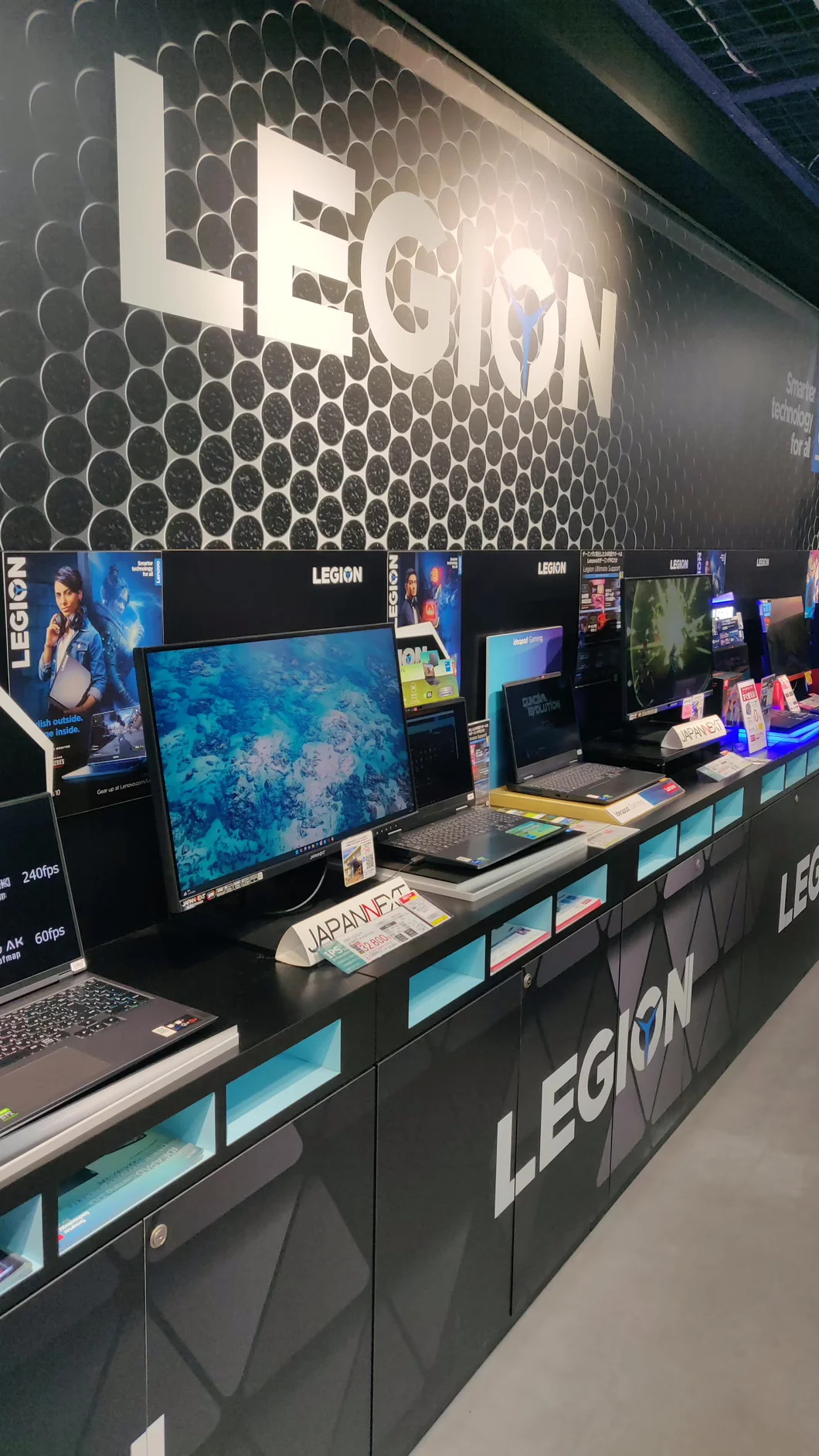 The Steam Deck was presented along with some accessories, and you could try out the 512 GB version on display. The game roster was quite similar to what was available in May in Edion Osaka, with a few additions like Street Fighter 6 and Ghost Trick. In any case it was clearly a library focused on Japanese games, as one might expect.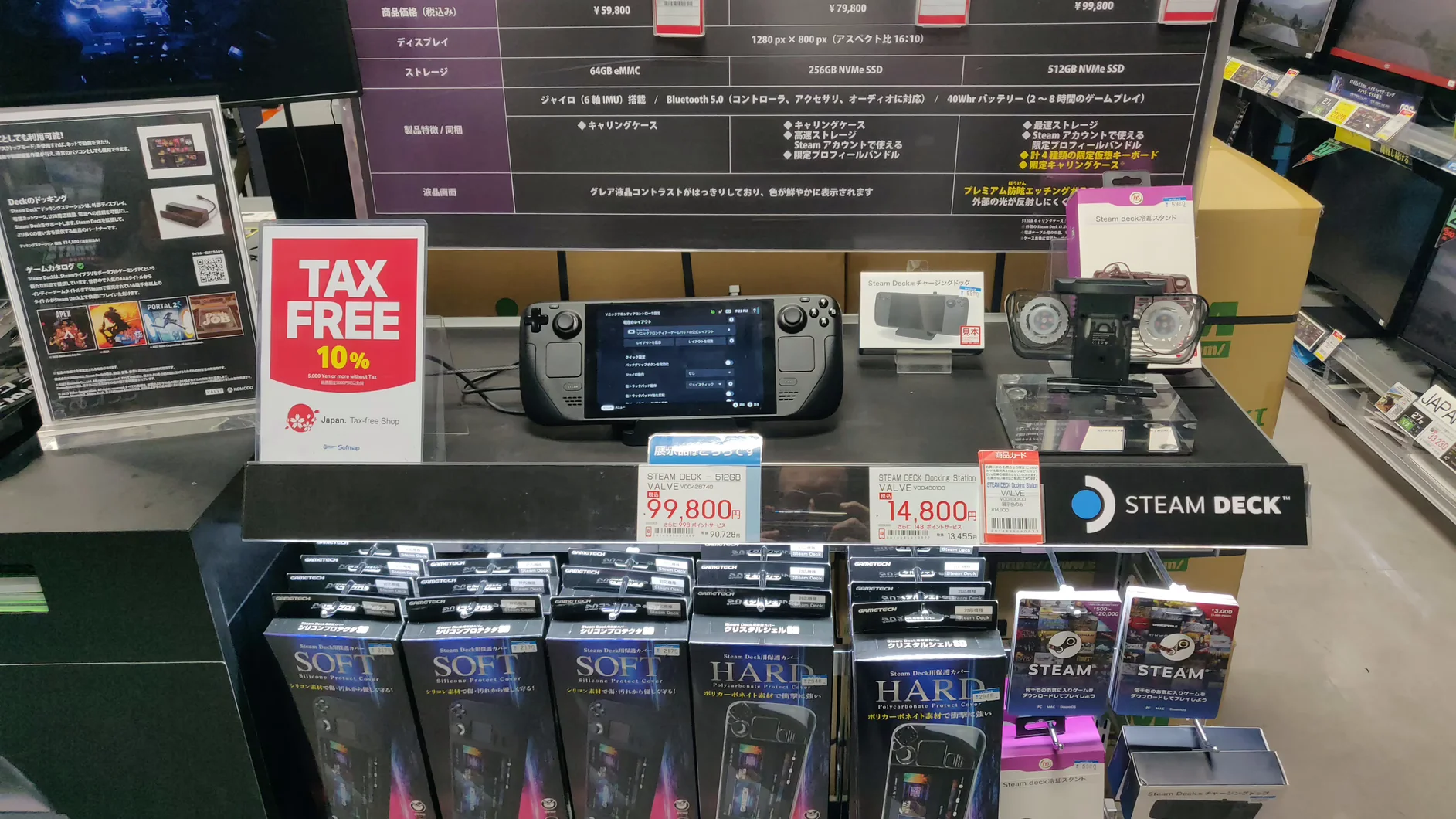 Among the accessories sold on the side, there was this ridiculous external twin-fan extension part to cool down your Steam Deck. Who buys that shit?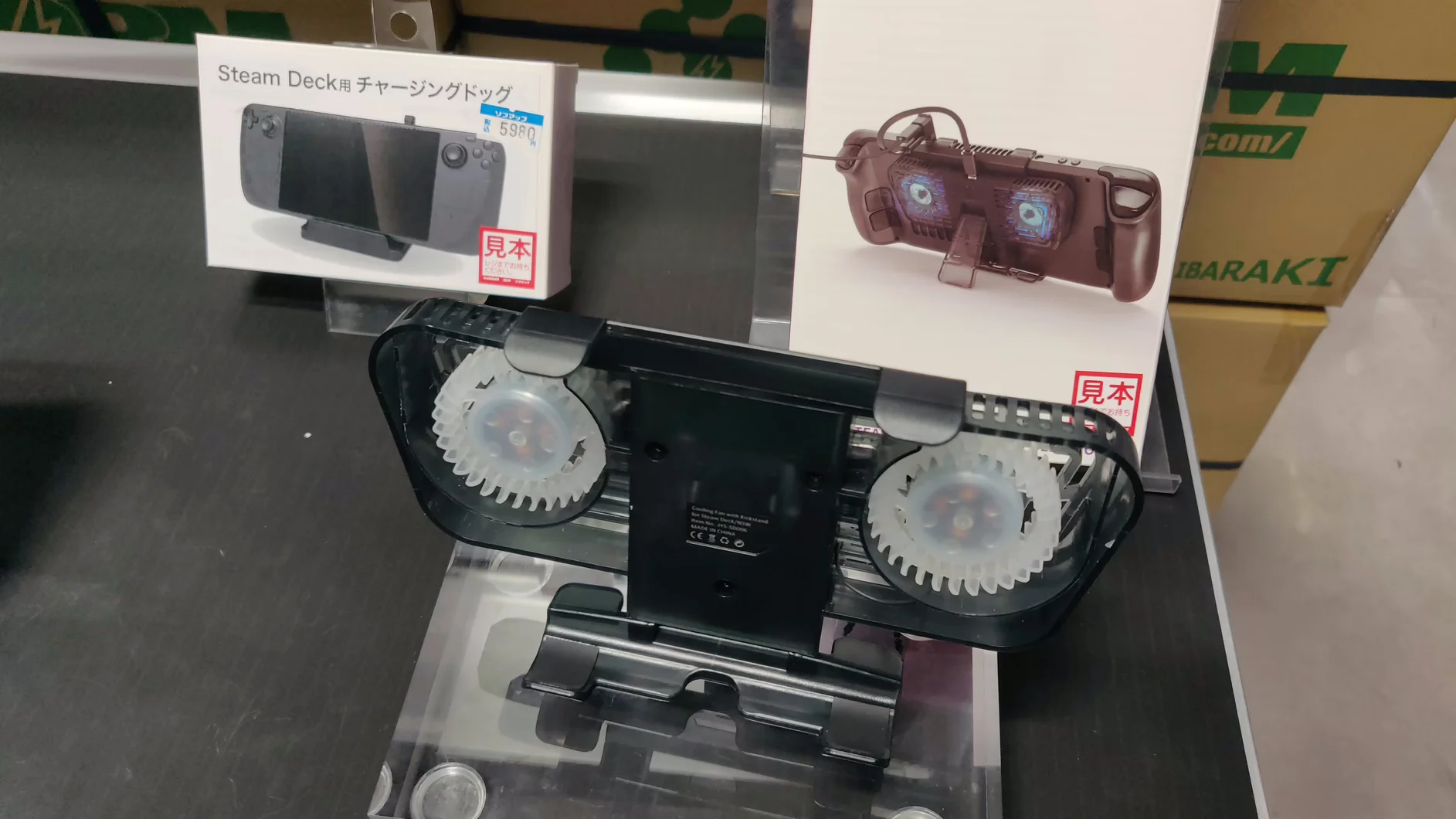 Sure enough, the ROG Ally was in the ROG section of the floor, and had its own little booth as well. You could try Forza Horizons 4 on it, and it ran very well as you'd expect from more powerful hardware. Its screen looked good as well.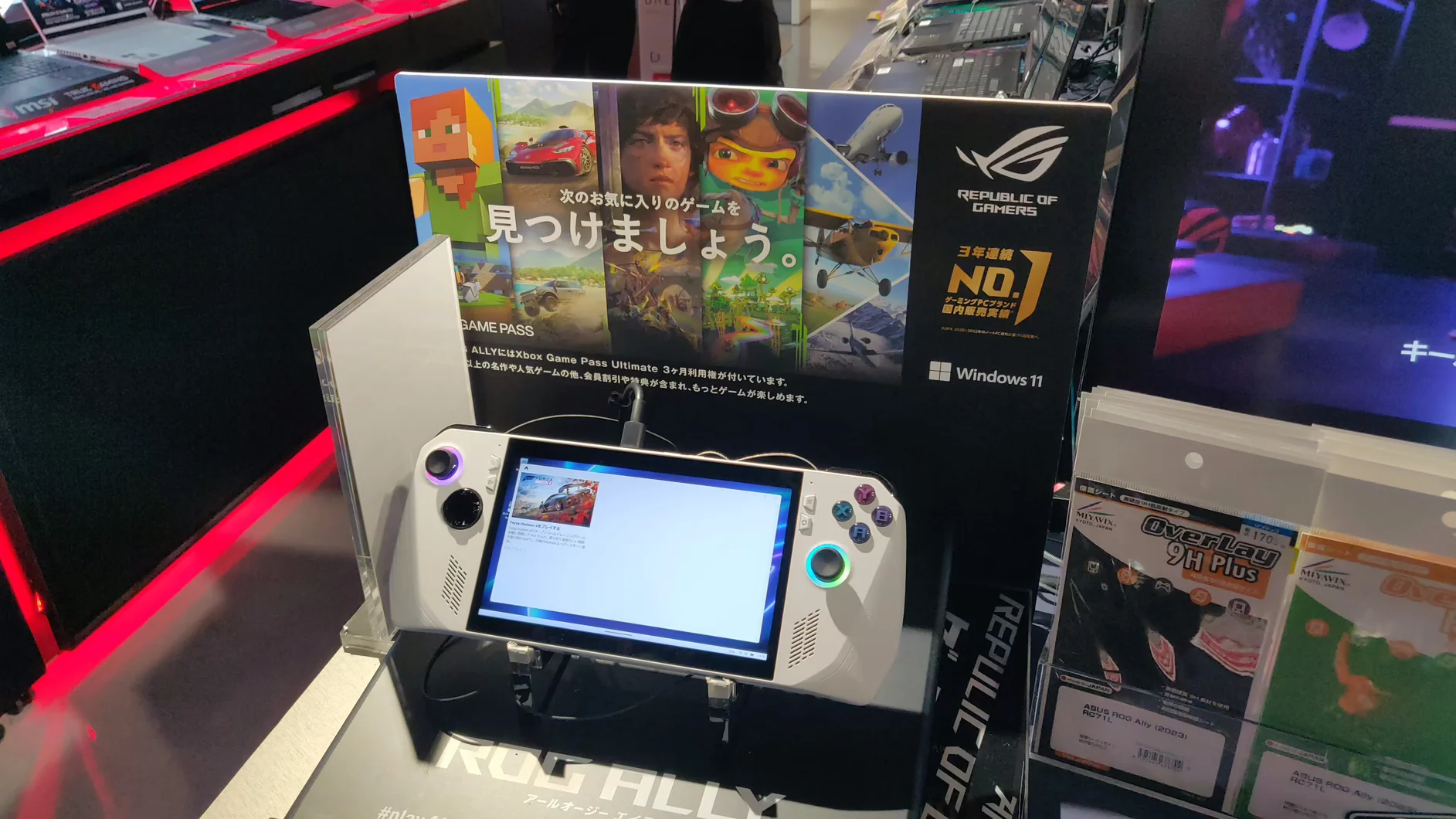 However, and I certainly did not expect this at all, the unit did not feel good in hands at all. The squarish corners and overall shape of the unit made it awkward to hold, and certainly far from being as comfortable as the Steam Deck.
It also felt heavier - while it's probably not heavier than the Steam Deck, the smaller frame and form factor may make it more dense and this may be why it "feels" heavier in your hands.
And of course, it runs Windows 11 as you all know, and there is a button to switch from the Windows desktop to the game selection screen. It feels weird to switch between a game focus interface and the desktop environment like that. I'm glad the Steam Deck tries the hide the desktop as much as possible - the last thing I want on a handheld is to see the desktop interface pop up.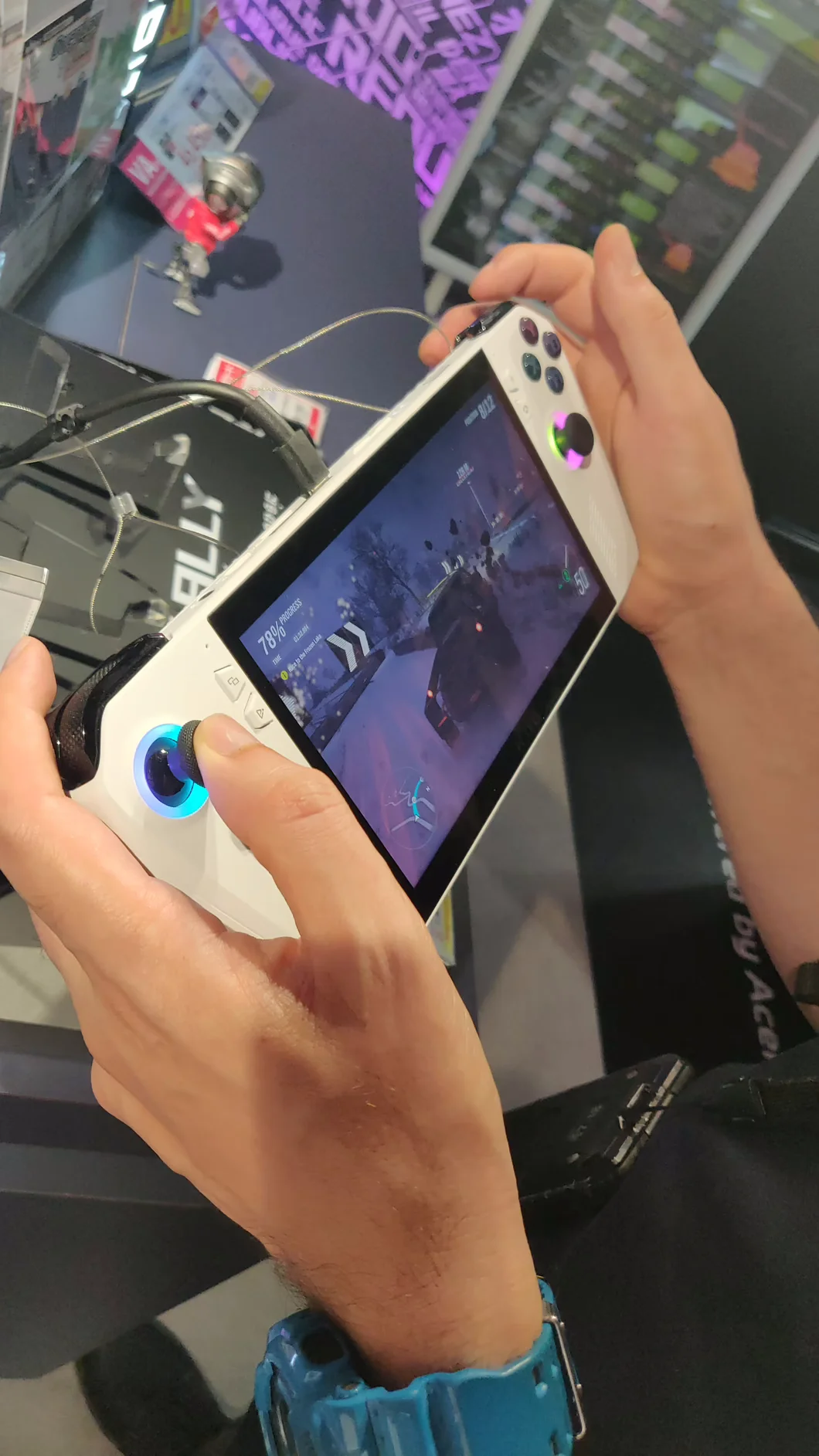 While I did not spend a long time in there, I left largely unimpressed by the ROG Ally. I expected Windows 11 and its lack of proper hardware and software integration to be its biggest weakness, but it may actually suffer more from ergonomics than anything else. Its price is also much higher for the cheaper model. You may think it's an important factor, but in Japan, the few PC Gamers are used to high prices for parts so I am not sure they would feel that the ROG is unaffordable or something.
This was pretty much the end of my visit at the Softmap. A few shops down the road I found some nice figures for Dragon Ball Z, that I would probably have bought a couple of decades back: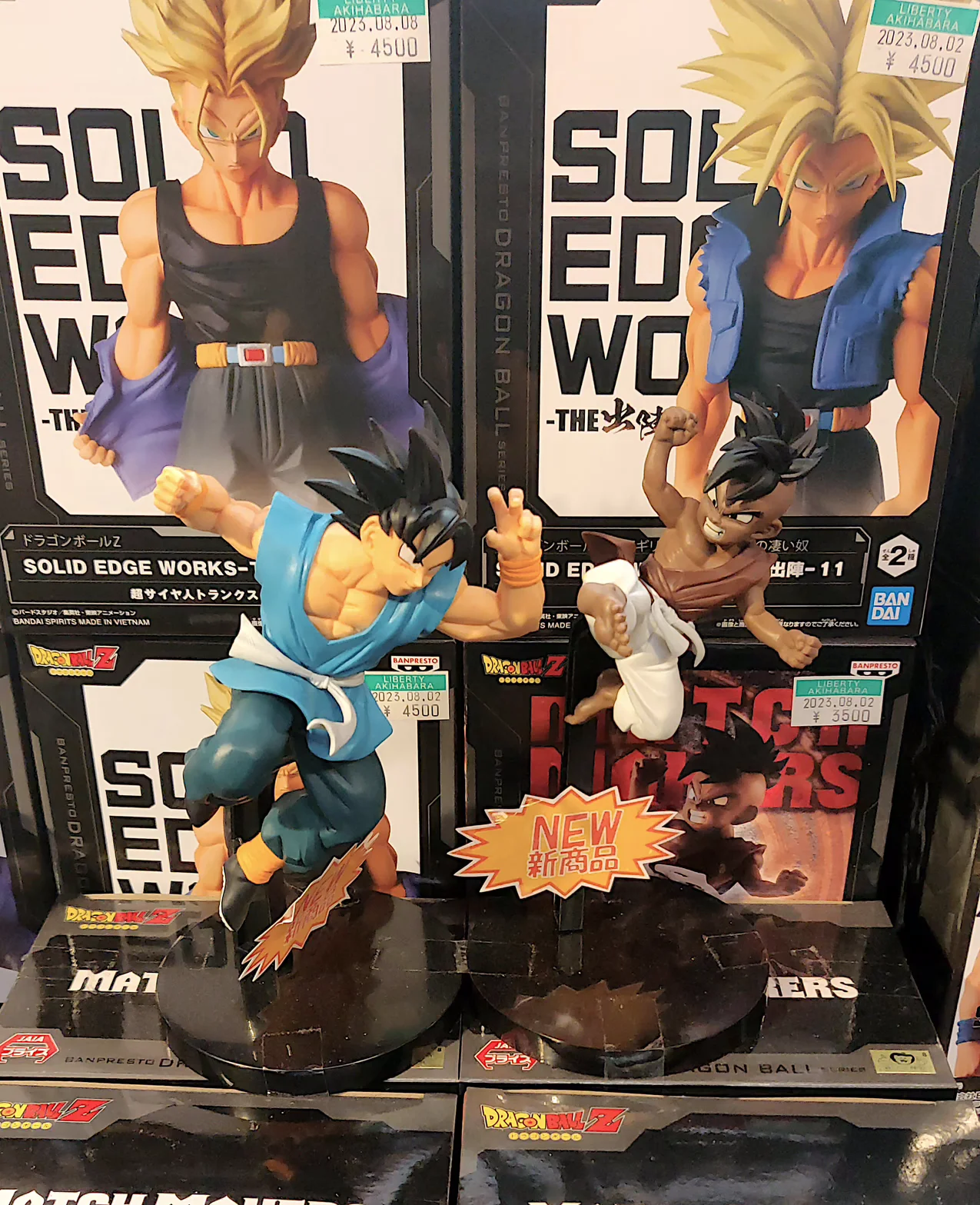 At the beginning I mentioned that the quarter had changed. One thing that was very noticeable this time was the abundance of girls dressed as maids, trying to attract customers to their maid cafes.
Maid cafes are places where you can get food and drinks that's way overpriced, because you pay for the extra priviledge to be surrounded by (fake) maids. This is the first time that I saw as many maids as now in the streets - maybe 10x more than the usual density. Since Japan has opened its doors to tourists not long ago the streets were full of foreigners from lots of different countries. Is this the market in action, trying to meet the extra demand?
Of course, a visit to Akihabara is not complete with a tour of the arcade centers, and more specifically the few retro ones left. It may be one of the last places in the world where you can actually play the classics from the 80s in their original format, such as Arkanoid in its cocktail table format (the screen being horizontal just like a regular table).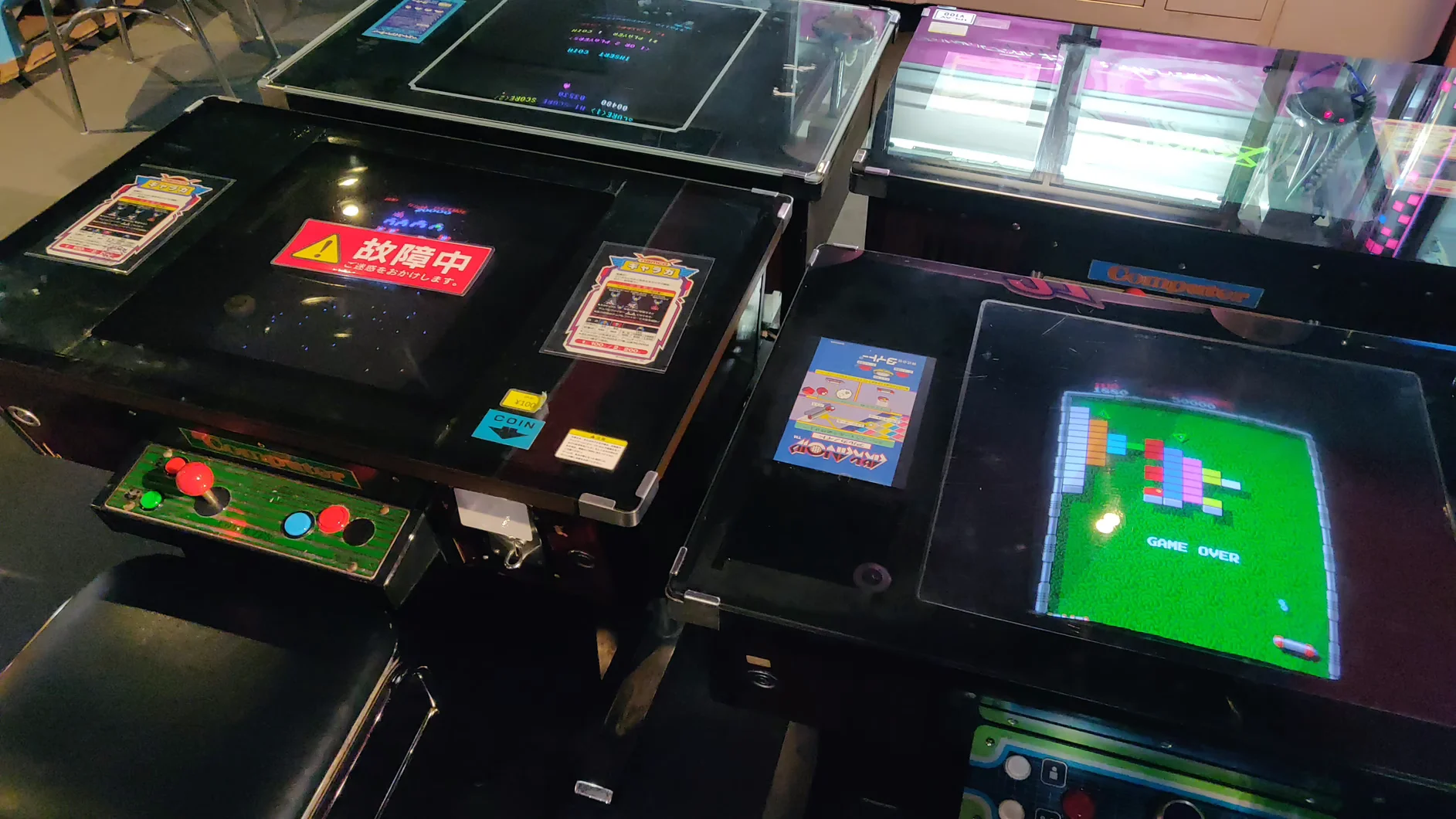 Daytona USA, Sega Rally, House of the Dead, Virtua Cop, Virtua Racer, and of course older games like Street Fighter 2 are still alive and well in such places - and well visited by both Japanese and foreigners.
As you walk back to the main JR station, you pass by in front of the Radio Kaikan, which is a landmark in Akihabara - anyone who has played the extremely famous visual novel Steins;Gate knows that this is where the building whose top was hit by the satellite hit in the beginning of the story. The current building is however not the original one anymore, as it was demolished and rebuilt in 2014 to ensure its structural safety.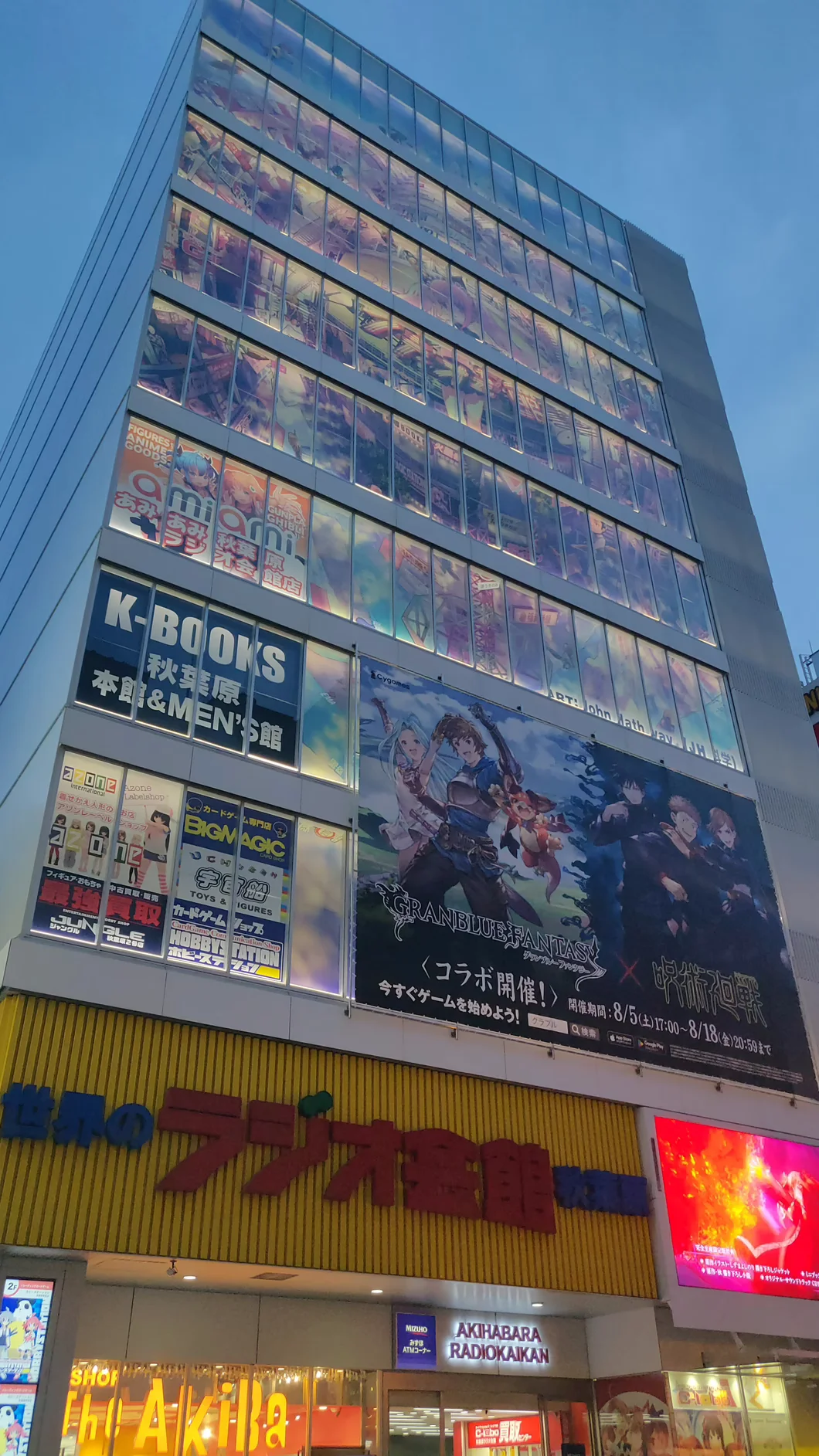 That was a nice evening. Akihabara is still a cool place to visit - and even if you don't buy anything there's plenty to take your eyes on a tour and surprise you in many ways.