So I got this shiny new piece of hardware from HP, the HP Dev One. A mobile workstation that ships directly with Linux, in this case Pop!_OS (yes, this is the right spelling). I won't do any kind of unboxing because I care very little about packaging that gets disposed anyway. What really matters is how solid the product is, and if you can use it to good effect. Let's dive into it!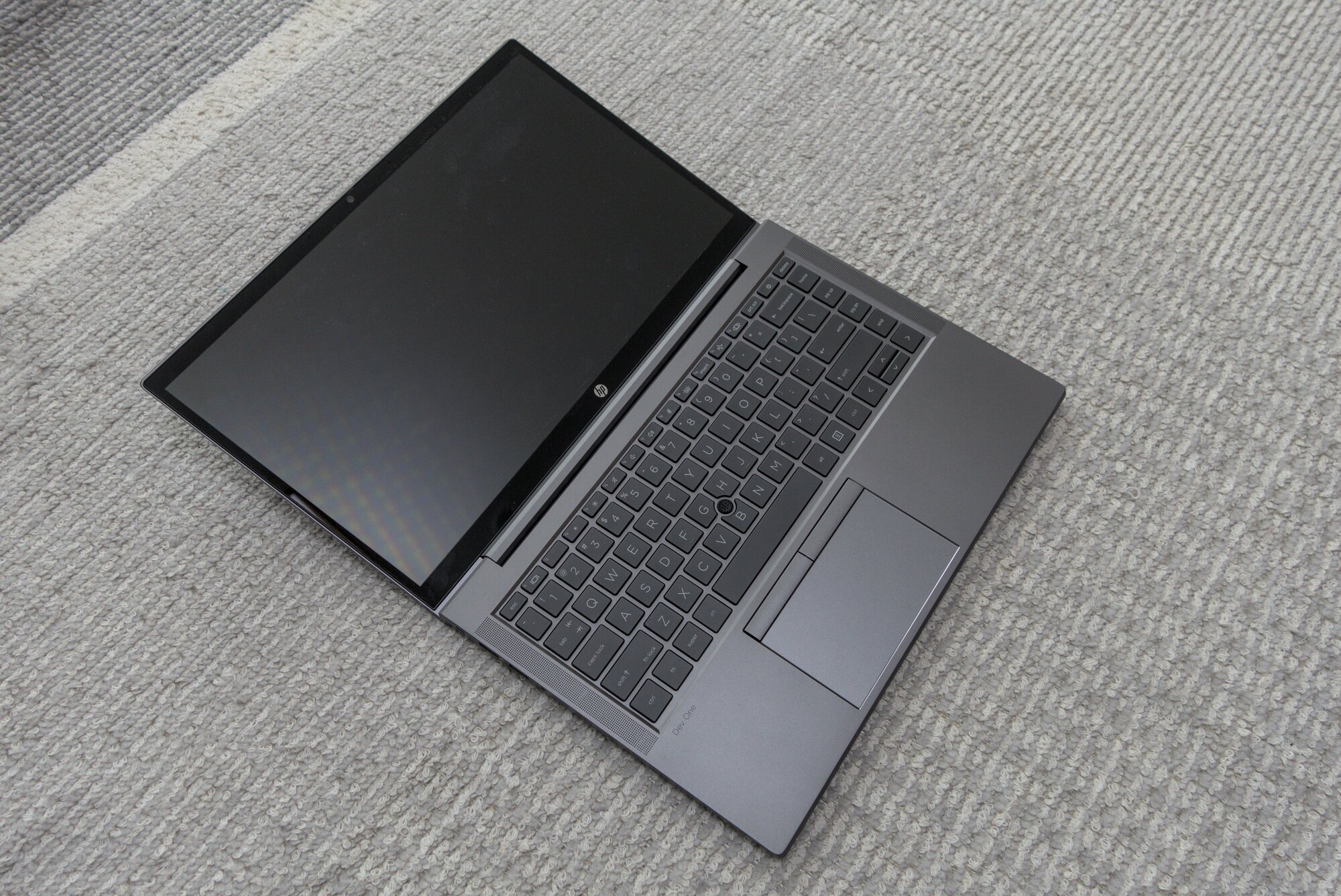 You probably want to know the specs. Here goes:
CPU: AMD RYZEN 7 PRO 5850U Processor with 8 CPU Cores, 16 Threads, 4.4GHz Max. Boost Clock, 1.9GHz Base Clock, L3 Cache 16MB
RAM: 16GB DDR4 3200 MT/s (2 SODIMM⁵ (2x8GB)) user-accessible/upgradeable up to 64GB
Storage: 1 TB PCIE® 3x4 NVME M.2 2280 Solid State Drive
Screen: 14" diagonal FHD display (1920x1080) (1000 nits)
Webcam: 720p on the top of the display
Battery: HP Long Life 3-cell, 53 Wh Li-ion
Wireless: Realtek RTL8822CE 802.11a/b/g/n/ac (2x2) Wi-Fi and Bluetooth 5 combo
Keyboard: backlit with 2 levels of brightness.
Dimensions: 2.73 x 8.44 x 0.75 in; 32.34 x 21.46 x 1.91 cm
Weight: 1.4 kg (3.24 lbs), a little heavier than other laptops in the same format
This Ryzen processor has a AMD Radeon Graphics (Radeon Vega 8) with 8 cores, and a frequency of 2000 Mhz. It support HW decode, DX12, HDMI 2.0 and HDCP 2.2. As you will see later, this is not going to be a gaming beast (not that it even pretends to be), but you can certainly expect to run some recent games decently on it, as long as you are willing to compromise on the game settings.
First Impressions
Very nice body, all metallic on the outside apart form a few rubber bars at the bottom to elevate the machine a little. The hinge feels very solid. Because of the way the screen is attached, this laptop does not completely open at 180 degrees, but still goes fairly close to that.
The HP logo is positionned in a way to make the brand seen to others if you work at Starbucks, in the same way that Apple does.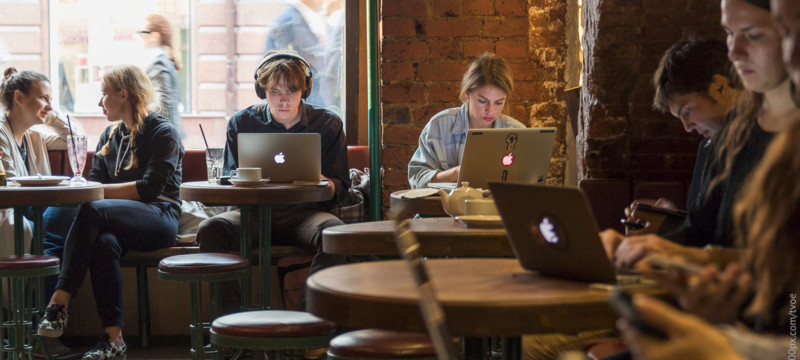 Inside an Apple Store… Sorry, a Starbucks.
Not sure if that's a very wise thing to do, HP (or Dell, and Lenovo for that matter) have none of the brand image that Apple enjoys, and a prominent logo like that makes very little sense in that context. I do like what Lenovo does with the X1 line, since they brand it as a premium model and not as a "Lenovo" product as much.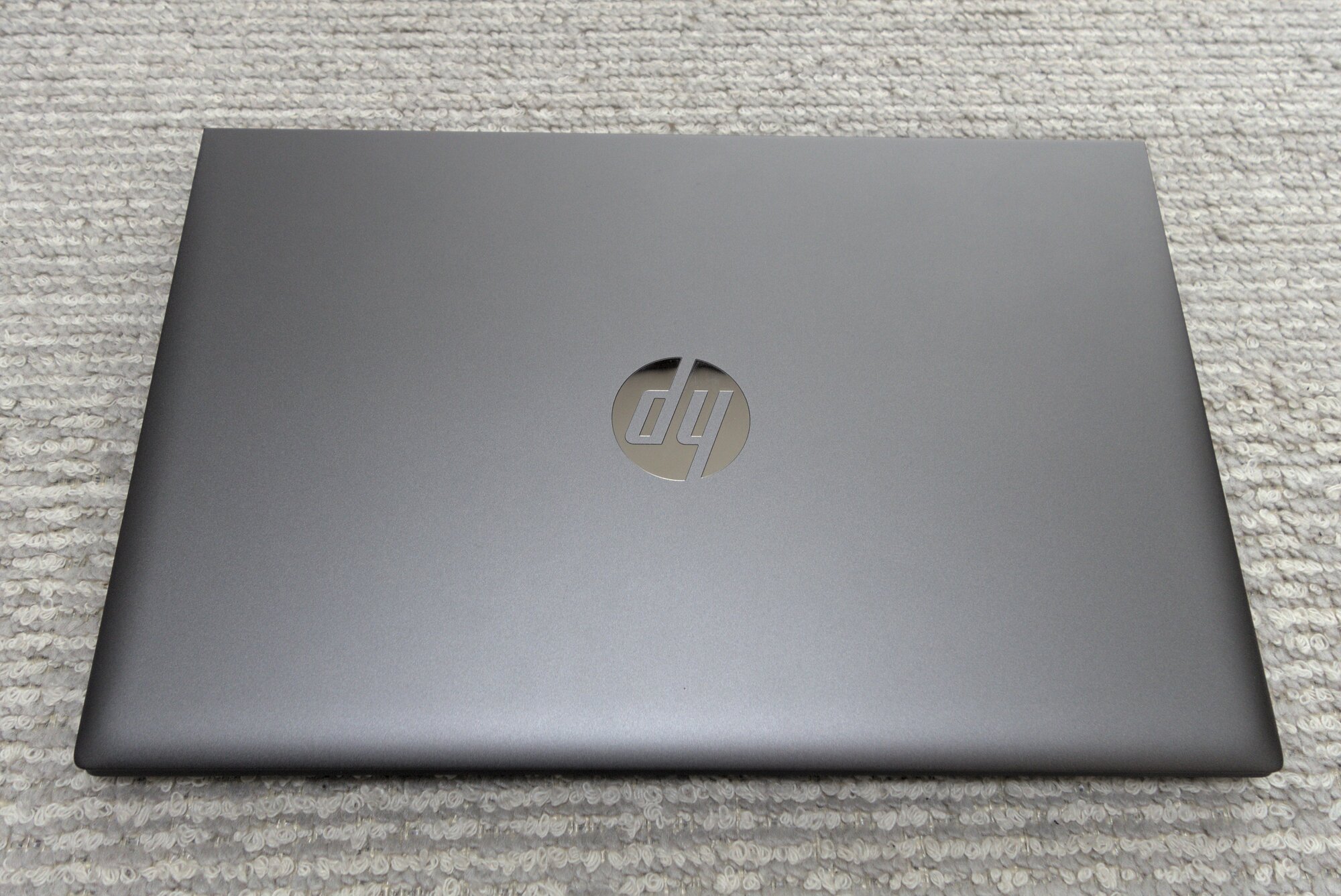 The HP Dev One is fairly thin, comparable with what you get from the Dell Latitude laptops these days. It's a bit heavier, but overall still fairly light all things considered.
You get several ports:

Right side:
2 USB-C ports, that can also charge the computer if needed (albeit slowly)
One full sized HDMI Port
A power connector

Left Side:
2 full-sized USB ports
Headphones jack
Kensington lock to ensure it won't be stolen easily
Note that the USB-C port can charge your device if needed, but it does not provide enough power to run your laptop from a zero charge state, which is a bit of a shame but understandable. So in practice, you could still do some work for a few hours, plug in into a (powerful) USB-C charger, go for lunch, and come back and do a few more hours of work, without having to carry the official charger. The official charger is actually pretty cool: relatively compact, relatively light, it's better that the bigger bricks most laptops used to come with a few years back. (it's also about 20% smaller than the charger that comes with my DELL Latitude 5310).
Privacy Screen or Just Bad Screen?
This is going to be one of my biggest problems with the device. The screen is just sub-par. I don't really care about it being just 1080p, it's adequate for a laptop of this size. But the visibility when you move away from just facing the screen is pretty bad.
Now, some people are claiming this is because this is a privacy screen, even though it's written nowhere in the official specs of the device. So then let's assume two scenarios:
Scenario 1: this is a privacy screen. by default. On all versions of the Dev One shipped. If that's the case, then it's not really clear why this choice was made. I don't think devs need to have a privacy screen at all times when they work. If you are at home, you don't need it. If you are at work, you probably don't need it either. If you are travelling or showing off at Starbucks, it might make sense, but then you'd probably not spend all of your time there either. And if this is a privacy screen, this is a pretty poor one at that, since you can still somehow see what's on the screen while it's just getting darker.
Scenario 2: This is NOT a privacy screen. In that case this is one of the worst screens I have seen on a laptop in a very long time. TFT category level. It's very bright though, and displays colors just fine when you are directly in front of the screen, but still…
Also, that screen is glossy. I hate glossy screens with a passion. I don't want to see my reflection on the screen when I work, and I certainly don't want to see the lights in the place I am reflecting on the screen. Bright spots can be very distracting based on your environment. Also, this screen seems to cause some rainbows with some lights, which is even worse than just having bright spots.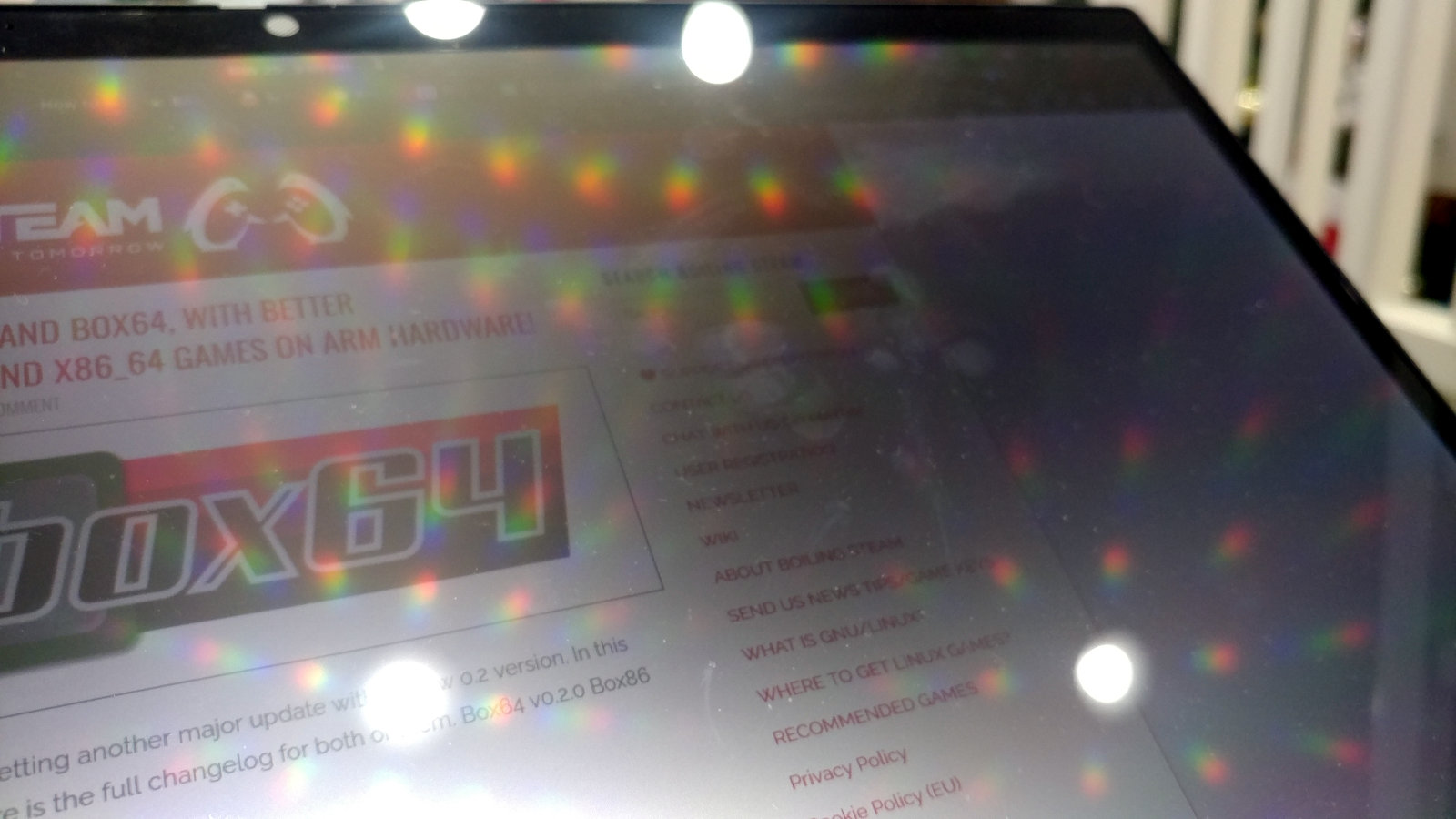 You'll see that the screen is the thing that HP would have to fix first if they consider making more models like this one. Make it matte, and with great viewing angles and no privacy screen by default, and most of the glaring problems will be gone.
The Keyboard
That's another area where there is room for improvement. Don't get me wrong, there is nothing wrong with this keyboard. It's usable, you can still type at high speeds if you need to. But when I read comments in reviews saying "this is one of the best keyboards I have ever used", my bullshit sensor lights up.
The HP Dev One has a keyboard that I would rate in the lowest tier of all keyboards I have ever tried on laptops. And I have had a lot of keyboards in my hands over the years. Hell, I do most of my work on laptop all day long, so I might have somewhat of an opinion about that. First, hands down, there's only a single brand that makes very good keyboards for laptops, and it's Lenovo, period. And no, I am still not paid by Lenovo, in case you wondered.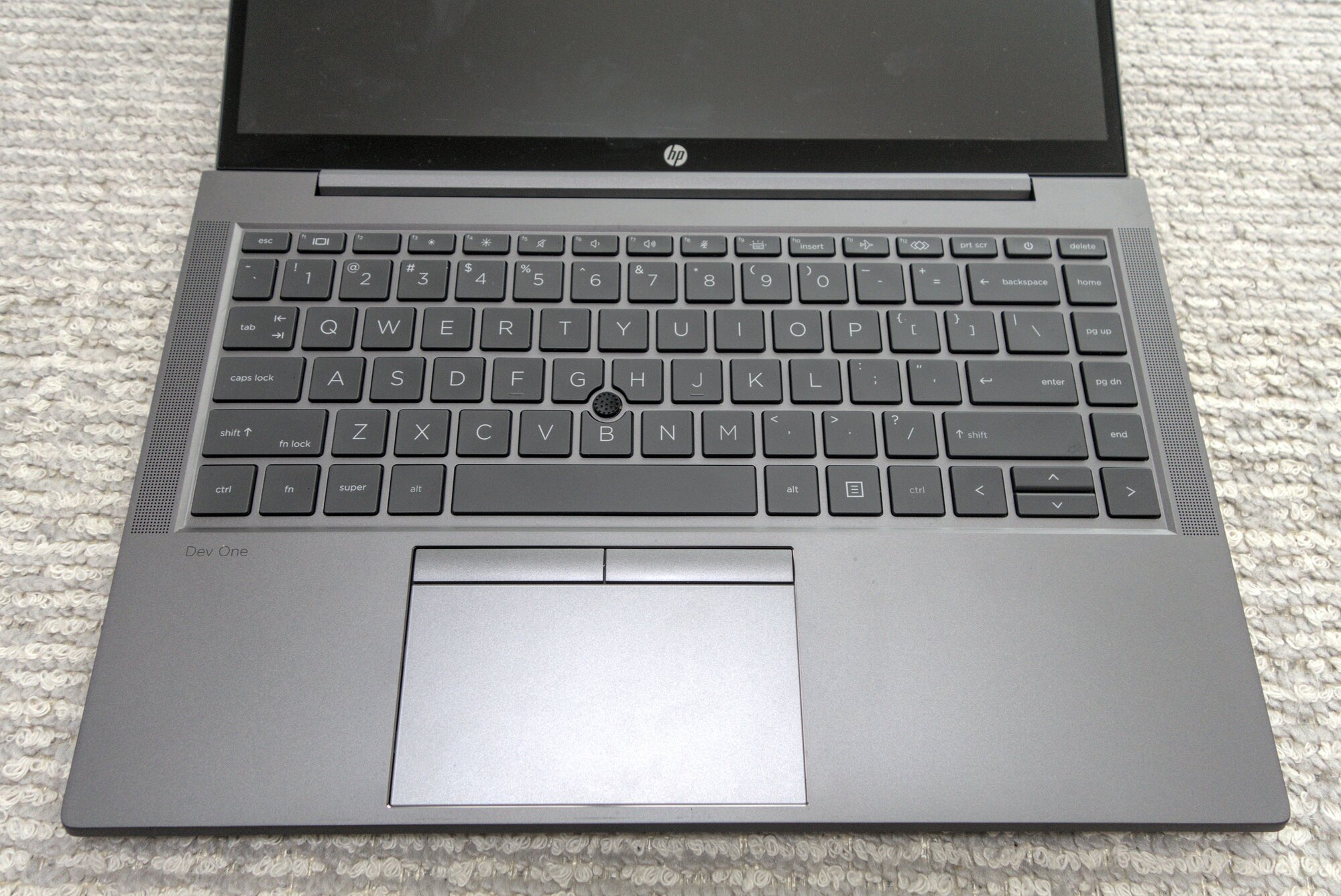 But let me tamper that claim a little. Not all Lenovo's come with the best keyboard. You need to make sure you pick up a model that has a Chicony version, and then you are gold. But even the non-Chicony keyboards from Lenovo are top tier. They not only have a great travel, but they feel good when you touch them with your fingertips. My biggest issue with the HP Dev One keyboard is that the key surface does not feel good. It is kind of plasticky, and the keypress is too rough and lacks elasticity.
If I were to rate all the laptops I use at home now in terms of keyboard quality, it would be:
Thinkpad T530 > Thinkpad X1 > Thinkpad T440p > Thinkpad X220 >> Latitude 5370 >> HP Dev One
One more thing I am not fan of with this keyboard is the layout itself. I will admit this comes down to pure persnal preferences, so you may have a very different opinion there. The right side is where you find the Home, Pg Up, Pg Down, End and one of the arrow buttons. I find it difficult to use because I am TOO familiar with having the Enter key at the extreme right side, and I often have to fight with my muscle memory there.
I think the worst part is the arrow keys being arranged in a weird way: The up/down keys are like a single key cut in two, which makes them very awkward to use. What were they thinking?
Functions keys doubling as shortcuts for volume up/down, brightness up/down is not something I like too much, but that's the choice that manufacturers made when they decided to feature prominently huge trackpads. There's only so much surface you can have for a keyboard. I still find the layout of the good old Thinkpad X220 the very best, but they don't make such laptops like that anymore.
One more thing to mention about the keyboard is that it has a backlight function, with 2 levels of brightness. Very useful if you work in a somewhat darker environment. This is similar to what you find by default on the X1 line of Lenovo Thinkpads - and my Dell Latitude also has it, looks like it's becoming fairly standard these days. The Hp Dev One has a good balance of keyboard visibility and the lowest screen brightness being not too bright, which works well in a dark environment: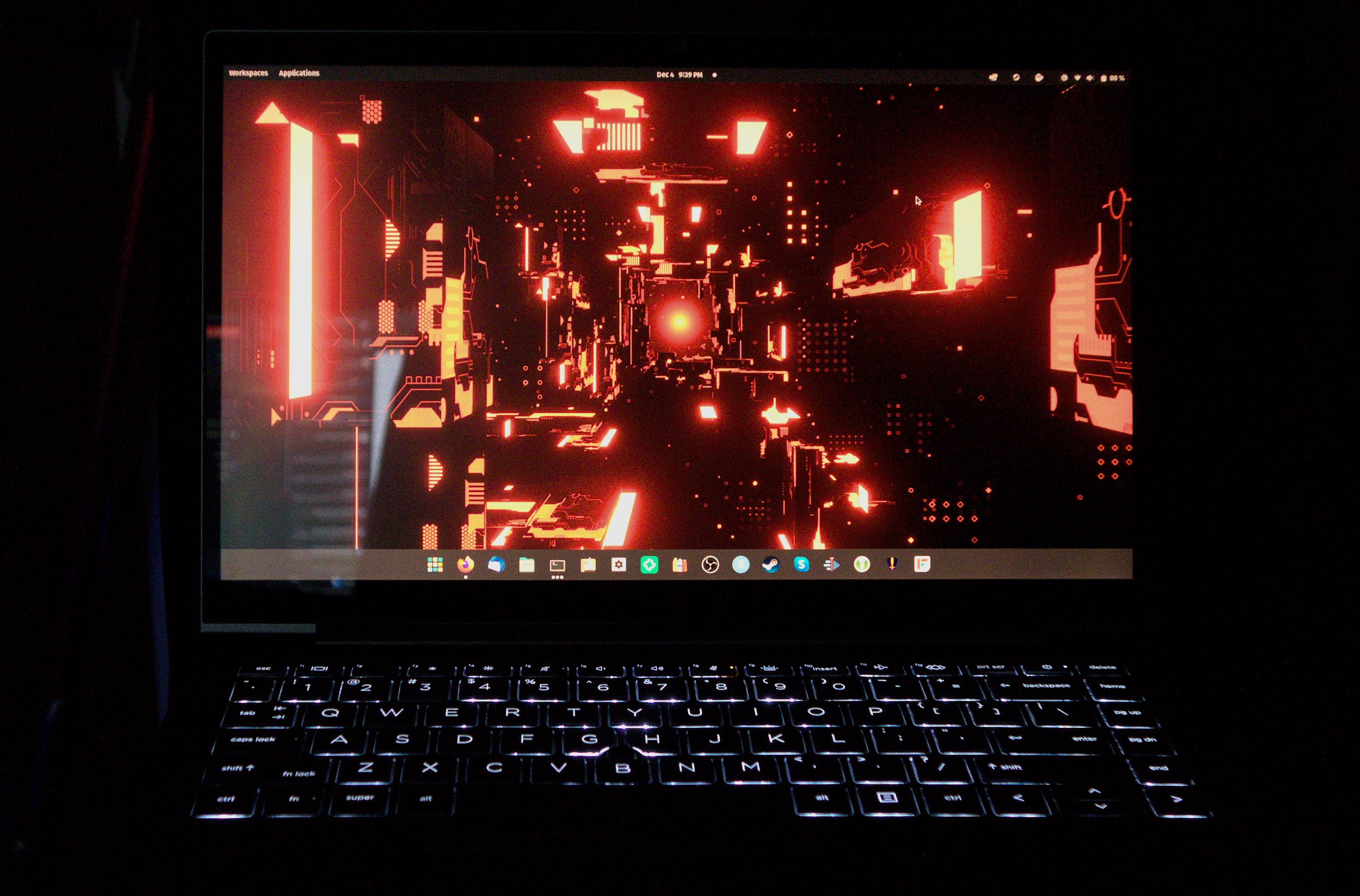 Also worth mentionning that the backlight key coverage here is uniform and very homogeneous, which is not always the case for all backlit keyboards.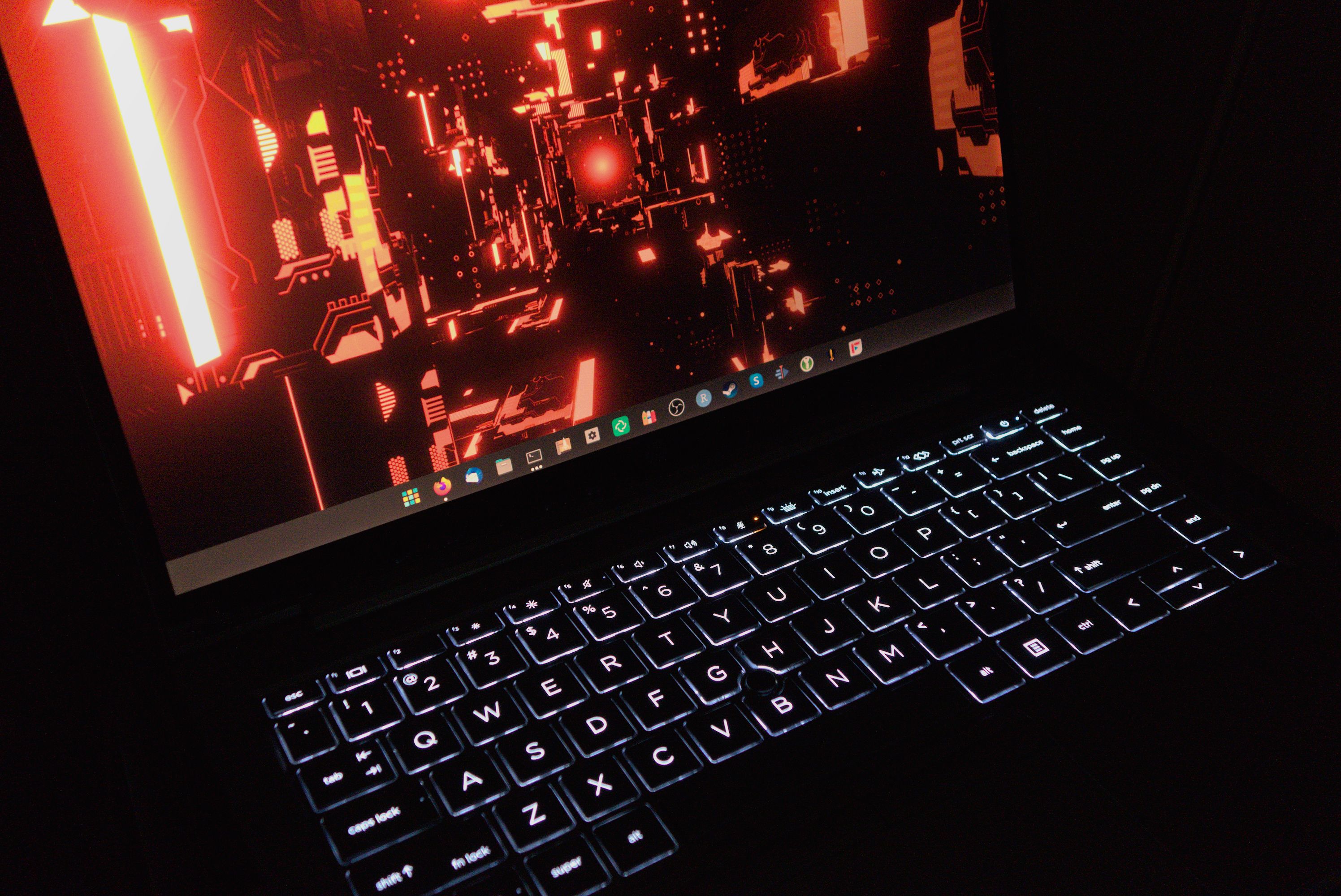 Good work by HP.
The trackpad
I think this one works great. Its surface is extremely smooth and pleasant to use. It works very well as a mouse replacement and it has great OS support too on Pop!_OS, but more on that later on. Note that the mouse keys are at the top of the trackpad, not at the bottom. Again, this may take some time to get used to if you expect the buttons at the bottom of the trackpad.
The trackpoint
There is a small trackpoint positionned just right where you would expect it on a Lenovo laptop, but this one is dark grey and less noticeable. It kind of works, but is not nearly as precise as what you get on Lenovo Thinkpads.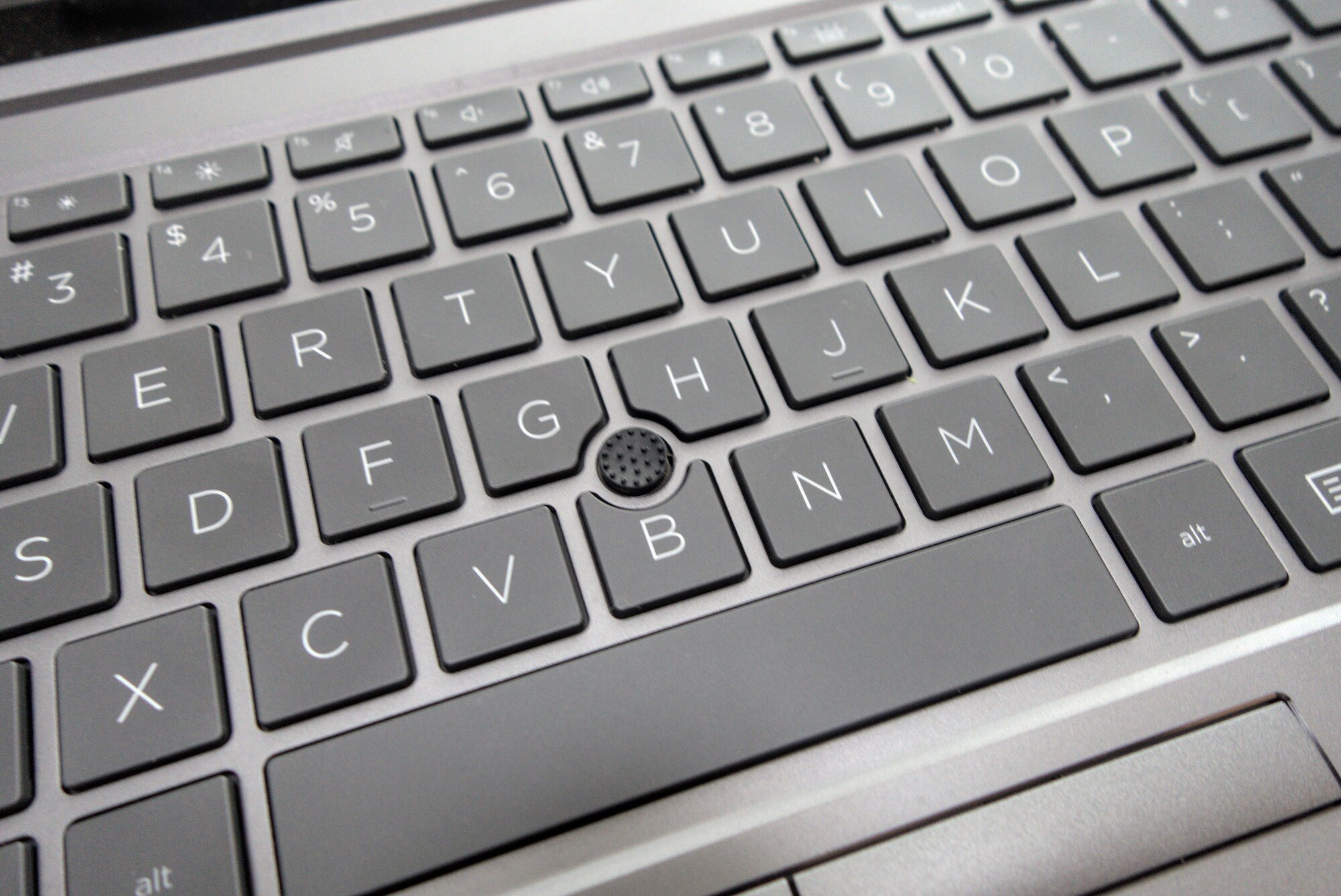 Don't expect too much while it can act as a mouse replacement if you really hate using trackpads.
The Webcam
It's 2022 and we are still seeing laptops shipping with 720p webcams. Its quality is not great, but not terrible either. It does the job, but I'd really like to see proper standards from there on. "Videoconference ready" or whatever you call it, to raise the bar and ensure we can get 1080p or above in terms of resolution (we know it's possible, all phones have them) and better framerates (not 24fps bullshit anymore).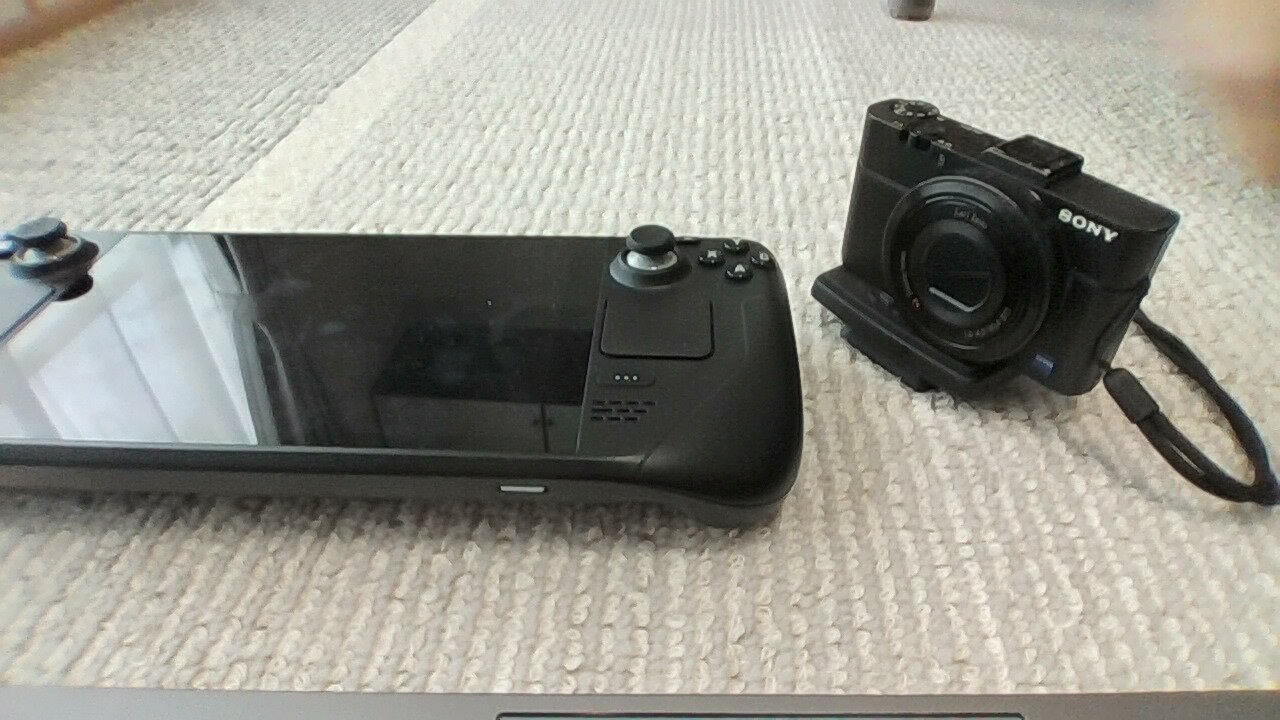 After COVID19 you would think manufacturers would have got the idea… but apparently not. We are still stuck with hardware that was never really made for remote work.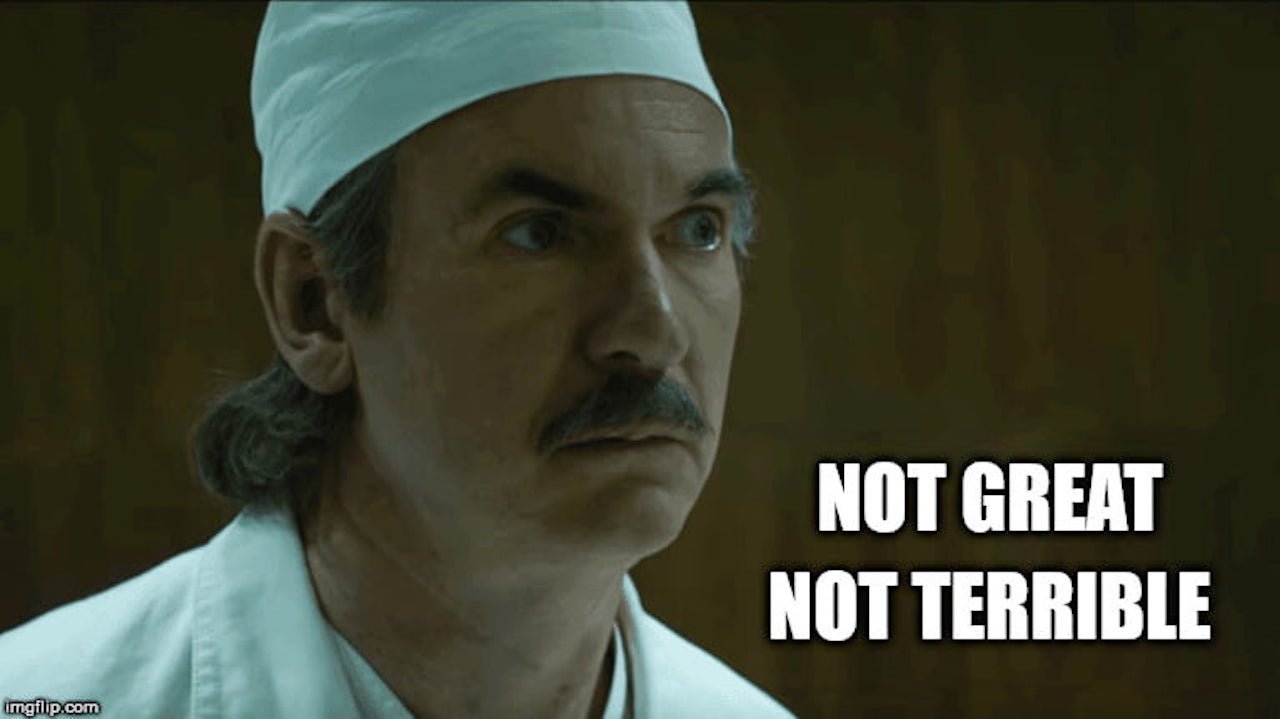 The camera comes with a webcam blocker, if you want to ensure privacy. The cover slides over your webcam lens, and has a different background pattern (diagonal stripes) which makes it easy to see if it's on or not.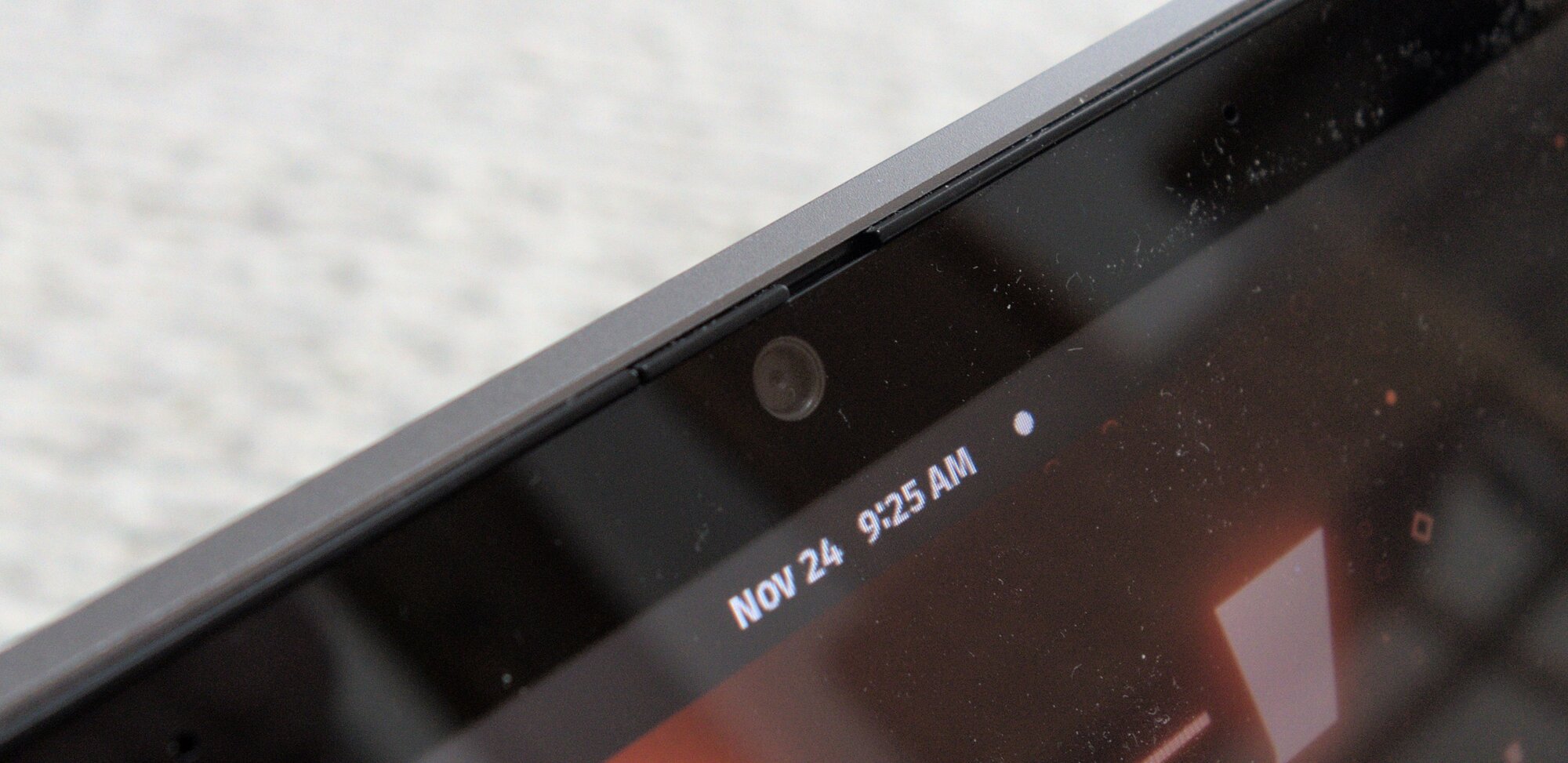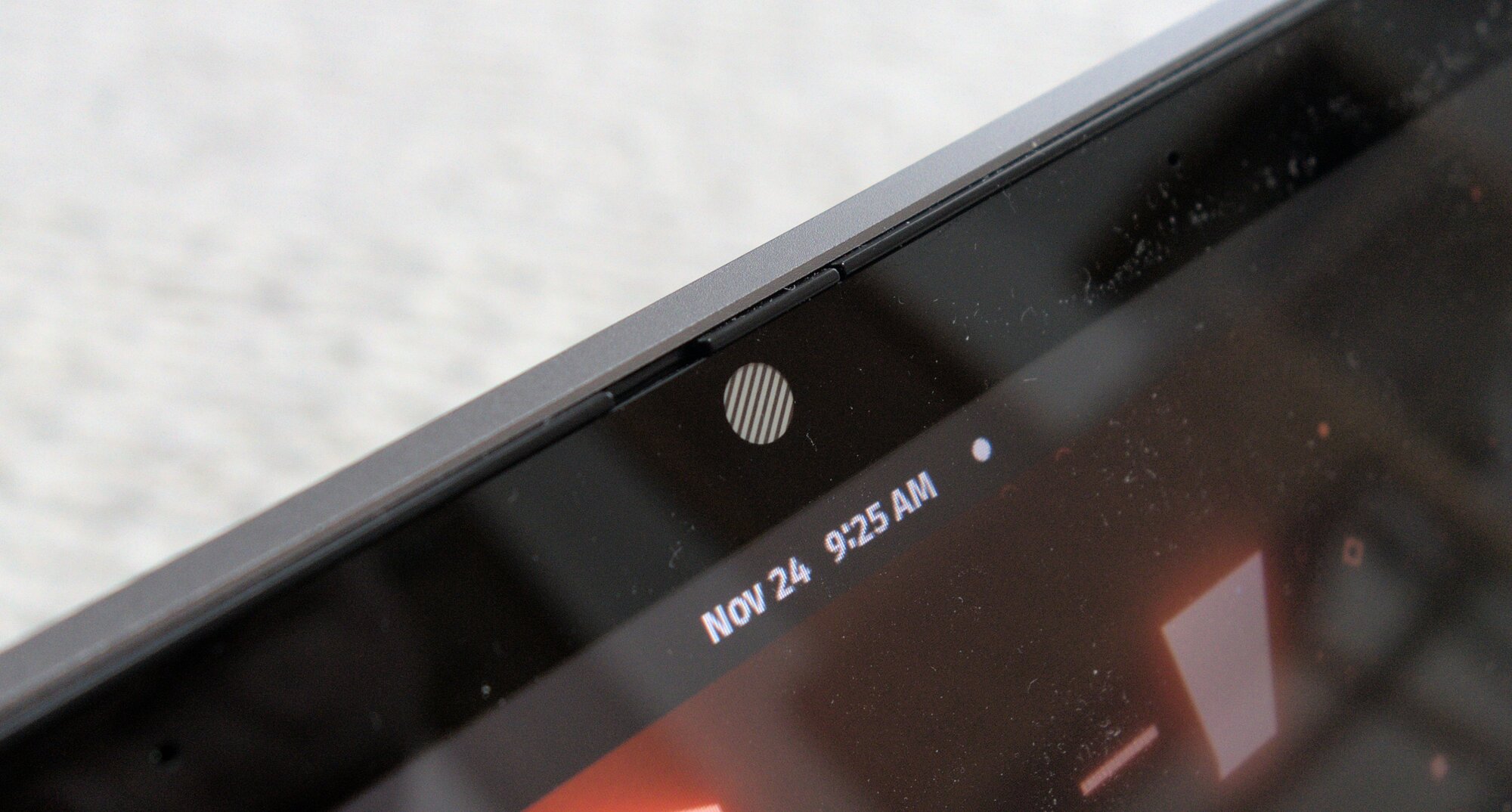 Microphone
It's serviceable. I find it a bit noisy when recording (it tends to pick up even small background noises in Audacity for example). Not sure how well it does on Zoom and the like since these piece of software tend to do heavy sound processing to make audio sound better than the actual source is. In any case it would not replace a dedicated USB microphone. If you want a proper setup for videoconferencing, this machine will require external peripherals to do very well. It all depends on your expectations.
Speakers
The speakers are not bad. Quite loud for the size of the device, and they don't saturate even at full volume. Don't get me wrong though, I would not want to listen to classical music on this - it's fine to watch TV Shows and movies if you have nothing else. The headphone jack will help to bring a better device to your ears when required, provided you have good headphones.
No Ethernet port
A minor quibble in this time and age: the lack of a proper Ethernet port. Business-oriented laptops tend to still have one, but not all of them. The HP Dev One gives up on it, and has a very fast Wifi connection if you have a good network (I could easily get to 30 MB/s on Wifi on my end). So, not a big problem, but you never know when you actually need an adapter when you travel.
LEDs (None)
This unit is missing something that is not obvious the first time you look at it. It has no external indicators of status whatsoever. On Thinkpads you typically have a small LED that turns red on its cover when it's on, and flickers on and off when the unit is in sleep mode. Small detail, but a very useful indicator when you have one.
No Fingerprint Reader
I know that some people care about this, so I will just mention here in passing that this device has none. It can be practical if you want to use your fingerprint to log in into your device, or identify yourself when executing a command with sudo. It's nice to have, but certainly not a deal breaker.
BIOS
Yes, you can access the BIOS on that machine, while it's well hidden (at boot you see no indication on how to do it). Turns out you just need to press the F10 key during the boot process to get there. However, it will not do you much good, there is very few options to customize anything here. You can find some info about the systems and what peripherals are recognized, add a master password at boot if you wish… but that's about it. My older Lenovos had way more options and features to turn on or off in the BIOS - not sure if this is just the regular expectations for HP, since I have not used HP hardware (outside of desktops or servers) for a while now. You will find below a gallery of what the BIOS offers.
gallery here
Now let's move on to the OS.
The OS
This is the first time I use Pop!_OS for a long duration. Overall, I am very pleased with what they did here for the Dev One. When you start the computer for the first time you end up with the installation procedure for Pop!_OS which is very well designed. At the end you only need to do one reboot and your machine is ready. Very clean, professional looking. One tiny issue is that they make your drive encryption password the same as your root password, and I don't think it is a wise idea. It's a good thing to keep those two separate as an additional layer of security.
Pop!_OS is based on Ubuntu but comes with its own set of customizations that make it a breeze to use. You end up with GNOME by default (or I may have chosen that in the install options, I can't remember).
Appstore and the Flatpak issues
It comes with an AppStore called Pop!_Shop and this is where things get a little fishy. Pop!_OS devs have thought that it's a great idea to mix Flatpaks with non-Flatpak packages. When searching for an application it's not rare to end up with duplicates, one being a Flatpak version and the other a normal package. There is no indication for the end user which one is the best one to use. Worse, because of the way Flatpaks work, installing an app through the store will be either a passwordless experience (with Flatpaks since they live in user space) or requiring admin rights with sudo (for normal packages). While I clearly understand why it's happening, it's bad UX wise to have inconsistent processes to do the very same action.
And you can't see any indication what is a Flatpak or not in many situations. Let's take the example of Blender, where two entries are returned by the search. Which one is which? Your guess is as good as mine.

By clicking on each, you get a sense that the larger one is probably the Flatpak, but then again it's still not clear at all.
Here is another example with GNU Cash, when you search for it…

Here's showing the actual packaged version: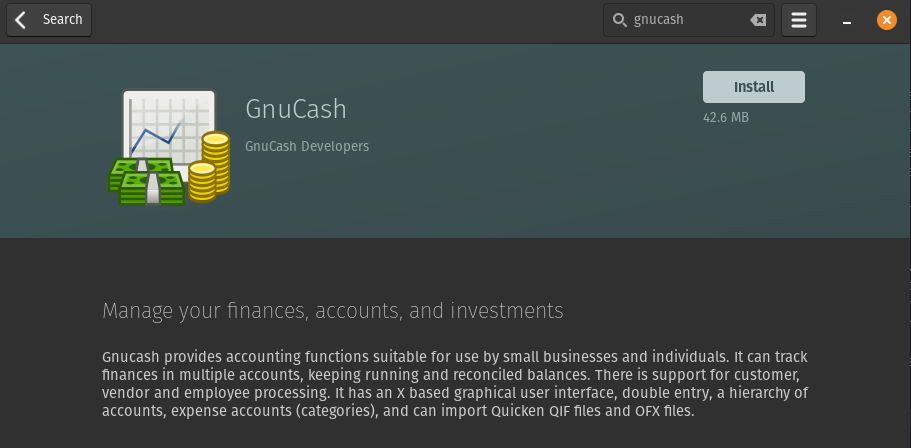 And the Flatpak one:

There is once again no way to tell which one is which apart from the size itself.
This could be solved by having a filter (Flatpak only/Packages only/Both) and having some clear indication (icons?) in the returned results.
One more thing, there are no user reviews on the Pop!_Shop so it's not as easy to find something relevant as on other distros like on Linux Mint, for example. Also the Pop!_Shop application regularly locks up when you work with it (probably background updates/searches going on, I suspect that some of the processes might be single-threaded) which makes it a worse experience than it needs to be.
For all the above reasons, finding/installing software is not ideal in its current state.
Firmware
One of the advantages of having direct manufacturer support for the OS is the presence of additional options in the settings to update the firmware of the machine. A long time ago, you'd have to use Windows in a VM to do so, or toy around with a USB stick containing the new firmware image that you'd have to feed to the BIOS screen… this integration is much smoother and much nicer.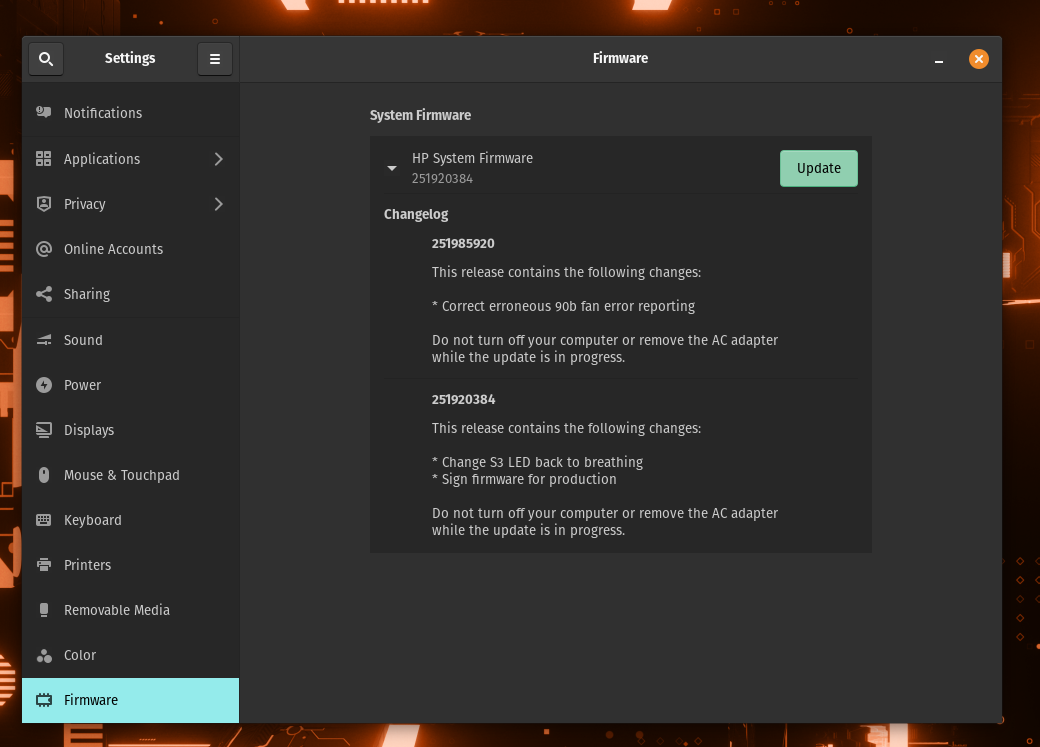 Really nice work here. Podiki reminded me that there is a tool on Linux to do that across distros, fwupd so this integration is probably a wrapper around it.
Recovery Partition
Pop!_OS and HP also worked to have a recovery partition directly included in the distribution, that is kept up to date periodically. It's fully integrated in the settings so that you can bring your computer back to life in case of an horrible OS crash (which is probably unlikely unless you really mess with it).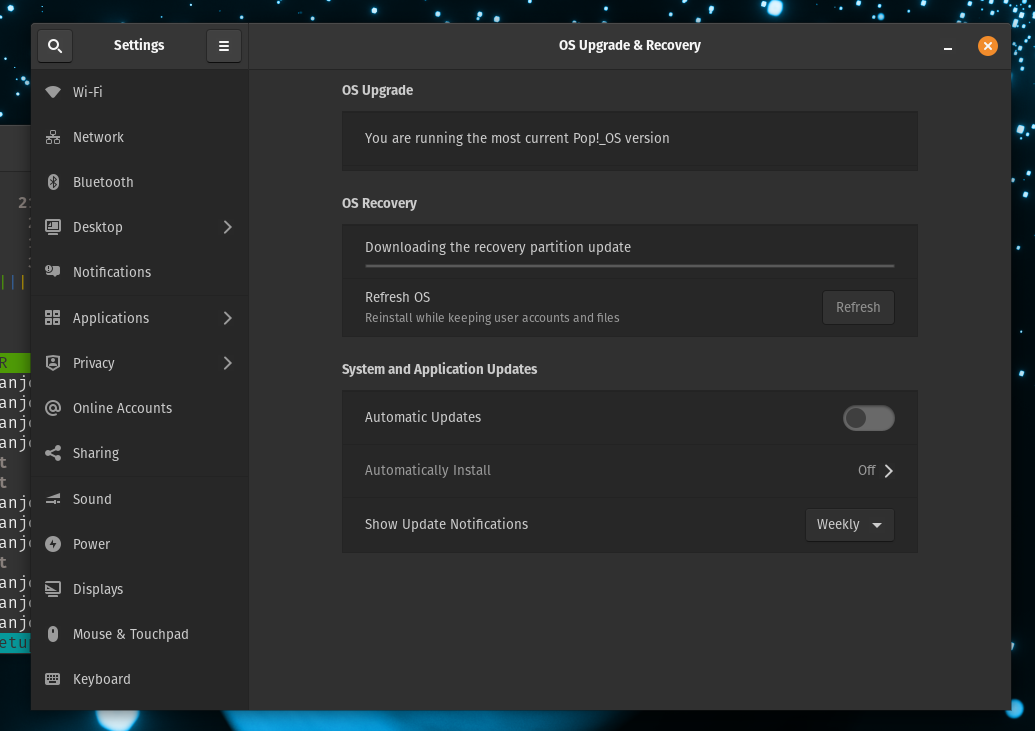 There seems to be an option to "refresh OS" while keeping your existing user and files. I am guessing this makes a tabula rasa of all system files while not touching anything from the home partition. Again, very nice solution to make one less worry about what to do in case things go really wrong. Note that I did not test this function so far.
Developing on Pop!_OS
Not every developer requires the same tools, but it would have been nice that the most typical packages are installed by default. For example, git is not installed by default, while I can hardly remember any developer in that past 10 years who does not actively use it. Firefox is installed by default, but again that's a questionable choice for web developers who'd rather want to have Chrome or Chromium. In any case the install is just a click away so that's not a terribly big deal. A bigger issue is that Flatpak can break one's workflow in unexpected ways.
I will give you one example. Let's say you use Python3 and you want to automate some browser testing or crawling, and you use Selenium for that. Well, Selenium requires a browser driver to work, and if you use Chrome/Chromium you will need chromedriver. Problem is, chromedriver expects your browser to be in the standard Linux location, i.e. /usr/bin/ or something. When you install Chrommium in Pop!_OS, you only get the Flatpak version which is installed in a very different location in a more isolated container. At the end of the day, you are screwed, because ChromeDriver can't find the Flatpak version and you won't be able to execute your script. The solution is to search online for a .deb version of Chrome or Chromium that you can install separately for that kind of purpose. Python/Selenium is used for development across many different use cases for web developers, and this is something that is apparently an afterthought for the devs behind Pop!_OS. You can't please everyone, but Flatpak is not a great solution for every problem out there.
Tiling
Pop!_OS has this nice integration with a tiling windows manager as part of the GNOME experience, making it possible to switch between a tiling desktop environment (using GNOME) or a regular windows manager… or even do both by managing exceptions(at the window level) to the tiler.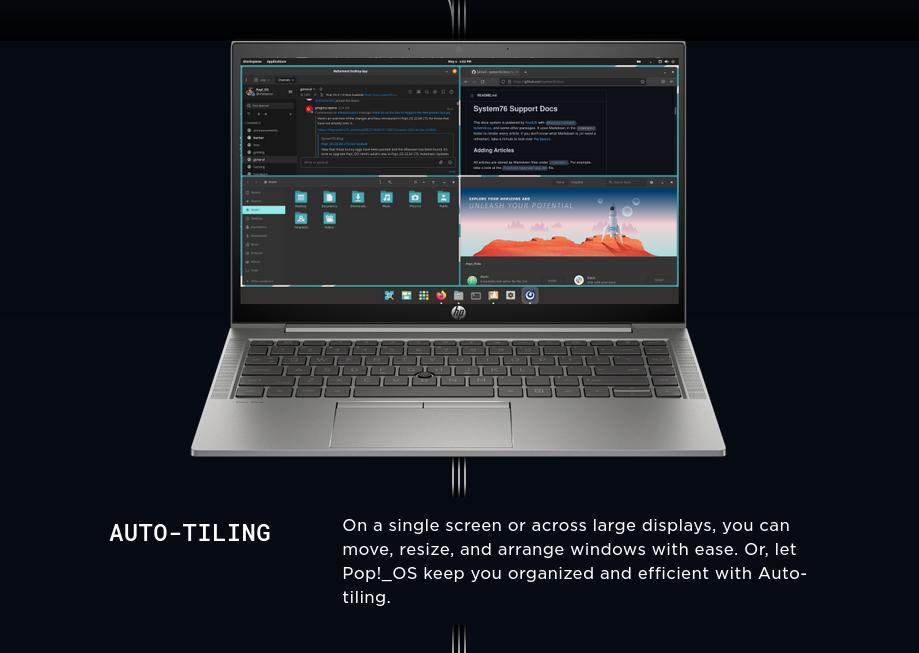 Here's a quick example of how it works:
This is going to be a great feature for people who like tilers but don't want to do the work of setting up i3, sway or awesomewm but still benefit from the same kind of workflow and the usual desktop experience.
Gestures
You can use a combination of finger movements to executive different types of actions in the desktop environment:
one finger is used for mouse movement
two fingers (vertical movement) for scrolling
four fingers to move from one virtual desktop to the next
pinch to zoom in/out with two fingers in applications that support it
I prefer working with large screens or with keyboard shortcuts but this works well enough (sometimes you'll find that your movement is not perfectly detected) to be usable.
I encountered one issue when browsing: when using two fingers for vertical scrolling, dometimes my movements were interpreted as pinch actions (resulting in zoom in). It did not happen too often but it was quite annoying when it did.
Default Applications
*Firefox *is the default browser, which is a debatable choice these days (more driven by ideology more than anything else, since the large majority of users out there will be using Chrome or Chromium at least). I use Firefox myself so I do not have any strong opinion either way, but it may be good to give an option during the first install as to which browser should be the default one in the future. Browsers have become one of the central pieces of one's OS, it would be natural to give proper alternatives during the initial setup to fit one's preferences - if you ask people to choose their desktop environment, you should ask them what browser they want to use.
More problematic is the video player. They use the default player that comes with GNOME, and it's horrible in many ways. First, it refused to play several files that I tried, and then asks to download additional codecs.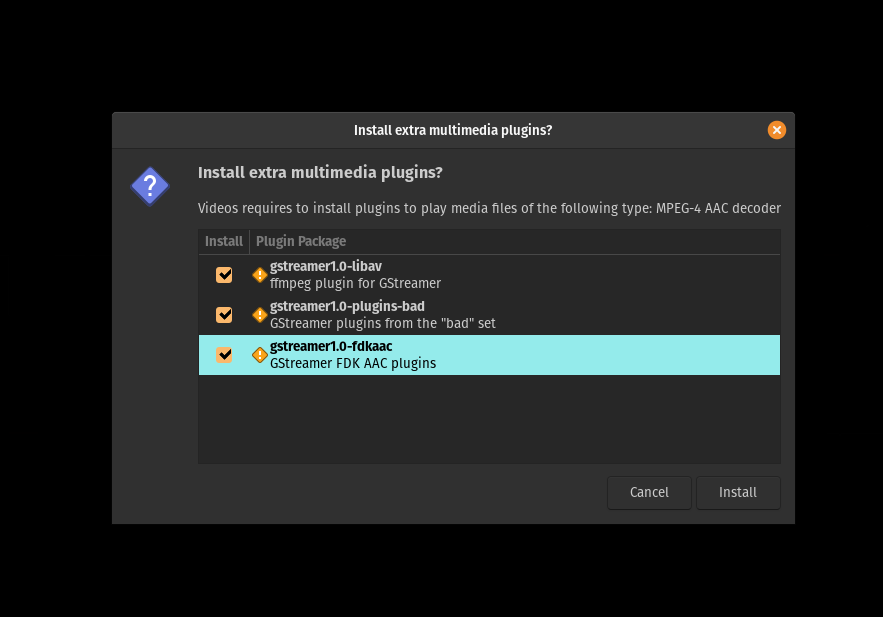 Even when playback works, there are some strange artifacts appearing in some of them (decompression issues?). The right fix is to install mpv and set it as default. I don't even know why mpv or a front-end along with mpv is not the default choice here. Or you know, VLC at least.
Above is an example of the artefact that you can see across some video files, while they don't appear at all in mpv (right side).
Hardware performance: Benchmarks
In this part I will go through a few benchmarks to give you some references on performance.
Blender
There's a benchmarking suite for Blender that can help you compare how fast your CPU/GPU can render 3 scenes in a row. I tested it on battery.

The results are not too surprising: the laptop fares quite well compared to other laptops, but is way behind what you can achieve with with a CPU + GPU combined.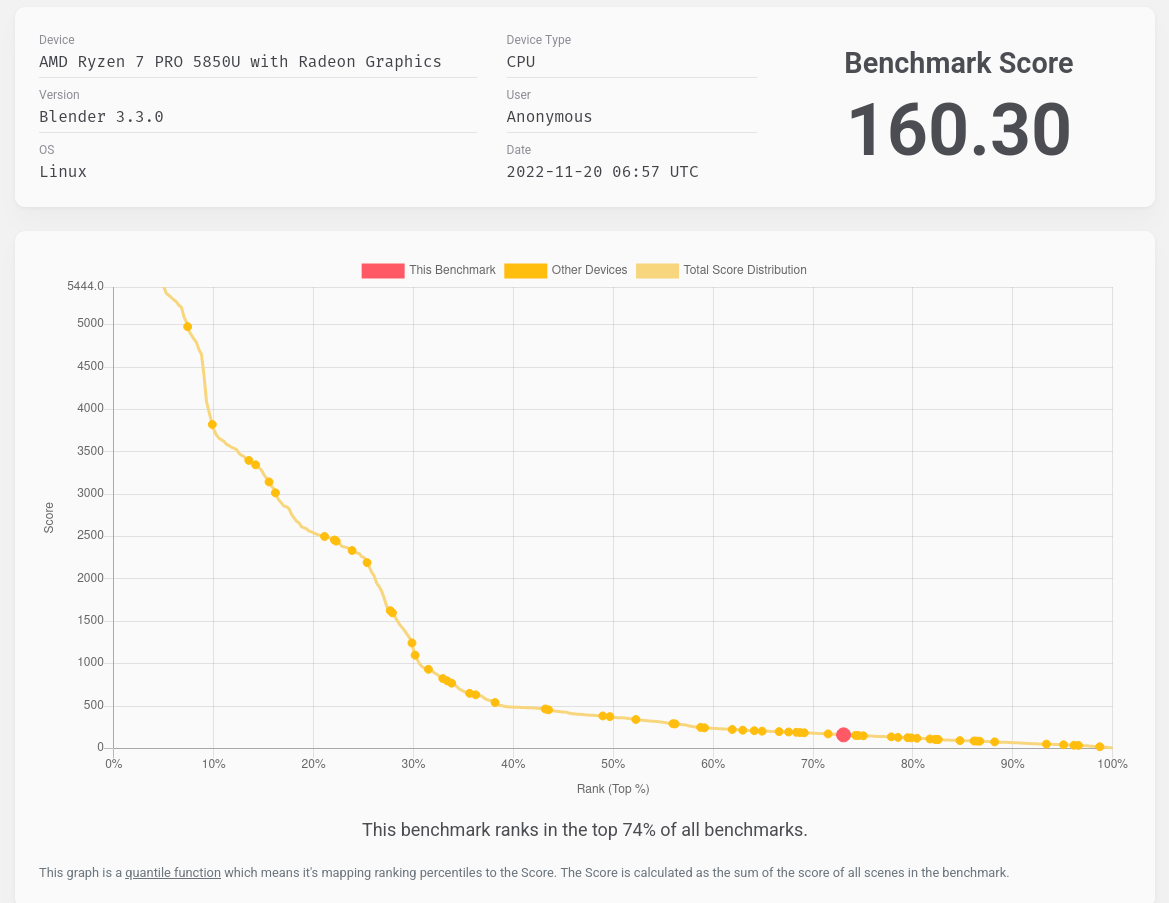 Linux Kernel compilation
The usual test done with the Phoronix Test Suite:

Decently fast.
Gaming
This is a powerful enough laptop to do some decent gaming. It certainly will NOT replace a discrete GPU but you will be able to play a lot of recent games in low settings with it. I have tried the following:
Dredge
Dredge is a game to be released in 2023 where you go fishing for sea things and you end up finding sea monsters. It's an indie game and not too demanding while in 3D for the most part. It runs very well on the HP Dev One, at full speed at full resolution and max details. I tested the demo during the Steam Next Fest. Since the demo cannot be run anymore, here's a screenshot instead below.
screenshot
Neodash
NeoDash is a game where you race against the clock with an extremely well mix of visuals and sounds. It's not very demanding but it starts to go beyond what very low end gaming configurations can handle, and you really want to hit 60 fps to enjoy it to the maximum. On the HP Dev One you can get there but you need to reduce the level of details a little. In the below video I went down to Medium details and as you can see it runs flawlessly.
This is a game where you really need 60 FPS to react fast enough (check out our review), and the HP Dev One can deliver.
Kena: Bridge of Spirits
A fairly recent game released on Steam (while it was out last year on Epic with an exclusivity window) - a little demanding so a good target for a performance test. On the HP Dev One you will find that at full resolution, the machine will struggle even on low settings at 1080p. You can however play it with FSR at 720p or slightly higher to get a decent framerate (30 fps). Another option, which I used in the below video, is to run it at FULL HD but use the Dynamic Resolution feature in the graphics settings to achieve the same effect (with less bluriness on the HUD elements). At medium details you can then get solid 30 FPS on this machine:
Even with dynamic resolution, the game still looks beautiful and is enjoyable on the HP Dev One.
Battery Life
With Linux laptops I have lost all expectations of long battery life these days. The HP Dev One is fairly standard in that regard, with about 3 to 4 hours of work that you can get done on a single charge (needless to say, this does not involve gaming). One day I'd like to get to a point where you can get a full day of work on a single charge, but we are far away from that goal, at least on X86. Similar hardware on Windows usually can get you 6 to 8 hours so this is what this is. And let's not talk about the recent M1 or M2 based Macs where a single battery charge can last several days.
Note that with the official charger, you can get back to 80% fairly quickly. I haven't measured it, but I think it takes something like 40 minutes. So as long as you are not too far from a plug during the day, it's definitely not a big issue.
OS support
In the help section of the settings you are offered several options to get support about the machine or the OS. The HP logo is featured prominently and this is a cause for confusion.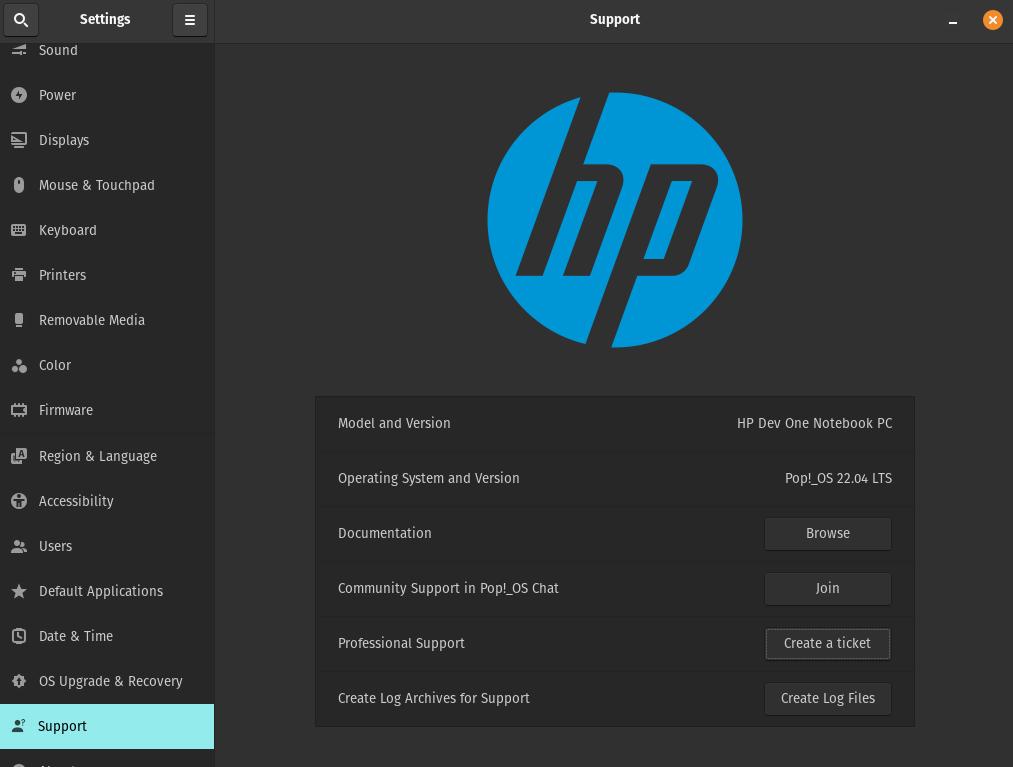 The documentation button brings you to… the System76 support homepage! "Wait, what is System76?" might be the reaction of a random Linux user who purchased this HP laptop. Of course, most Linux users are probably in the know, but still, it's extremely confusing to land on a page that has no "HP" mentioned anywhere from an HP laptop. Especially since there's no word about System76 anywhere, you would not know that Pop!_OS is not developed by HP if you were never told.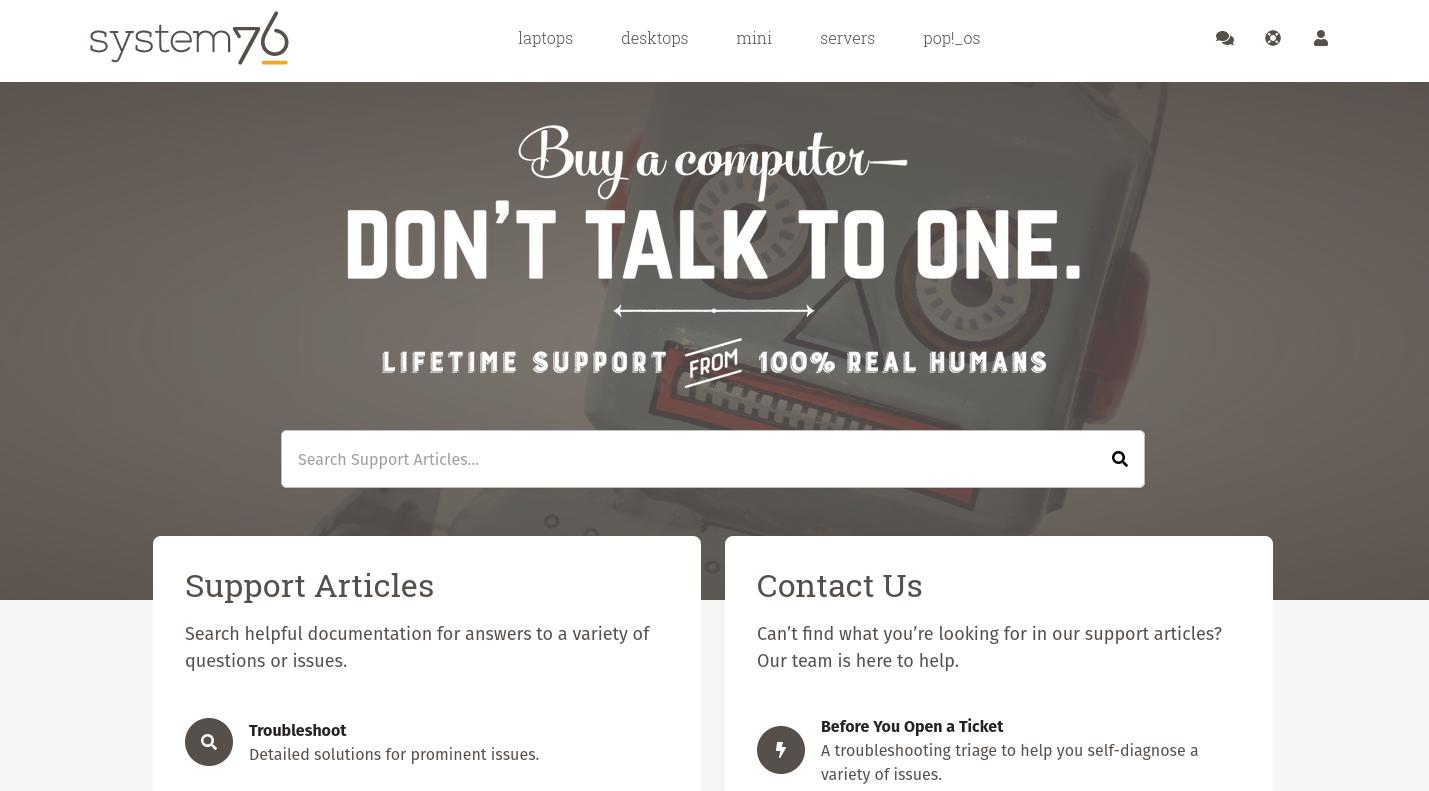 It's also very strange for a company like HP to send you on another company's page that provides direct competition to your business. System76's documentation page has direct links to their own Linux laptops and desktops, this is not just the page where Pop!_OS is discussed as a separate entity. This is honestly a bit of a mess.
There's another option for "Professional Support" where you the button suggests you can create a ticket. Instead, the button leads you to https://hpdevone.com/user/support/ which in turn sends you back to https://hpdevone.com/ which is just a marketing page. This is as far as you can get from "creating a ticket for support". Bad integration.
Repairability (and upgrades)
You can open the back plate of the Hp Dev One, but it uses non-standard screws (star-shaped). I did it myself and the screws are a little annoying, even with the screwdriver (they go half-way out and then you need to keep them straight to pull them out - not very practical).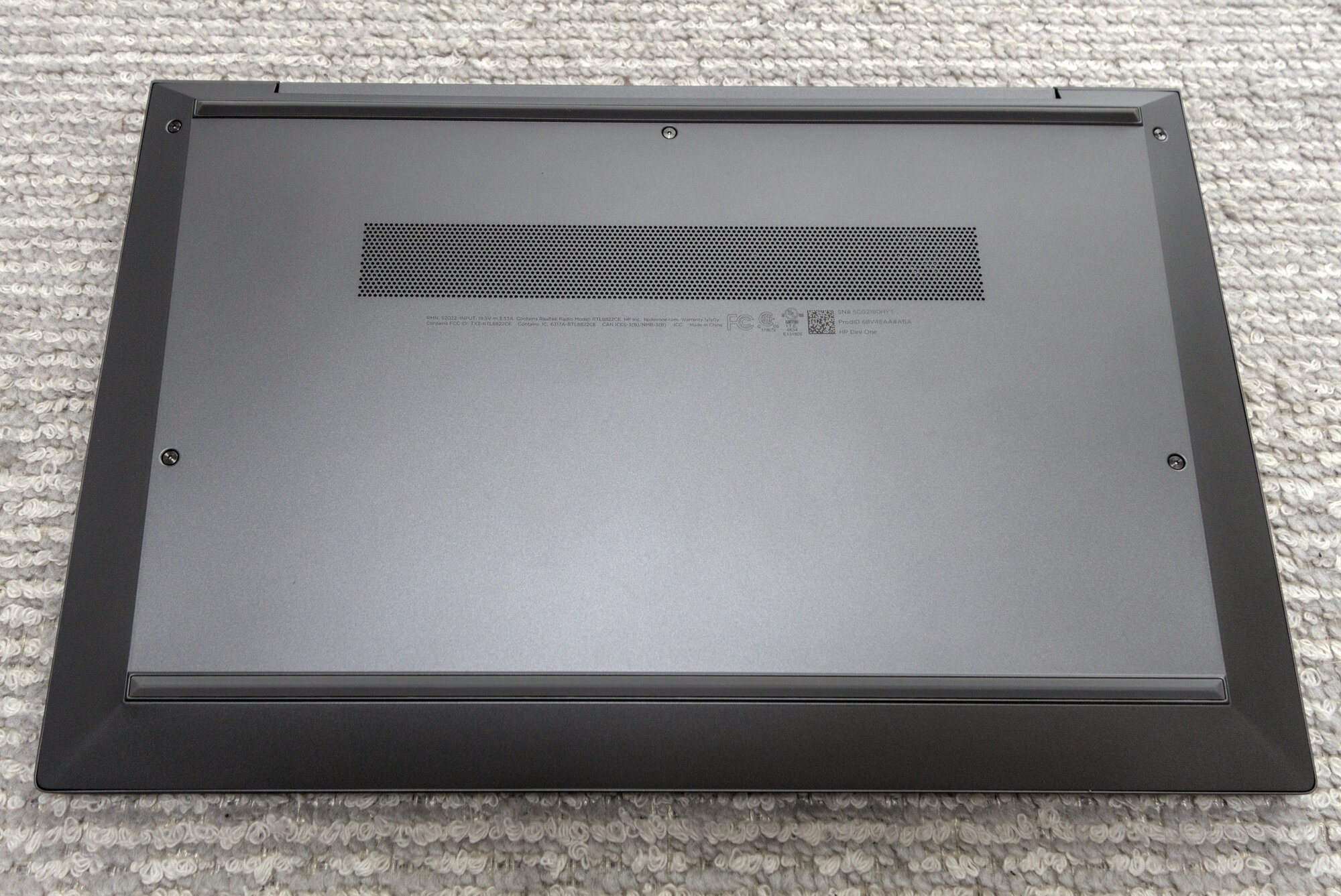 Once you are done with the screws, you need to pry the back cover out, and there are small plastic latches that prevent it from opening smoothly. I did it slowly and it worked, but I noticed that one plastic latch broke in the process… That's certainly not Lenovo-level of user-friendliness.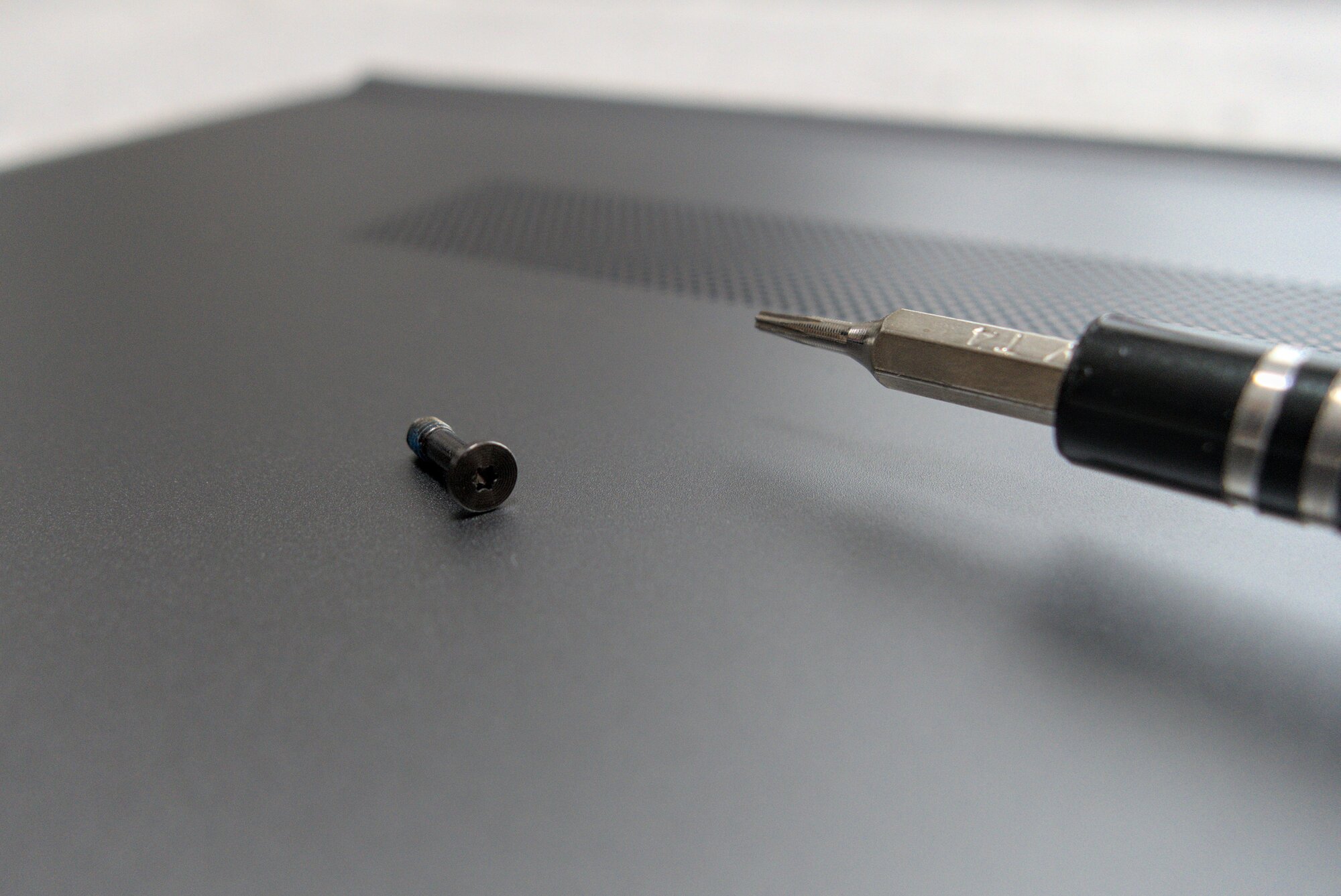 Once you get in the machine, you have direct access to:
The battery (can be replaced, you just have to remove 4 screws)
Wireless module
Solid state drive
Trackpad
CMOS Battery
Memory modules (RAM) - there are two slots so can apparently upgrade up to 64GB!
Note that upgradable RAM on laptops is becoming a rarity these days, as most manufacturers want to shave off a couple of millimeters from their units and simplify their operations. As much as I love the Thinkpad X1 models, they all have soldered RAM which is a big no-no in my book. The fact that HP lets you do it here is great! Especially relevant for developers who need to run multiple VMs at the same time, or run long compile jobs, large amounts of RAM are pretty much a requirement.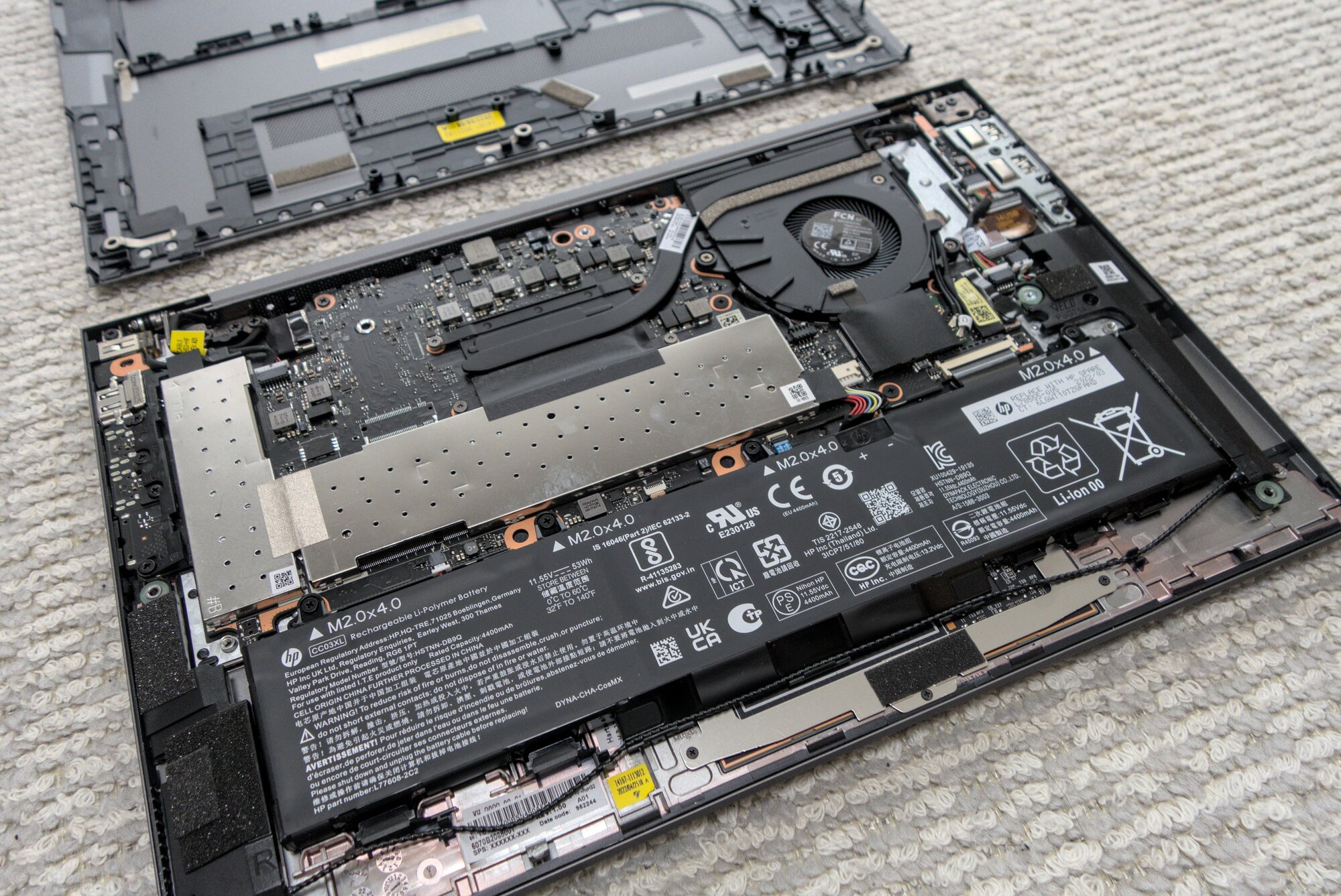 So, after removing the screws, you are in, and it's great.
The motherboard is clean and all typical parts are made accessible, and you should be able to keep this device for quite a while as long as you can find compatible parts. Note that on Lenovo Thinkpad hardware you can usually easily replace even the keyboard or the screen (I know, I did it countless times) - on HP this would require probably a lot more work (if that is even possible).
Conclusion
For about 1000 USD, the machine has great specs on paper. You can apparently also get a 200 USD off coupon right now (until the 6th of December 2022), so that brings the cost of the machine way down for a very powerful hardware and storage combo.

I'm a little on the fence when it comes to recommending it, because the screen is just not good enough. Privacy screen or not, it's just not great and I would not want to spend my whole day looking at it. The keyboard is also what it is, adequate for typing but very far from the best keyboards available on other brands these days.
The software and hardware integration is very good - the install process is exemplary, very clear, clean, fast and reliable. Very impressive. The qualms I had about Pop!_OS have nothing to do with the HP hardware here, rather intrinsic issues with Pop!_OS itself. At the same time, I would not want to install any other distro on the machine, because of the proper integration with the recovery partition, the firmware support and so on. You can definitely live with Pop!_OS at this stage for most applications - even an Arch Linux user like me did not feel the urge to switch.
I hope HP continues to bring more hardware like the Dev One. With a better screen at about the same pricing, I would recommend it in a heartbeat (even with the current keyboard).
As for Pop!_OS, let's hope that they stumble on this article and consider if it's worth working on the issues I pointed out!