Computer games are made possible, of course, by the hardware that runs them, whether it is the indie that just needs a bare-bones machine or the latest AAA game on a high res, high refresh rate monitor. On Linux these days we are blessed with choice when it comes to hardware, and can pretty much game the same as those Windows users. Still, I always find it interesting to know what others are using, especially in our niche of the gaming and computing world.
We just launched our Linux gamer survey for 2021 to gather more data and better understand the Linux gaming community. You can access the survey directly at this link, and should only take about 10 minutes. Also, Ekianjo recently looked at what limited data we have on the trends of CPUs and GPUs in the Linux gaming market.
Which brings me to the Boiling Steam staff. I thought we'd open the hardware conversation with a dive into what we use and what we may be upgrading next. A few trends have emerged recently, like the new found popularity of VR with the addition of Patola to the staff, as well as cow_killer and myself buying the Valve Index. Let's see what else we use.
Now, in no particular order (okay, it is reverse alphabetical so I can go first), here's how we game on Linux. And I took some liberties in spicing up the labels to organize our gear.
podiki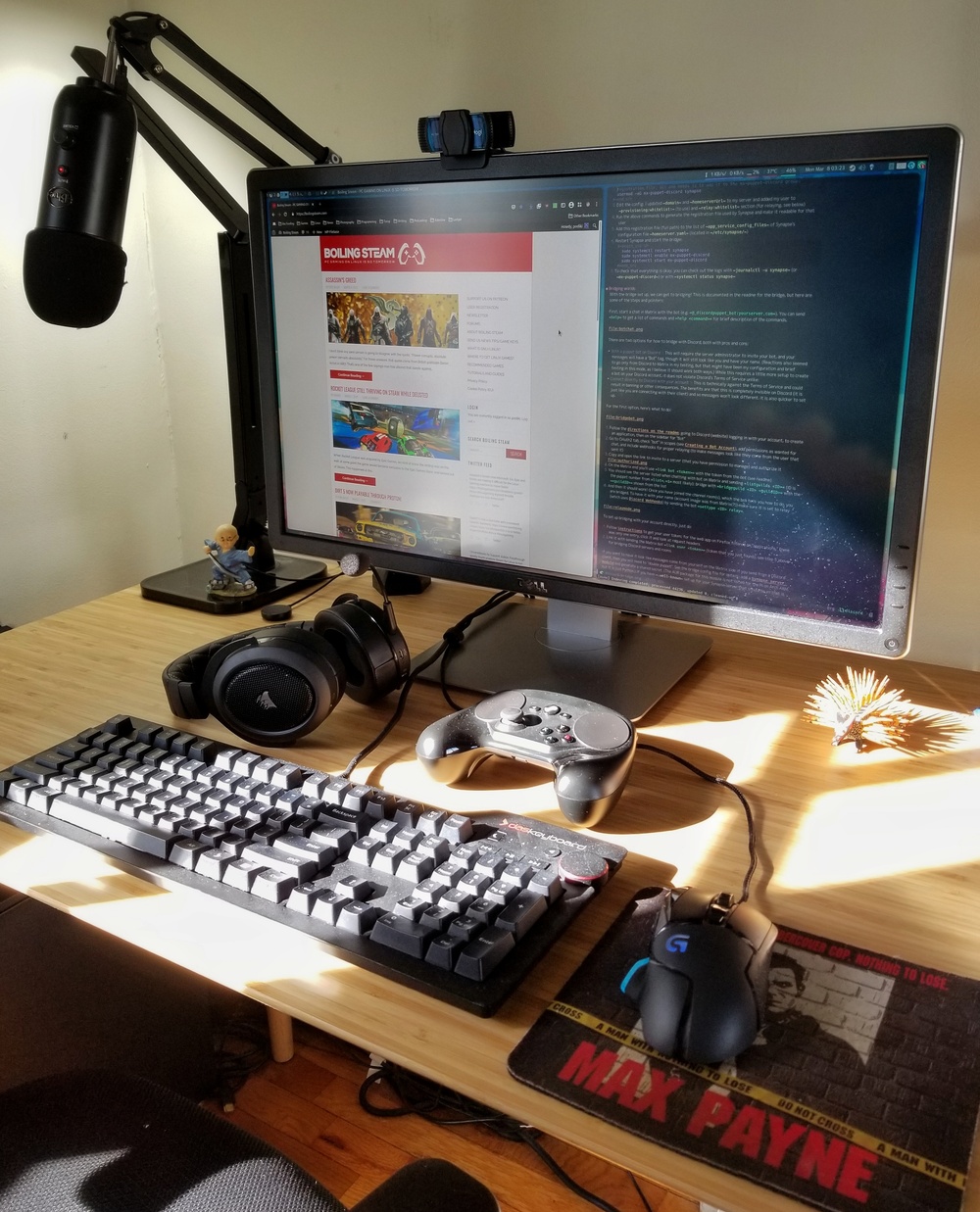 The Guts (computer internals): Intel Core i5-4690K, 24 gigs of RAM, Nvidia GTX 970 (I think this PCPartPicker list is mostly accurate, though it was long ago)
The View (displays): Valve Index head mounted display, 27" 4k monitor (Dell P2715Q) and a 1080p projector (BenQ HT2050) with an 80" screen; a Logitech C920S Pro HD webcam
The Ears (sound): wireless headset (Corsair HS70), the Index's speakers, and sometimes a home speaker system (used with projector); a Yeti Blue mic
On the Road (portable gaming): Dell XPS 15 (the 9550 from 2016) which has an Intel Core i7-6700HQ, Nvidia GTX 960M, and a 4k 15.6" screen
The Forbidden (non-Linux gaming): I keep it pure, though have occasionally tried Steam streaming to an Android tablet
The Hands (controllers): overwhelmingly mouse (Logitech G502 Proteus Core) and keyboard (mechanical with loud Cherry MX Blue switches; Das Keyboard 4 Professional), also Steam controller, Valve Knuckles for VR, and an Xbox 360 wireless controller which is gathering dust
Style Points?: I think my GPU has an LED, but I've got no window to see, wouldn't mind a slick case with window and clean cabling in the future
The Brain (distro and environment): Arch with XMonad (previous tiling WMs I've used are StumpWM and i3; you can see my dot files on GitHub)
The Future (upcoming upgrades): a GPU, looking for the 6800 XT (scarce and inflated prices still), and later planning on doing a fuller rebuild (likely around an AMD CPU)
Comments: I wrote in more detail about some of the computers I've used in my article about going from Windows to Linux, as well as about VR with the Valve Index on min specs. I love my 4k screens for text and image sharpness, which is great on the eyes. Tough on a GPU though. And the occasional gaming on the projector is a lot of fun, though VR has become my mode of choice lately. The projector is a legacy of moving around a lot, and it being easier to move. Having lived in places with nice big walls to project a huge image on is a big plus, too.
I've been very happy with the 970 for 6 (!!) years now, though 4k was always a stretch, even for older games. As I noted in my VR experiences, I really need to upgrade my GPU and looking for an AMD card (open source drivers and better VR support). While the rest of my desktop isn't in such dire straits, I think it is about time for some upgrades. I'm also thinking of building a new mechanical keyboard.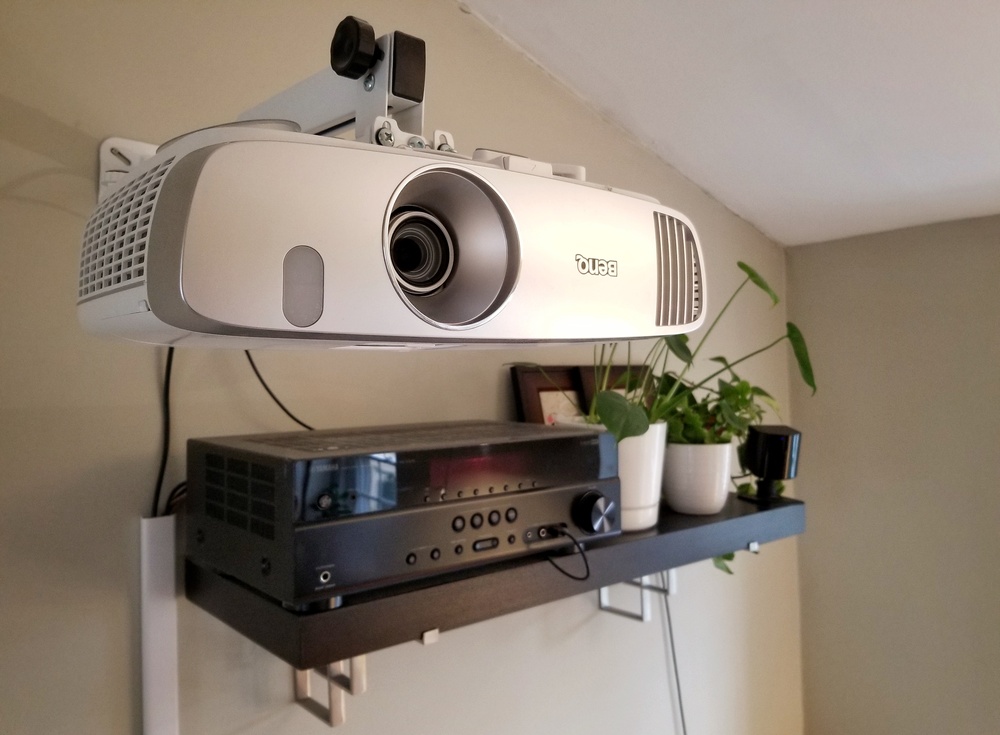 patola
The Guts: AMD Ryzen 7 3700X, 32 Gigs of RAM, AMD Radeon RX 6800 XT
The View: LG 34GL750-B (2560x1080@144Hz, curved ultrawide) via DisplayPort, plus a generic 60Hz Samsung 21" FullHD display via HDMI
The Ears: Oneodio A1 Chinese wired and wireless headset
On the Road: none, not even on my mobile phone
The Forbidden: unheard of. No Windows, no consoles.
The Hands: Steam Controller, Dual Shock 4, Logitech G29, Logitech X52 Pro HOTAS, MFD F16 USB, Delux T9 one-handed gaming keyboard and a finger ring mouse for a few games
The Transcendence (Virtual Reality kit): Valve Index Head-Mounted Display via DisplayPort, Valve knuckles controllers, 3 base stations, 3 Vive trackers for Full Body Tracking
The Brain: Arch with icewm in a dual boot configuration with Ubuntu 20.04 with icewm. Completely LVM-based installation with grub managed by Ubuntu, and shared /home, /tmp and swap between the distros. Note: I sometimes use other DEs or WMs.
The Future: buy a Ryzen 9 5900X, a proper mainstream headset and a 1440p monitor
ekianjo
The Guts: Intel Core i5-9400F (read the whole story why I went for this one), 8 gigs of RAM (never needed more so far), Nvidia GTX 1080 (recent upgrade after years on 970). I must say the 1080 is a massive boost compared to the GTX970. And man, that GTX1080 is huge. So huge I was worried it might not fit into my case.
The View: 1080p projector (BenQ HT3050) with a big white screen on the wall opposite to it.
The Ears: Everything (audio and video from HDMI) is going thru a (not recent but decent and VERY heavy) Marrantz amp and big speakers (JM Labs).
On the Road: Lenovo X1 carbon for very light gaming on the go (also a very good machine for writing). Also, the Odroid Go Advance, of course.
The Forbidden: I still have a bunch of old-gen consoles, but I haven't really powered any of them on for a while. Proton has spoiled me.
The Hands: Steam Controller, a bunch of Xbox360 wireless controllers, and one DS4. I kind of switch in between, but I really like the Steam Controller whenever it works well - otherwise, the DS4 tend to get my vote more and more recently.
Style Points: My gaming rig case has a transparent top. Boo! That's it. I don't look at it too much.
The Brain: Manjaro, pretty much as is. This is a gaming machine only so there's not much else I need on it. It's Steam, Kodi and that's about it.
The Future: No real upgrade planned for now. Except if Cyberpunk ends up never working on Nvidia!
Comments: I have probably too many machines at home running Linux, but there's mostly 2 of them that are actually capable of serious gaming. My main gaming rig is connected to a projector, because… you don't go back once you have tried projectors! It's awesome, and not just for movies. Games take another dimension on a much larger screen. This is something that needs planning. You can't decide to have a projector if the place you live in is not compatible with it.
cow_killer
The Guts: My main desktop consists of an i5-8400, GTX 1660, and 24 GB RAM. I'm currently reviewing a laptop from TUXEDO that has 32 GB RAM, Ryzen 5, and a RTX 2060.
The View: I own an ASUS monitor. I've had it for so long I can't find where I ordered it. It's 1080p max and has a refresh rate of 60 Hz. It's LED backlit and will continue to fit my needs in the future.
The Ears: I have a generic headset that I use for my Zoom meetings. Otherwise, I'm mostly streaming audio from my monitor's speakers.
On the Road: Just my Switch. Right now I'm able to use the Darter Pro from System76 and the Polaris from TUXEDO as well for gaming on the go.
The Forbidden: If I'm not using Linux, I'm on the Nintendo Switch. Honestly, the only reason I have the Switch is for first-party exclusives (Smash Bros. Ultimate, Zelda: Breath of the Wild, etc.) I have rarely needed to use Windows (except for DIRT 5 via Shadow). I have a PS4 that I've barely used over the years; it's mostly for the exclusives (Spider-Man, Kingdom Hearts III, Final Fantasy VII Remake). So, if I could play everything on Linux, I don't see the need of getting any console (I may pick up a PS5 later down the road once it goes on sale).
The Hands: Mostly flucuate between the Series X pad and the DualSense; it depends on what game or distro I'm using and the button icons that are supported in-game.
The Brain: Garuda Linux (based on Arch). I had a lot of headaches setting this distro up; almost ended up breaking my system, but it's working fine for now. I tend to be a bit of a Cinnamon fan, but I don't mind GNOME or Budgie. Arch users currently have the benefit of using Sony's official DualSense driver without needing to compile the kernel.
The Future: Don't really see the need to upgrade anything yet on my main rig; it meets all my gaming needs just fine. I may end up getting an AMD graphics card down the road, if they ever become obtainable.
An interesting range of hardware, though heavier on Intel CPUs, VR, and Steam Controllers. Patola has the most involved VR setup, while I'll take the cake on (flat) pixels with my 4k displays.
Tell us, readers, how do you game on Linux? What does your list look like? What matters the most?
And please fill out our Linux gamer survey, we can't wait to see what the data holds for our community.