Just a couple weeks after the update of Promods for the latest version of Euro Truck Simulator 2, the new Promods Canada for American Truck Simulator is out.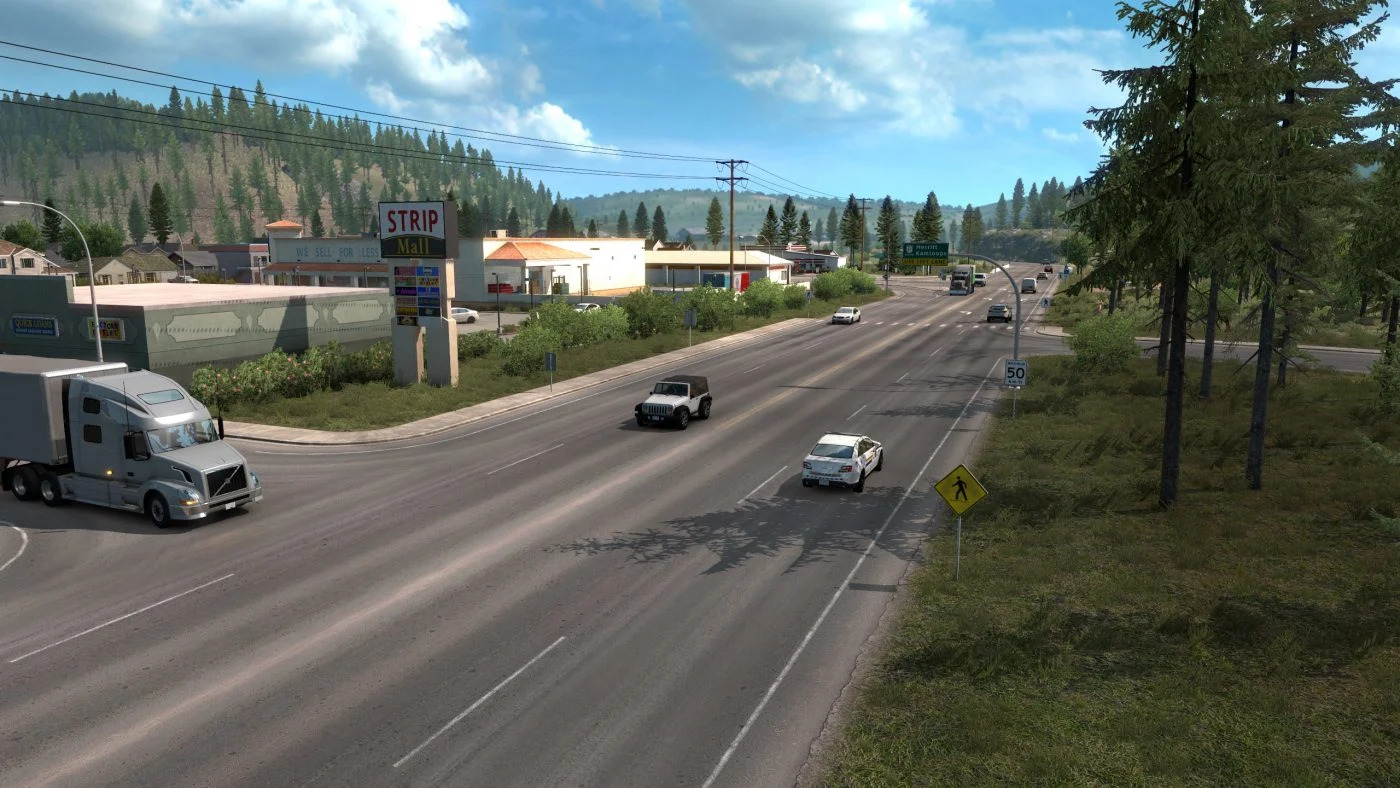 Caption: a typical Canada countryside road as it appears on promods Canada
But What Is Promods?
Euro Truck Simulator 2 is a well known Linux-native game from SCS Software. Less well known, however, is the amazing set of mods for it called Promods. This is the name not only of a set of mods, but an entire ongoing project and community which started in 2012. It had its first release in 2013 and even got official insider access to Beta and Alpha from SCS Software. Promods has over 30 people involved, from site maintainers to 3D artists to mod developers, and over 700.000 forum members, surpassing even the official SCS forums.
Instead of adding a trinket or two, changing some graphics or lighting, Promods is a huge project that practically gives you a new, much bigger game, adding over 80 new cities and several countries to the map, not to mention new cosmetics, skins, trailers, companies and so on. It is nearly 8 GiB in size and composed of about 15 mods (the number may vary depending on your options) that must be added in the right order with the mod manager.
Since it's that big of an undertaking, it is not in the Steam workshop and it is sort of a pain to update: you have to remove all previous versions of the mods and then add the new versions in the same order. Also, they need exact game versions and every new version of the modset takes 1-2 weeks to appear as a synchronization update, at least on Steam, since SCS Software keeps choosing several old versions of the game in their "betas" properties tab. This is not much of a concern, though.
The modset also requires all official map DLCs to work – probably a very smart way to prevent conflicts of interest with SCS Software – and in the download page, it only allows you to download the mods at 300 kB/s if you do not wish to pay 1 Euro for the "premium" download.
Even then, I can say with confidence: this modset is AMAZING. It is worth every single byte. It is not only a matter of quantity, it adds an enormous amount of quality to the game, more believable scenarios, companions, roads that actually offer alternate paths, meaningful missions and so much life to the landscape.
Enter Canada
It was to my delight that I saw the recent launch of a similar modset for Euro Truck's sister game, American Truck Simulator. This one adds Canada to the game, as the title tells. It's currently only four mods – the definitions mod and a 7z file containing an assets file, the maps file and the models file, only around 116 MiB download size. Different from Promods for Euro Truck, this one only requires the Oregon and Washington DLCs to be present, not all map DLCs.
You can download it from here. It is free, but requires a user account to download, so you first need to register. The download process first generates a definition file that fine-tune mod settings like viewing distance, interface colors and the likes. After that you'll close the definition window and go to step 2, which then will present you with the way you want to download the files – paid (Premium) or free (Standard). With the free method, which we'll illustrate here, you'll be limited by one download at a time and 300 KiB/s, so it's a tradeoff between waiting and paying, which is not that much for this mod – it's much more for the Euro Truck version, which consists of several huge files.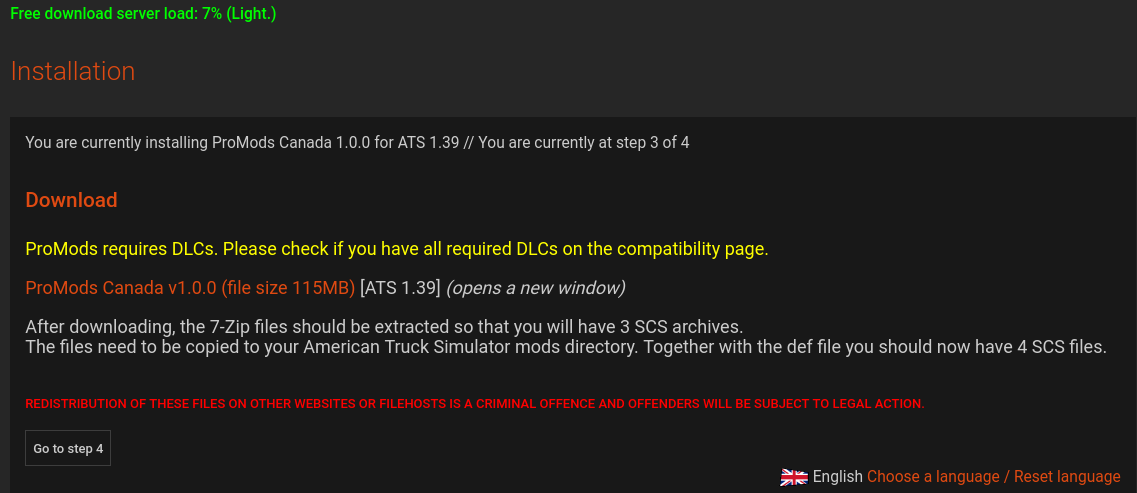 After you have downloaded the files and uncompressed the .7z file in a directory, you need to move them to the American Truck Simulator mods directory, which is ~/.local/share/American Truck Simulator/mod. If the mod subdirectory does not exist, create it (and if you use it under Steam, the workshop mods do not appear there - it's not a problem).
If you run the game under Proton – I have to do that to play the game on VR, for example – the mod path will be different: <STEAM PREFIX>/steamapps/compatdata/270880/users/steamuser/My Documents/American Truck Simulator/mod. <STEAM PREFIX> is usually ~/.steam but can be other paths if you customized it.
Then, after you copied the files to the proper path, start the game and choose the Mod Manager: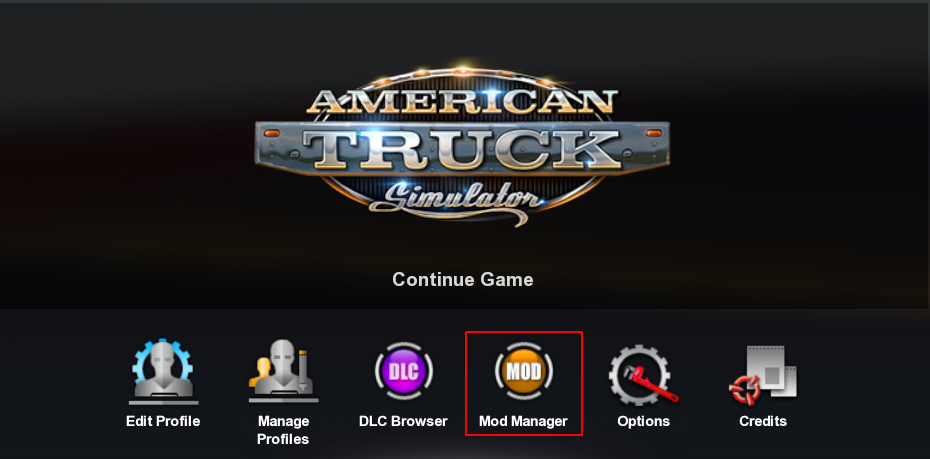 Then you will see the Promod Mods appearing on the list of available mods in the left. You'll need to select it, then use the arrows to "enable" and bring it to the list on the right. After you do that, use the "Increase Priority" and "Decrease Priority" buttons to reorder the maps. Which is, from top to bottom on the Mod Manager:
First, any mods that change graphics, lighting and general behaviour of the game. Notice that there is guarantee of compatibility.
The Definition package.
The Map package.
The Models package.
The Assets package.
With low chance of compatibility, any other map mods you might have.
This order can be inferred from the more complex order of mods for Euro Truck. Here is an example for my own setup of American Truck Simulator: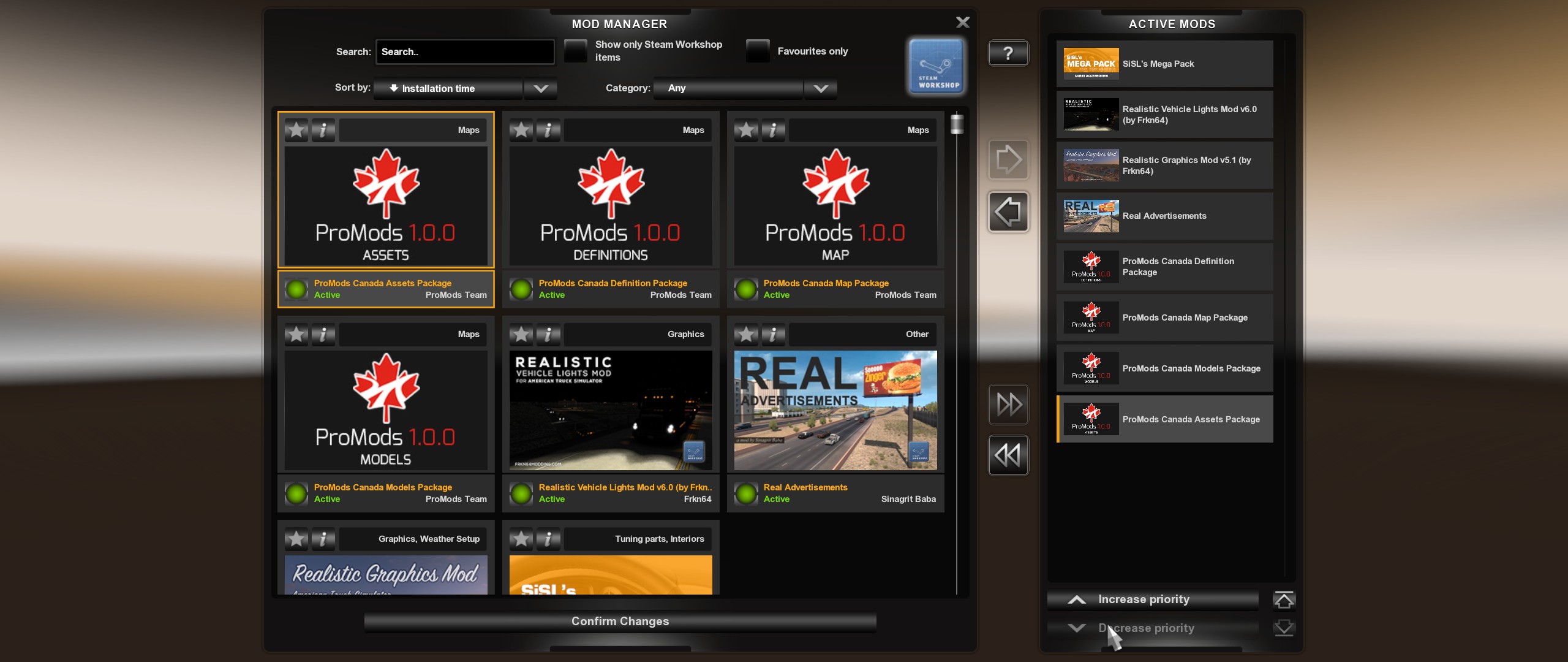 How Do I Know If It Is Correctly Installed?
In promods for Euro Truck Simulator 2, a different splash screen is presented on the game when starting a trip that allows you to know you are using Promods. For the time being, Promods Canada doesn't do that. So, the proper way to verify that is just by looking at the map (press M):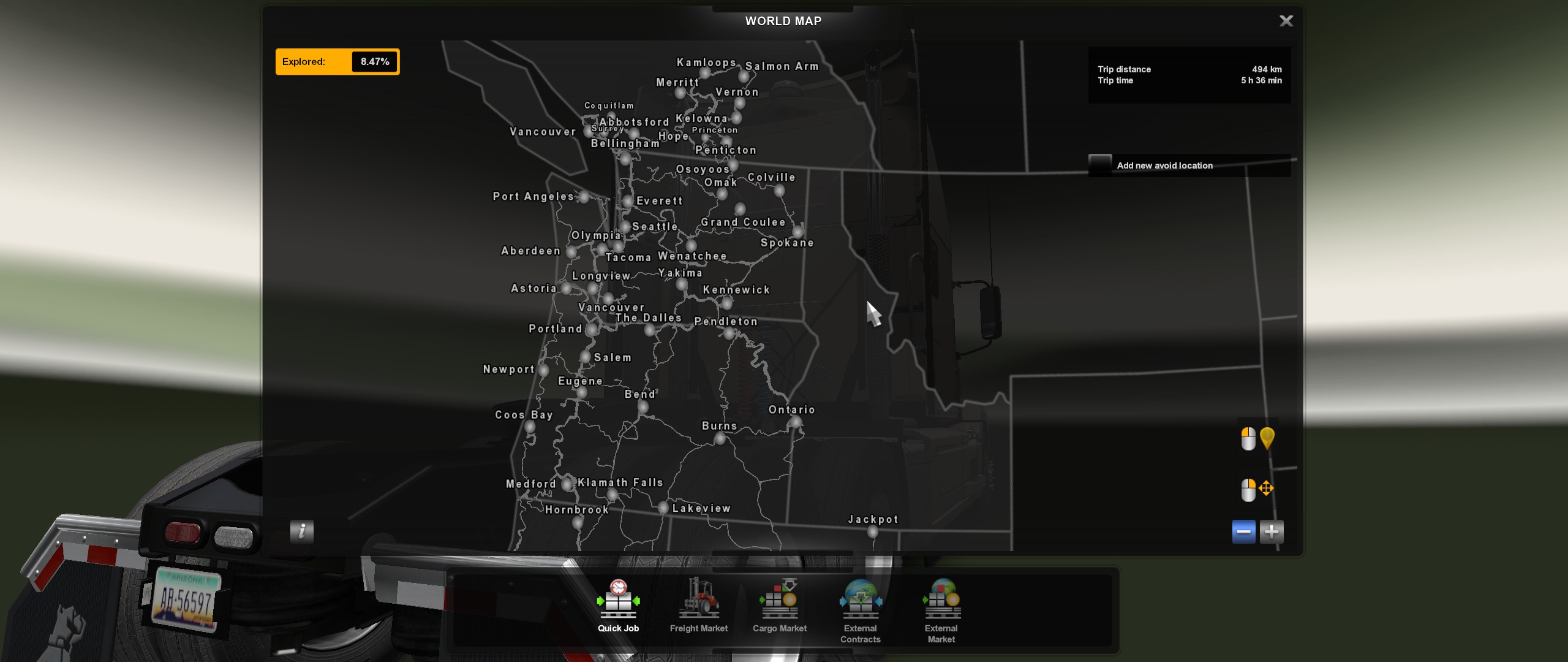 Which also show the mod makers priority: as from their blog, they are focusing first on the areas situated close to the west coast of Canada.
So, happy trucking! Did you like this article? Would you like a separate, more complete article for Euro Truck Simulator 2?