3 Games have recently lost their Steam Deck Verified Status to Become Unsupported on the Steam Deck.
The games in question are:
Captain Tsubasa: Rise of New Champions (lost status on 20th of November)
DRAGON BALL XENOVERSE 2 (lost status on 11th of November)
DiRT Rally 2.0 (lost status on 11th of November)
Let's see what happened in every case.
Lost Support
Dirt Rally 2.0
There is apparently a new launcher for this game, and the new launcher is not supported so far on the Steam Deck. It was mentioned by an angry customer in the Steam reviews.
DRAGON BALL XENOVERSE 2
Not sure if something changed recently on this one, but it's probably linked to the fact that a large part of the game content is locked in its online mode, and its online mode uses EAC and is currently not supported for Linux or the Steam Deck. So in effect the new rating should be the correct one - as the game should not have been rated "Verified" in the first place.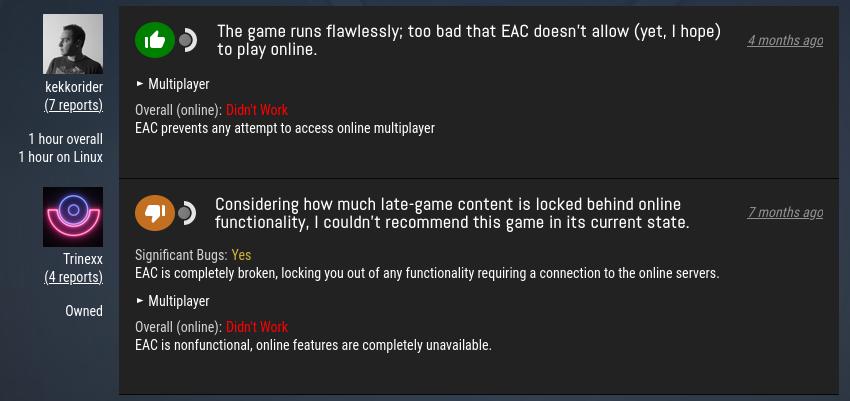 Captain Tsubasa: Rise of New Champions
This looks like the game was not even supposed to work in the first place, as EAC prevents the game from running at all. So this is in fact a correction of an improper rating by Valve.

Looks like that if you like Football/Soccer, you better stick to your TV for now.
A Bigger Issue at Play: Communication
I have also noticed my "Great on Deck" (i.e. Verified) games count vary from time to time as I switch on my Deck and browse through my library. The most recent example in mind is Unravel 2 which went from being Great on Deck to disappearing from one day to the next. Since I understand what is happening under the scenes (new launchers, regressions following updates, etc.), I don't find this state of affairs completely surprising, but I am appalled by the lack of communication from Valve/Steam there. Why don't they have any kind of notification or alert to let their paying customers know that "Hey, we told you that X game was great on Deck but the status changed recently. We are hard at work to fix this. Please stay tuned for updates".
After all, Steam now features prominently "Games that received some recent content updates" as part of their store, why not do something similar when it comes to actual game compatibility on the Deck?
Valve, nobody is going to blame you for being honest and forthcoming.
How Frequent is the issue?
I guess you heard we love data at Boiling Steam? Well here's some figures on how many games had a degraded rating in the past few months:
19 games went from Verified to Playable
10 games moved from Verified to Unsupported
36 games went from Playable to Unsupported
2 games went from Verified, to Playable, and then Unsupported
Since I don't want to paint a black picture, at the same time we had the following positive changes:
134 games went from Unsupported to Playable
100 games went from Playable to Verified
31 games went from Unsupported to Verified
7 games went from Unsupported, to Playable, and finally Verified statuses
So, what's the big deal? For most people, the total picture of updates on compatibility over their existing library should be much more positive than negative. While the most well known titles may lose compatibility now and then and make headlines, most gamers on Deck should witness an affluence of better compatibility over time.
The case for more communication around library compatibility seems like an easy one to make.